Keeping the kids active can be a real challenge at any time, but has been especially difficult during the lockdown period, with access to outdoor spaces and parks restricted.
Once homeschooling is over, my kids are normally keen to get on their games consoles and play with their friends and would stay there for the majority of the day given half a chance.
One thing that gets them moving for a walk is the promise of taking a ball or a frisbee, so when we were invited to review some toys from the young and vibrant toy company Wicked Vision, we jumped at the chance.
They sent us a selection of fabulous toys to test and the kids could not wait to try them.
Wicked Mega Bounce XL
The Wicked Mega Bounce XL is a super-sized sensation as it has a whopping 2.51 METRE circumference!!!
It come with a foot pump and a measuring tape so you can inflate it to its optimum size, but don't make our mistake – make sure you inflate it outside as it won't fit through internal doors!!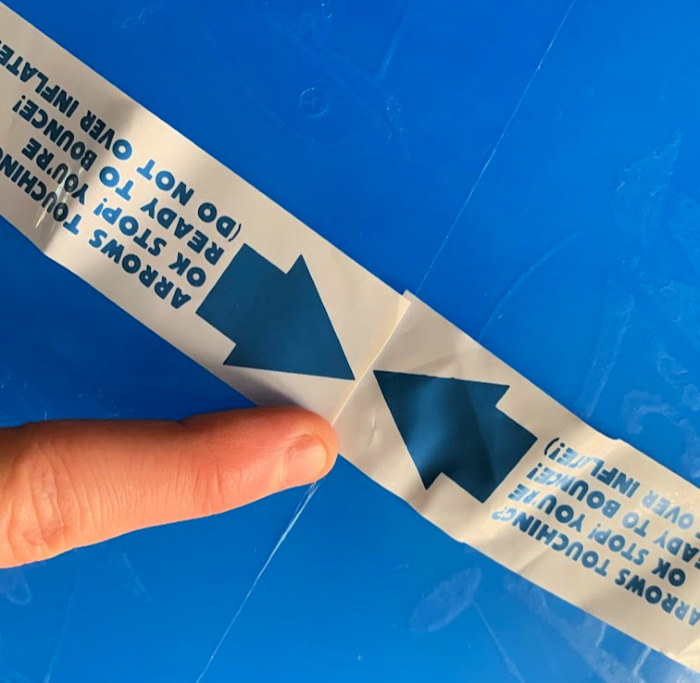 The Mega Bounce is easy to inflate and deflate, so is easily transportable on days out. It boasts Wicked bouncability on almost any terrain – even grass and sand!
The ball is extremely durable and despite its size, it is still incredibly easy to throw and catch thanks to its super grip graphics, even for Sebby.
The Wicked Mega Bounce XL come in two colours; red or blue and has an RRP of £20.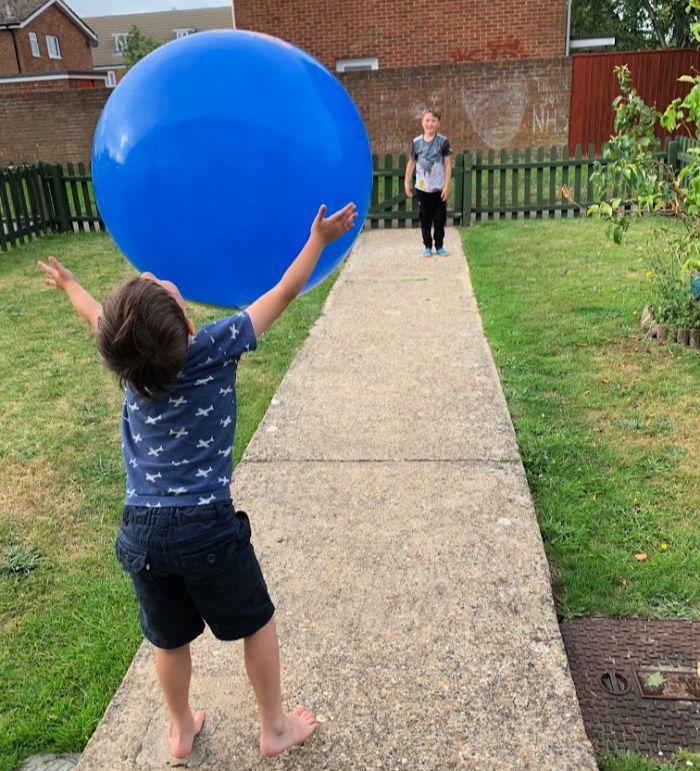 Indoor Booma Boomerang
I am going to be completely honest and tell you that the thought of an indoor boomerang initially filled me with fear.
Made from special Memorang foam, the indoor boomerang is so lightweight and soft it won't damage any expensive equipment in, or outside the house.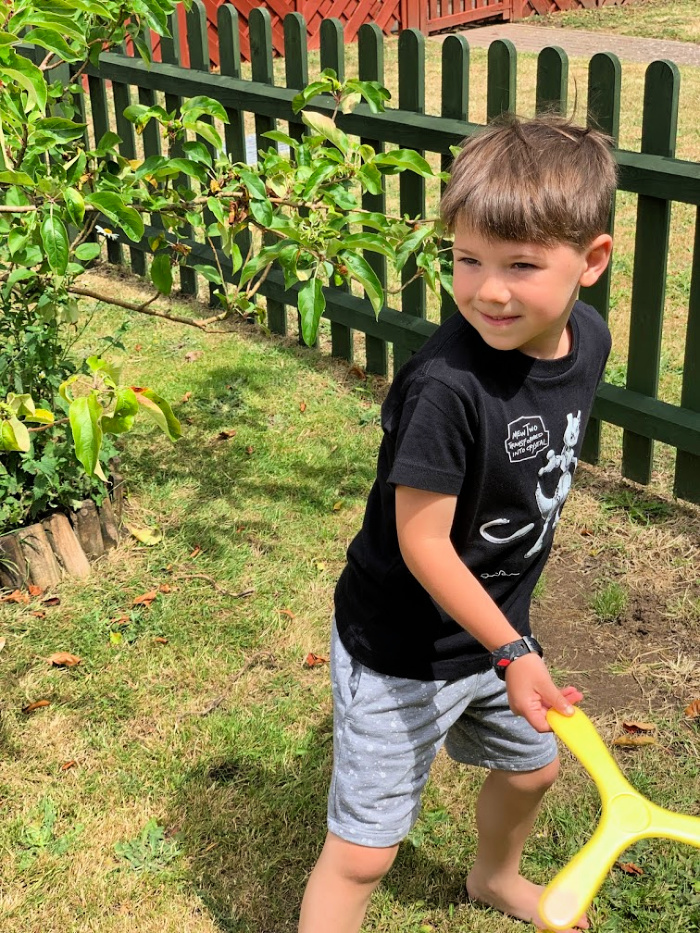 It has a flight range of 4-6 metres and really does loop back round to you. With a bit of practice, Sebby was soon flinging it around the garden and catching it again.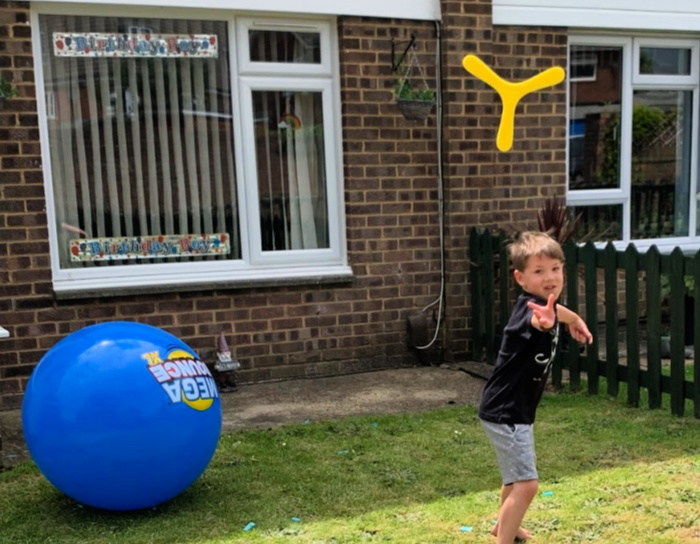 The Wicked Indoor Boomerang is available in three colours; red, yellow and blue and has an RRP of £5.99
Mega Jump Rope
I used to love skipping, but the kids always seem to find the ropes either too long or too short. With the Mega Jump Rope you can adjust the length of the rope using the rope release mechanism according to your height by taking the cap of the handle, remove the clip and cut/adjust the rope to size.
The rope extends to 4.3M rope for double Dutch play and has a ball bearing axle which provides super smooth rope rotation.
The Mega Jump rope has an RRP of £9.99
Wicked UKick
The UKick is a strange looking toy, sort of a mixture of a badminton shuttlecock and a traditional "keepy-uppy" which really helps to improve your hand/eye coordination.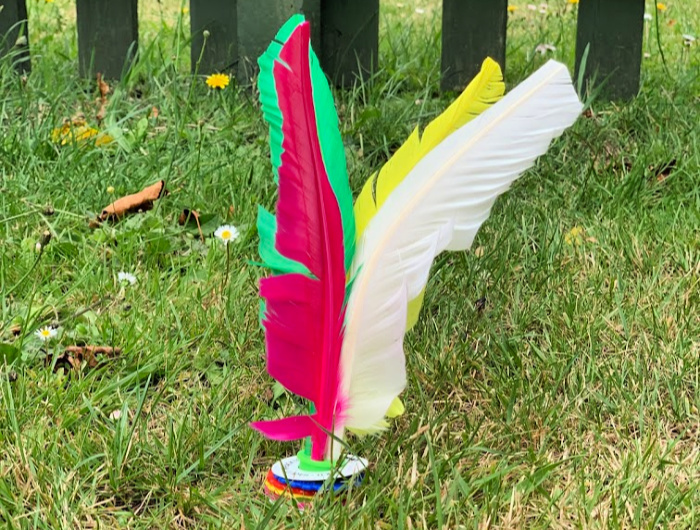 The aim of the game is to keep UKick off the ground for as long as you can by using your hands or feet. It comes with 5 weights which you can add to the base to increase/decrease the skill level. The more weights you add, the higher it will bounce, but I wouldn't play it when it is windy as it does get taken by a gust of wind.
The Wicked UKick has an RRP of £7.99
How are you keeping the kids active at the moment?
Disclaimer: We were sent the Wicked Vision toys to review. All thoughts and opinions are our own