If you're lucky enough to have a garden, courtyard or outdoor space attached to your property, you'll want to make the most of it. With the right designs and accessories, you can transform a garden of any size into a usable space that enhances your home. By making your garden into an extra room, you can increase the versatility and functionality of your property, as well as creating a stunning visual that will bring you joy every time you see it. 
If you want to find innovative ways to transform your garden and gain space, take a look at these top tips now:
Add lighting
If you want to enjoy your garden as twilight arrives and the day turns to night, lighting is essential. There are endless options when it comes to outdoor lighting, so you can be as minimal or decorative as you like. Fairy lights are a great way to add ambience in an outdoor space and they're easy to drape over trellises, fences or even shrubbery. 
If you don't already have mains power connections routed to your garden, there's no need to worry. Choosing solar powered lights is an easy and eco-friendly way to light up your garden without going to any trouble. No matter what lights you choose, ensure they're designed for outdoor use.
Replace doors
Most homes have just a single door or sliding patio doors leading to the garden. Although these are functional, they fail to enhance either the inside of your property or your outdoor space. What's more, they make it difficult to really integrate your garden into your living areas. 
Replacing doors and increasing the width of existing doorways is an excellent way to turn your garden into an amazing extra room. With aluminium bifold doors, for example, you can create an indoor-outdoor room that encompasses the best of your property. By creating flow throughout your home, the addition of bifold or trifold doors really does elevate the layout of your property and makes your garden into one of the best-used areas of your home.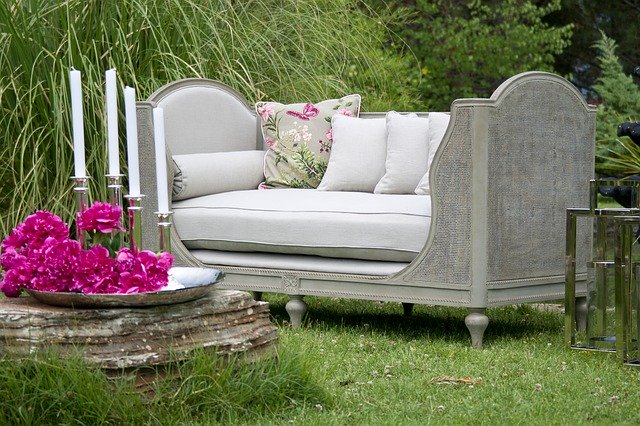 Incorporate seating
If you don't have a comfortable seating area in your garden, you simply won't spend much time enjoying your outdoor space. Similarly, if you have to go hunting through the garage to find a summer chair or spend hours struggling to get a parasol umbrella to stay up, it's going to prevent you from enjoying your garden. 
When you have a permanent seating area in your courtyard or garden, however, it becomes infinitely more usable. Whether you want to enjoy your morning cup of coffee on the patio, play games with your children or simply catch up with friends, having an outdoor seating area makes it easy to make use of your garden. 
If you're choosing new garden furniture, be sure to select pieces that will withstand a variety of weather conditions. This will ensure you can leave the furniture in place and avoid having to find alternative storage solutions. Furthermore, you won't have to worry about bringing the furniture under cover every night. Alternatively, in-built stone seating can be a great way to add functional features to your new outdoor room. Simply throw down some comfortable cushions and you've got a seating area you can enjoy all year round.
Install heaters
We may spend most of the year looking forward to it, but British summers aren't known for their glorious sunshine and balmy temperatures. While we tend to get a few stifling days, UK summertime can be characterised by downpours and impromptu showers as much as it can sunshine and clear skies. 
One of the main reasons homeowners don't get enough use out of their garden is because of inclement weather. When you have outdoor heaters in place, however, chilly weather won't prevent you from enjoying the outdoor oasis you've created. 
Adding a pagoda, awning or cabana is another great way to maximise the functionality of your garden. Giving you protection from rain showers or bright sunlight, a dedicated place to sit and relax under cover will ensure you can use your garden at any time.
Build a garden room
By creating a bespoke garden room, you can literally add another room to your property. Installing a garden room is easier than ever now that pre-built models are widely available. Simply ensure that power is run from the main house to the new structure or use a portable generator to supply power to your new room. 
Garden rooms are extremely versatile, so you really can make them whatever you choose. Some homeowners rely on them to act as an extra bedroom, while others prefer to use them as playrooms or hangout areas for teenagers. From music dens to home gyms, there are endless ways to use a garden room. 
Build a feature wall
The boundaries to your garden are likely marked by fencing or brick walls but how decorative are they? Standard brickwork or fencing rarely catches your eye, which means you're missing out on a chance to transform it into a feature. Instead of relying on tired designs, opt for something different if you want to make your garden stand out. 
If the boundary walls or fences are hidden behind foliage or out of sight, it's easy to install alternative features in your garden. From low walls to separate flowerbeds from the lawn to decorative walls surrounding a water feature, mix colours with texture to create a permanent feature that never fails to impress.
Redesigning Your Outdoor Space
If you want to transform your outdoor space, it's always helpful to plan ahead. Although you may be keen to start making changes straight away, designing your garden in advance will give you the opportunity to ensure that you've incorporated all of your must-have features. Furthermore, you'll have the chance to get an expert opinion on your design ideas and access the specialist help you need when it comes to creating the perfect outdoor space for your property.