Are you struggling for things to do with your tweens / teens this lockdown?
Walking is great, but there are only so many loops of the local park that you can do and teenagers are notoriously hard to motivate in the first place and whilst Zoom quiz nights with extended family are fun, we all need a break from time to time.
Why not try Epic Escapes – an escape room in a box that you can set up in your own home.
Requiring a minimum 3-6 players, the Starter Pack includes three different escape rooms, with all the rooms having separate puzzles and are fully interactive and engaging, perfect for a lockdown birthday or just an evening in with a difference.
Note: This is NOT a board game!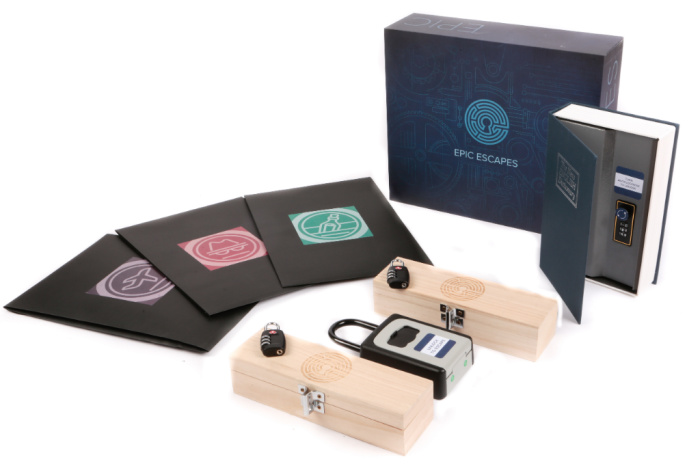 Who is it suitable for?
Most people! Because of the variety of puzzles within each room, there's generally always something for everyone to do. The escape rooms are aimed at people aged 16 and above, but younger children can definitely participate with the help of a parent or carer.
All games are suitable for 2-6 players (plus a host). It's obviously harder with fewer players!
Epic Escapes is designed as a fun activity to play at a dinner party, games night or rainy day with friends, once lockdown restrictions are over. It's a great alternative to a murder mystery or a board game.
Teamwork, creativity, logic, and attention to detail will be needed to unlock the door and make your escape in time!
How much does it cost?
The Epic Escapes Starter Pack costs £99 (including free UK delivery and returns). The expansion packs (coming soon) will be available for £29. Enter their monthly competition for the chance to get one for free at: https://www.epicescapes.games/competition/
Thanks to the team at Epic Escapes, I have also have an Epic Escapes Starter Pack to give away to one lucky reader.
To Enter:
Fill in the Rafflecopter widget below to verify your entries
Please read the rules below
Closing Date: 31st January 2021
If there is no form hit refresh (F5) and it should appear
If still not working please check that your computer is running Javascript
Mandatory Entry: Leave a Comment
Rafflecopter will tweet, like and follow on your behalf making it really easy to enter
Really want to win the prize? Come back every day for bonus entries via twitter