Renovating your family home has so many benefits. Improving your house is a perfect way to add value to your property. If your family has outgrown your space, then renovating your home can provide a more cost-effective solution than moving house. The end results of transforming your home can be impressive and provide you with a living space that perfectly meets the needs of your growing family. Whether you plan to add an extension or knock down walls to change the layout, you will find the changes you make breathe new life into the whole house. Although remodelling your home can have many benefits, it can still be an incredibly stressful process. Taking on a renovation project when you have kids can become a difficult task, so finding ways to make the remodel as stress-free as possible is essential.
Reducing the stress involved in your home renovation will help to make the project far less disruptive to family life. Kids can become upset when they see changes being made to their home, and their regular routine is affected. So, ensuring that the project is as calm as possible should help. In this guide, you will find plenty of suggestions to help you make your renovation project a stress-free process for the whole family:
Set a Budget and Contingency Fund
While renovating your home can be significantly cheaper than buying a bigger house, it is still an expensive task. Before you start to make firm plans for your home makeover, you need to calculate your budget. Working out the amount you can afford to spend before you start work is vital to prevent financial stress from weighing you down during the project. Deciding on a budget and then sticking with it will enable you to plan a renovation that meets your needs without stretching you too far financially. Working out your finances at this stage will allow you to plan a remodel that maximises your funds to achieve the best result.
It is also worthwhile to set aside money as a contingency fund. A contingency fund is a useful way to cover the price of any unexpected costs that arise during the project. No matter how well you plan the renovation, issues can still occur that you had not anticipated. Having a contingency fund offers a buffer to give you the peace of mind of knowing that these costs can be dealt with if required.
Make Plans
Having a renovation plan is the best way to achieve a finished result that meets your expectations. Looking around for inspiration is an excellent way to get a clear picture of how you would like your home to look. Searching online for home transformations can provide you with some new ideas that you may not have previously considered, so it is worth spending some time researching to inspire you.
When making your plans, you will need to decide whether you plan to extend your home or simply change the layout to suit your family's needs better.
It is useful to think about the décor style you would like to incorporate into your renovated home. Planning the fixtures and fittings you want to use and checking that they are within your budget is also crucial. You will then be able to begin costing the fixtures and fittings and allocating your budget.
Deal with the Paperwork
If you plan to make significant alterations to your home, you will need to check whether you will need to seek planning permission. Sorting out all the documentation before you get started is the best way to prevent stress further along in the project. Trying to get planning permission retrospectively can be incredibly stressful, and if it isn't granted, you may even need to reverse your completed work. Taking the time to go through the practical side of your renovation and sort out the paperwork now will save you plenty of hassle in the coming months. With the practical details under control, you can proceed full steam ahead with your renovation and make a proper start on getting things underway.
It is worth remembering that you could be in for a wait when applying for planning permission. The timescales for planning decisions to be made can vary widely between councils, so how long you need to wait will depend on where you live. So, the earlier you can submit your plans, the better.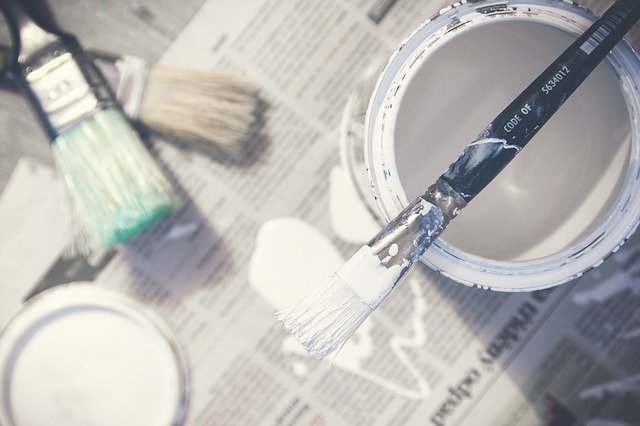 Image Pixabay CC0 License
Find the Right Builders
Choosing the best tradespeople for the job is a crucial part of making your renovation a success. Before choosing local builders to take on the job, you should vet them thoroughly to make sure that they can be relied on to complete the renovation to a high standard. 
You may find it useful to get personal recommendations for builders from your family and friends so you can trust the quality of their work. It is helpful to see examples of past projects similar to yours that they have completed so you can gain an idea of their style of work. Once you have found the right builder for the job, you will need to discuss timescales with them. Checking their availability from the start is essential, as you don't want to be left with a half-finished renovation that takes years to complete. Getting your builder to commit to a deadline is the best way to avoid the project dragging on for longer than you had hoped.
Tidy Up
One of the most stressful parts of a renovation project is the mess and disruption that it causes. You may find that your rooms and garden are full of items that have been ripped out, ready to be replaced. Keeping on top of removing these items using a House Clearance service is an excellent way to get these items dealt with fast and prevent the mess from getting out of control. You will probably feel far less stressed when you can see your renovation progress rather than focusing on your home looking a mess.