Wooden toys are brilliant for young children. Not only are they are tough and durable, but they are a much more environmentally friendly option than plastic toys and really stand the test of time, so can get handed down to siblings, or even kept for future grandchildren.
I was invited to review the Disney Princess Wooden Toy collection from Character Options.
This magical collection of eco-conscious toys is made from excellent quality FSC® certified wood. Based on the Princesses from Disney's most enchanting tales, these wooden toys are carefully crafted for young Disney Princess fans, whilst staying true to the classic Disney Princess styling. With play appeal at the forefront of the product design, this fun range is sure to stimulate a child's imagination!
Disney Princess Wooden Mini Carriages – £7.99
What Disney Princess fan wouldn't love these Disney Princess Carriages?There are two to collect: Moana's Sea Voyager with a wooden Moana Figure, and Jasmine's Magic Carpet, with a wooden Princess Jasmine Figure.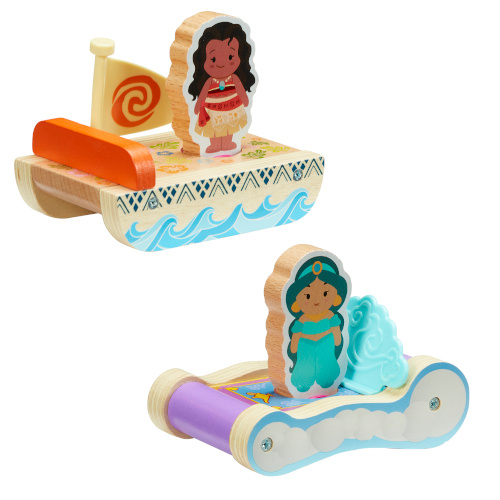 The double-sided figures feature 'drop n play' feet, so that they can easily be dropped into their vehicle. Chunky and robust, these beautiful wooden carriages each come with a Disney Princess figure. Helping to inspire fun, and imaginative play, which supports the development of storytelling skills!
Disney Princess Wooden Princess Four-Figure Set – £9.99
Add a little Disney magic with this lovely set of four wooden figures! There are two four-figure sets to collect; each includes two Disney Princesses and two Friends. Set one includes Ariel & Flounder, Cinderella & Gus Gus, and set two includes Merida & Angus, Rapunzel & Pascal. What's more, each character is double-sided to give added play value!
The figures can be easily slotted into the wooden bench provided to promote hand-eye coordination. The figures are also scaled to fit with any Disney Princess wooden carriage or playset so little ones can recreate endless adventures!
Disney Princess Wooden Cinderella's Pumpkin Carriage – £19.99
Cinderella SHALL go to the ball! This stunning pull-along carriage features a detachable horse, and three double-sided figures: Cinderella, The Fairy Godmother and Jaq.
One side of the carriage shows a pumpkin with curling vines. Then with a sprinkle of magic, turn it round to see it transformed into a carriage!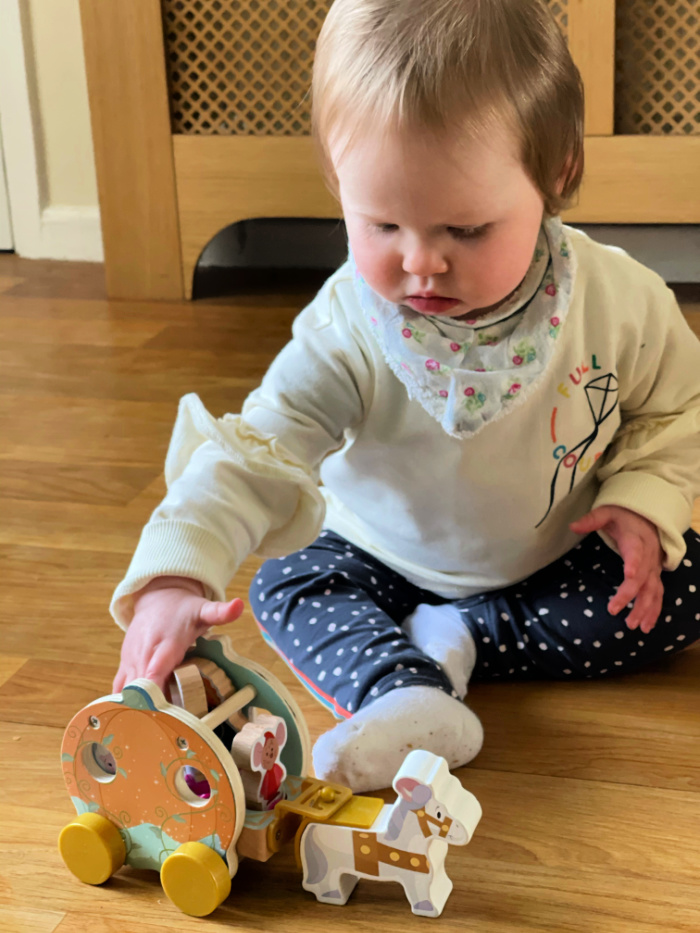 Designed for small hands, and with smooth-rolling wheels, little ones can push this carriage along the floor and explore all kinds of destinations. The figures can be easily placed into any one of the available slots.
Lilah loves playing with the Disney Princess range, slotting the characters into the slots. Eliza has was excited to find that there was a different character on each side of the wooden toy and loves telling Lilah all about them.
This is a really lovely range of toys and we are looking forward to seeing their new releases, including the beautiful wooden Rapunzel's Tower and
Ariel's Grotto, which will soon be available from all good toy shops.
Disclaimer: We were sent items from the Disney Princess Wooden Toy Collection to review. All thoughts and opinions are our own.