We just love summer days but also it rains a lot here, it's always a good idea to promise a whole day out to your kids, so they behave well during the week (hehehe).I have teamed up with JustFreeStuff which is a free samples site and have come up with free things to do in London, with the kids and still have lots of fun? Here's a top ten attractions from our beautiful capital city. Enjoy!
1. Be special at the Royal Museum, Greenwich
This is the world's largest maritime museum and you can't just stay home and not visit it. You can enjoy London's only planetarium and let the astronomy amaze you, or visit the iconic Queens' House (it is actually a must!). There are all kinds of exhibitions for your children to enjoy and learn without forgetting all the fun that comes out of going on and off the most unique ships at Cutty Sark. 
2. Let's play at the Coram's Fields
Want to skip the usual park and still be able to play and have fun? Than you should definitely check out the Coram's Field. It is a seven-acre playground that includes a Youth Centre, Children's Centre and Sports Program that makes it very interesting for everyone, children and young people (under 16). Don't forget to check out the Out of School Club that offers a wide range of activities that your children can attend after school, from crafting and arts to cooking and sports.
3. Let's play at Diana Memorial Playground
This is a beautiful place to play all day, especially in a warm sunny day, with a huge Pirate ship right in the middle of it. It opened in 2000, in memory of the late princess and it receives over 1,000,000 visitors every years. Kids love it, as it looks so magical, fairy and it drives their imagination crazy, just like the Peter Pan story does. It has also seats to relax and a special area for less able children, so they can play and socialize together. For refuel, children and parents can visit the Diana Playground Cafè where there is also a dedicated children's menu.
4. A journey in the Natural History Museum
If your children feel passionate about history and biology, than you really have to pass a day in The Natural History Museum and enjoy the fantastic galleries and exhibitions. You will all be fascinated from learning so much on dinosaurs, mammals, whales, fishes, other animals and nature. You will go through evolutionary steps of the humans and animals biology, the Earth's volcanoes and earthquakes and don't forget to close the day at the Darwin's Center!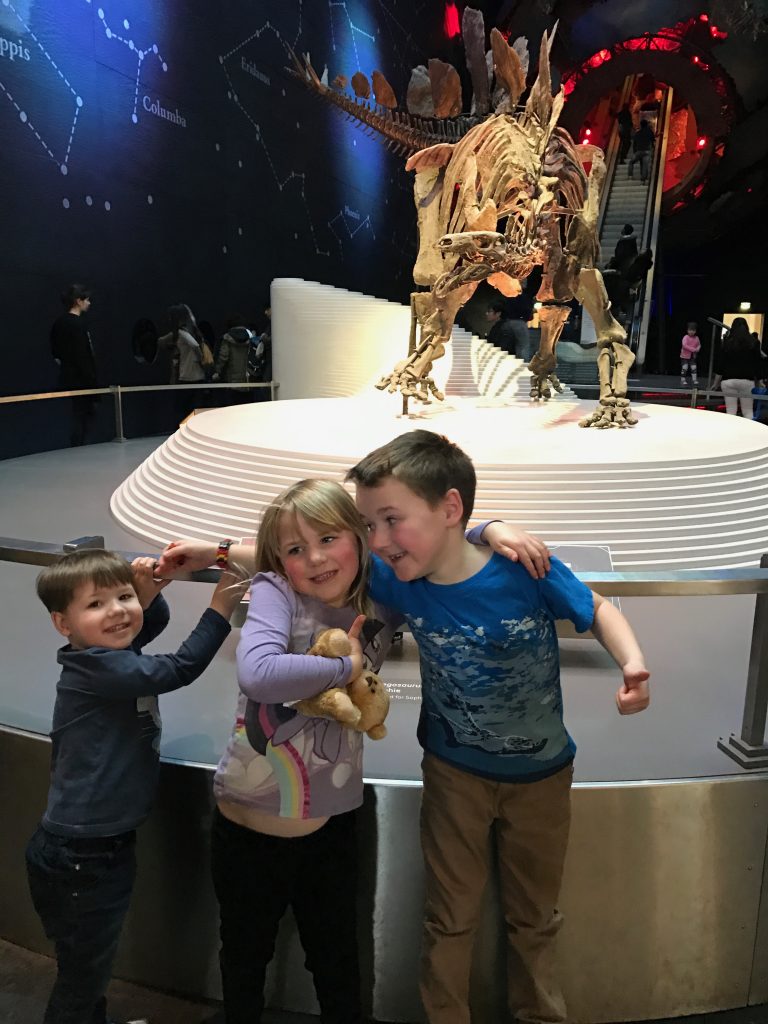 5. A day at the Science Museum
When you are done with the Natural History Museum, it will be the time to go through most meaningful scientific evolutionary findings on the Science Museum, which is right around the corner. It is always the right time to offer your children to know more about the earth, the sun and the moon, life on Mars or who are the scientist for which the whole world is so proud about. It's all fun, because most of the demonstrations are very interactive. Don't miss it!
6. Let's be artsy at the South Bank Centre
If your kids are into arts, you have to organize yourselves to plan a visit to the South Bank Centre. It offers a lot of free events and art performances from very talented children. It could be inspiring for your little ones. Discover the Education and Learning programs and how to discover new interesting tastes in the Shop, Eat and Drink section. If you don't really feel like spending a couple of hours on the inside, you an also just enjoy the building and the fountains.
7. Time to eat: the Borough Market
Everyone enjoys a good meal, even the little ones (if there are no vegetables, hehhe). Take a turn at the Borough Market and enjoy the fascinating display of different kind of slow food. Walk through the stands and enjoy the samples of the seasonal recipes. Interact with the farmers and ask them all kinds of questions, they're very happy to explain how the delicious gourmet gets done. Who knows, your kids might discover some new tastes they like. Wouldn't it be great?
8. Let's be children at the the Museum Of Childhood
Located in Cambridge Heath Road, the wonderful Museum of childhood offers a wide range of exhibitions and events dedicated to children. From an interesting demostration of toys created since the 16-th century till tours dedicated to arts and crafts, this is the place for your family day out. You can also partecipate in treasuty hunts for even more fun or discover the learning initiatives presented from the museum. Don't miss out!
9. Admiring ancient civilization at The British Museum
Found of the ancient history? Here's the perfect place: British Museum, opened since 1753. It will fascinate you with its amazing collection of seven million pieces that include objects from the Greek and Egyptian civilizations. If you become a member, you and your family can enjoy free entries throughout the whole year. Don't forget to check in advance the calendar of free events so you don't miss any.
10. Enjoy a coffee at the Somerset House's Fountains
If it's spring or summer, take a turn at Somerset House's Fountains and enjoy the wonderful show! They will go on and on while classic music is being played on the background to give you special vibes. You can also decide o take a coffee or just relax while the kids walk and run around the fountains.