If you're lucky enough to have a garden space you'll want to make the most of it. Perhaps you haven't updated your outdoor space for some time? A new new year is the perfect time to make a few updates to your property. To improve your garden space in the new year, try these five update ideas.
1 . Paint a statement wall
Looking to create a colourful garden that stands out? Consider painting a statement wall. It's a pretty simple concept, first off you choose a bold shade of paint. Next, pick one wall in your garden, and get painting! The trendiest colours for gardens right now include orange, lilac, and bright blue. When you're painting in your garden, here are a few tips that might help:
Consider using eco-friendly paint if possible, (these products can help to reduce your carbon footprint).
Follow paint roller techniques to ensure that you paint the wall evenly.
Apply a filler to correct any visible cracks in your wall.
2. Update your paving stones
Are your paving stones looking a little old and cracked? Updating them can help you to give your garden a fresh new look. When you're updating your paving stones, you'll need to decide which kind of material you want to use. Some of the most common materials for paving stones include concrete, porcelain, or natural stone. For a garden space, natural stone is preferable to concrete for several different reasons:
It's not so difficult to clean.
You can purchase varied and more subtle colours.
Natural stone tends to age better than concrete.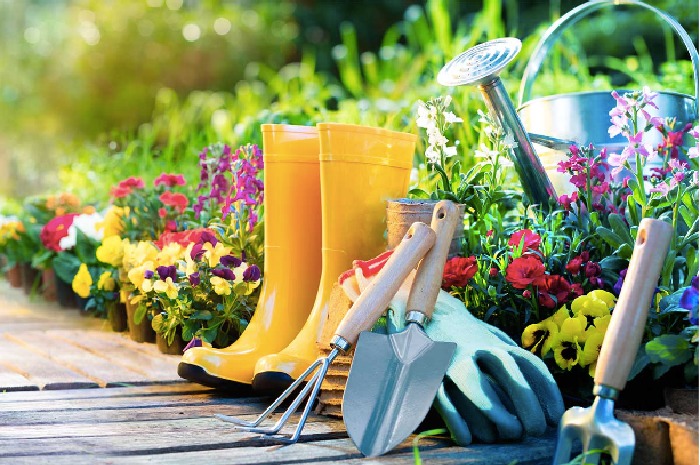 3. Build a pergola
To make the most of your garden space, consider building a pergola. These are usually wooden structures, made out of beams and posts. A pergola is a great way to create a sheltered or shaded area. If you're keen to create an attractive outdoor dining space, a wooden pergola is a great option. These are also incredibly useful in the summer; creating the perfect shady spot to enjoy your garden. The first step is to purchase oak frame kits, next you can construct your pergola, or have an expert do it for you.
4. An outdoor living room
Designing an outdoor living room is a fantastic way to extend your living space. Creating an outdoor living room is fairly simple, start off by purchasing outdoor sofas, and a few decor ornaments. You might like to invest in outdoor rugs, lanterns, or potted plants? There are many ways that you can make an outdoor living space look extra cosy.
5. Add water features
Water features are the perfect way to give your garden a touch of elegance. There are lots of different water features for a garden including fountains and pondless waterfalls. Your decision will depend on your preferred style, and how much money you're looking to spend. Maximising your garden space is all about choosing the right features, and thinking carefully about your design work.
Using simple ideas like these you'll be able to create the garden of your dreams. Remember, you'll need to protect your plants during the winter months. You can do this by adding mulch around the soil or covering your plants with a blanket at night.