A photobook can make the perfect gift for a wide range of occasions. Whether you're preparing a photobook to celebrate a birthday with photos of the recipient over the years, as a gift to a newlywed couple with photos of their wedding day, or to new parents with photos of their new baby, photobooks can be a seriously thoughtful gift idea and also make a great way to keep photos safe and in one place. While the digital age has made it less necessary to have photo albums and places to store physical photographs, there's something special about flicking through a photobook compared to looking at photos on your phone or computer. If you are considering making somebody special a photobook as a gift, here are some top tips to keep in mind.
Choose the Right Company
Today there are lots of different companies and services that you can use to make personalised photo gifts such as photobooks. Read reviews and get recommendations to find a company that offers great print quality and well-made photobooks with a variety of sizes to choose from. Photobox is a popular option as it is easy to use and you can simply download the app from the Google Play store or the Apple App store to create a photobook straight from your phone, minimising hassle. Along with photo books, Photobox offer a range of other personalised and photo items that make ideal gifts or items for your home including high quality canvas prints that you can make using your favourite photographs, again straight from your phone. Another great option that is great for those that are looking for a one-click photo book creation app is https://printedmemories.com. They are a new player in the industry but is very promising.
Less is More
When designing your photobook, it's a good idea to go for a simple template and keep the concept of 'less is more' in mind. A photobook that is too cluttered might end up being too much for enjoying the photos, so keep this in mind and add more pages if you need to so that you're not filling up the pages too much and have space to add notes about the photos and anything else that is important for you to add. If you cram too many photos onto just one of the pages, it can be difficult to focus on any of them. While you might like to fill a page with photos every so often, keep this to a minimum as doing it on every page can get overwhelming quickly.
Use Consistent Typography
Most photobook making tools allow you to add text to your pages using a range of different font options. Fonts can be fun to use and there are thousands of different ones to choose from, but when it comes to designing your photobooks, you will want to stick to just one or two fonts – three at the very most – to keep the design looking polished and sleek. A good rule to stick to is to have one font for your titles, another for the subtitles, and one for the body text. Stick to fonts that pair well with each other. For example, you could use a fancier font for the titles and then stick to plainer fonts for subtitles and body text.
Balance the Layouts
When it comes to making the photos in your photobook look professional and stunning, it's important to get the balance right. This balance is essential to both individual pages and the entire book. Don't be scared to use a little bit of white space, as this will help you to avoid the pages becoming too cluttered. Using buffer areas around your photos is a good way to improve the balance as it will help you avoid having photos that are touching one another or aren't even when placed next to one another. Using grids when designing is another good way to make sure that your photo book looks even and balanced across all the different pages.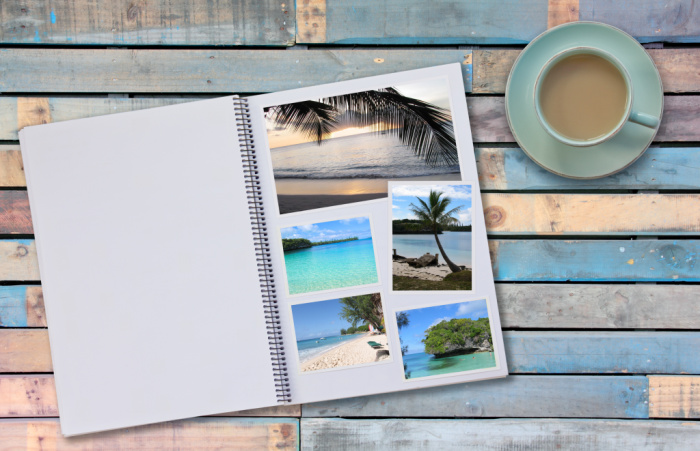 Use High Resolution Photos
When designing a photobook, using low-quality photos can quickly bring the entire book down since they're going to look fuzzy and grainy on the page. If you're using a low resolution photo and are trying to blow it up across a page or even two pages of a large photo book, then it's going to look very pixelated once printed. Instead, choosing high resolution photos for your larger page-fillers is a better idea. Of course, sometimes, there might be no option but to use lower resolution photos for certain pages, especially if these are the only photos that you have and will add sentimental value to the book. In this case, consider making these photos smaller and adding a few to the page along with text.
Consider Leaving Room for Additions
If you are giving a photo gift as a book or even making one for yourself, it's a good idea to consider leaving some room for writing in additions or even making text boxes where you or your recipient can make some notes in the book. This will add even more of a personal touch to the book and make it extra special.
Spend Time on the Cover
The cover of the photobook is one of the most important parts, so make sure that you set aside plenty of time to focus on designing the cover and making it amazing. Bear in mind that if you are giving the photobook as a gift, the cover is going to be the first thing that your recipient will see, so you need to make it special enough for them to get excited about looking inside the book. You can decide to give the book a fancy title or call it something simple, and use a high-quality, high-resolution image for the cover. Whether you are going to be giving the photobook as a gift to somebody special or displaying them in your home, this is what's going to create that important first impression.
Photobooks are a fun product to make for yourself or for giving as a gift. No matter who you are designing a photobook for, keep these tips in mind to get a great result.