We all want our families to thrive. And one of the best ways to do that is to make the best use possible of our gardens.
Why are gardens so important? So many reasons. Gardening encourages kids to get back out into nature and avoid spending so much time staring at their screens. It's also a great place to experience the feel of soil between the fingers and meet new creatures.
Check out some of the family benefits that come with getting out into the garden and enjoying it more:
It Introduces Kids To Fun Chores
Gardening can sometimes seem like a bit of a bore, but it doesn't have to be that way. In fact, many gardening chores are downright fun.
Naturally, you don't want to burn out your kids with tedious tasks that they hate. But you do want to introduce them to the idea that making a garden special requires work. Here are some of the activities that you might want to share with them:
Raking up leaves during the latter months of the year
Snipping flowers to create a bouquet
Collecting up sticks
Pouring mulch around the base of trees to prevent weeds or saplings from growing up
Digging holes and potting plants that they've chosen to grow
Harvesting fruits and vegetables from the garden
Sprinkling plant food on crops in the greenhouse
Weeding or remove excess stones from flower beds
Remember, when it comes to chores, you want to approach the matter gently. Just telling your kid what they need to do will generate resistance in them. You have to be careful.
Anyone Can Get Involved
Gardening isn't just for people living without disabilities. It's also an activity that disabled people can do too.
For instance, if you or a member of your family struggles to get out into the garden, you can bring it to them. Get them to top up pot plants with soil, or perhaps even create your own hydroponics kit that you bring inside.
If you don't have a garden of your own, you can use somebody else's. One option is to take advantage of community gardens and become members of local schemes. Another is to ask a neighbour whether you can work on their garden or allotment from time to time.
Even if you only have a balcony, there are still gardening options. You could set up pot plants and vines, or create a vertical garden.
You Can Grow Vegetables, Fruits And Flowers
The wonderful thing about nature is that it is something that happens almost entirely by itself. Once you create the right conditions, fruits, vegetables and flowers will begin springing up.
Letting kids plant vegetables is a great way to show them how food grows. There are a tremendous number of varieties you could try, including bell peppers, potatoes, string beans, carrots and tomatoes.
You could also experiment with quick-growing veggies too, such as peas, cucumbers, radishes and some types of herbs. If you want to grow something a little more exotic, such as olives, you might require a Cultivar greenhouse. These are large and spacious, giving you enough room for all the food that you want to grow.
As for flowers, there are many options here too. Sun flowers are among the easiest to grow and are popular with kids because of how tall they get in the summer months. Daisies are also another good option because of their bloom.
If your kids are older, then you might want to grow geraniums, marigolds or snapdragons.
Fruit takes a little longer to get started in your garden, but once you have an orchard up and running, you can often get enough fruit to feed your family for months. You can plant new trees from seeds and pips, but they will take many years to come to fruition. They're also quite weak, which means that they could die within the first couple of years.
A better option is to buy a starter tree. It comes in a large pot and your children can help you dig the hole to put it in the ground.
It Lets You Spend Time With Your Family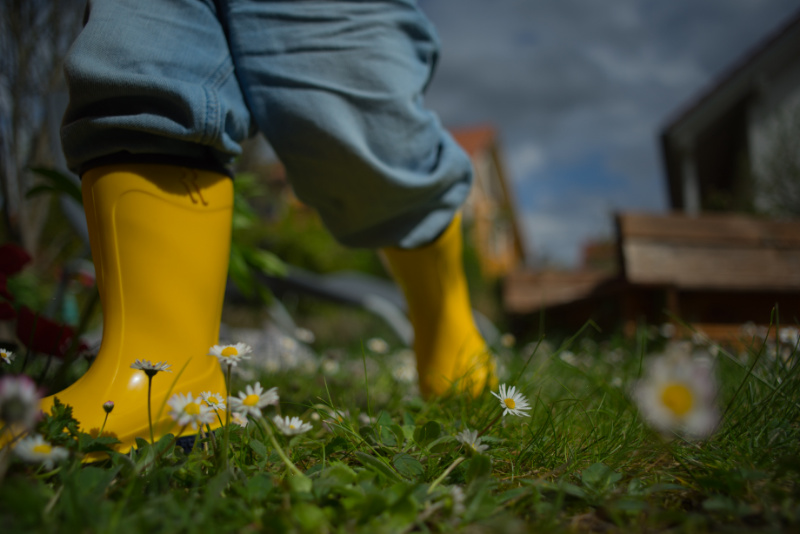 Getting quality family time is challenging these days. There are just so many pressures, from schoolwork to clubs to trips to the supermarket. Gardening is one of those family activities that everyone can enjoy together. You can work on shared projects and enjoy the bond that they help to create.
It Encourages Healthy Eating
When vegetables come in plastic packages from the supermarket, it's hard for kids to understand where they came from or how they originally began their lives. But when they actually plant them themselves, it creates more of a connection. In many cases, they're excited to eat them in a way that simply isn't possible with store-bought veg. They want to see how their produce tastes!
It Improves Sleep
There's also a case to be made that gardening improves sleep. It does this in three ways: exposing the body to natural light, reducing stress, and increasing physical activity.
When kids get more sleep, it brings all kinds of benefits. For instance, they can concentrate better on their work at school, they're less likely to eat poorly, and they behave better.
It Gets You Outside
Getting outside with the family usually requires first climbing into the car, making sure that everyone's strapped in, and then journeying to a local park. But when you get out in the garden, you avoid all that hassle.
Remember, you don't have to spend all your time outdoors doing chores. You could organise a water fight or play a game. You could even recline under sun loungers and have a family conversation about the future.
It Lowers Stress
Lastly, one of the major reasons people get into gardening is because it lowers stress and improves their mood. Being stuck indoors all day can make you feel miserable. But once you get outside and start doing something productive, you suddenly feel lighter and happier.