It's almost all back to normal here, with work and school, although they started the week with an inset day.
My husband has started a new job and is back in Weymouth, just in time for the nice weather, so hoping to explore some more of the town in the next few months.
Here is our week:
Sunday 24th April
Isaac, Eliza and Sebby are all in the cubs / scouts and for the first time in two years, all got to take part in the St George's Day Parade again.
It was a gloriously sunny day for it, albeit a bit chilly as we were marching by the sea.
Once the parade and presentations were over, we wandered in town so Isaac could spend some of his birthday money. On the way back through the gardens, we spotted a game that we enjoyed playing when on our cruise a few years ago, where you throw a beanbag into a hole – Isaac nailed it first time.
Monday 25th April
Inset day for all the kids, so we ventured out to Kingston Maurward to see the lambs.
Kingston Maurward is an agricultural college and is free to visit. As well as the animals, it has a woodland and lake walk so we took a picnic to make a day of it.
Tuesday 26th April
Back to school and work, but the evening saw us heading to the beach for the kids first beach session with Branksome Surf Lifesaving.
They much prefer it to being in the pool and Eliza complained that they didn't get enough time in the sea – rather her than me, it might look warm but it was bloomin freezing.
Wednesday 27th April
Another work day and Abbey picked Isaac up from school for me.
She bought Lilah the cutest hat when she picked up Isaac's birthday present – can't help thinking she looks like an extra from Kevin and Perry though.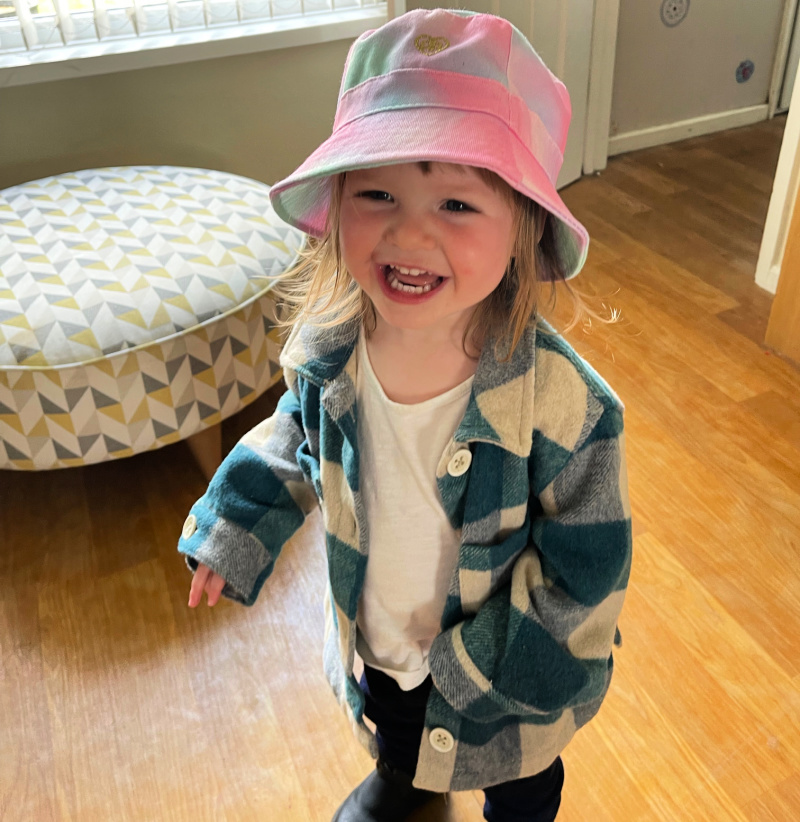 Thursday 28th April
The days all feel the same now we are back to school and work. The evening did see Sebby head to cubs and he was happy as they are outside now it is light enough.
Friday 29th April
After two years with barely any camps, they seem to have one every month at the moment.
It is lovely to see them having fun with their friends again.
Saturday 30th April
With the kids away, it was up to us to feed our Praying Mantis'.
They are getting big now and easier to take pictures of. This one is Blaze – Sebby's Thistle Mantis.
Hope you all have a lovely Bank Holiday weekend.