During our recent weekend in London, we decided to hop on a Thames Clipper and explore tourist sites along the River Thames.
Our first stop was HMS Belfast, a Town-class light cruiser that was built for the Royal Navy, which is now permanently moored as a museum ship on the River Thames and operated by the Imperial War Museum.
The Royal Navy cruiser played a key role in the Second World War, firing some of the first shots at the D-Day landings, served in the Arctic Convoys, and in the Korean War. During the visit, you get to explore all nine decks of the ship, seeing how the sailors lived and worked as well as learning about the stories and adventures the ship saw during its history.
My kids loved clambering up and down the stairs, which are more like ladders, to find the clues and solve the mystery from the interactive family activity.
Throughout the ship there were models of sailors showing how life would have been on board, often accompanied by the sounds of chatter, conversations and recreations of their day to day activities. The kids were particularly fascinated by the gun turrets and hearing how the timing of the guns was done and how it would have sounded as they fired a round.
The upper levels hold the brains of the ship, with the navigational, tactical, communication and gunnery control systems on display alongside most of the ships guns.
You get the chance to sit in the Captain's chair and imagine you were taking control of the ship, or sit and pretend to be one of the gunners and enjoy the views over London.
On the lower decks, you descend below the Thames waterline into these heavily armoured decks to find the machinery held within.
One of their favourite rooms was the shell rooms in the lower decks, each of which served the four 6-inch gun turrets with replica 6-inch shells sitting on a revolving carousel ready to be hoisted up to the gun turret above.
We even found a jail cell!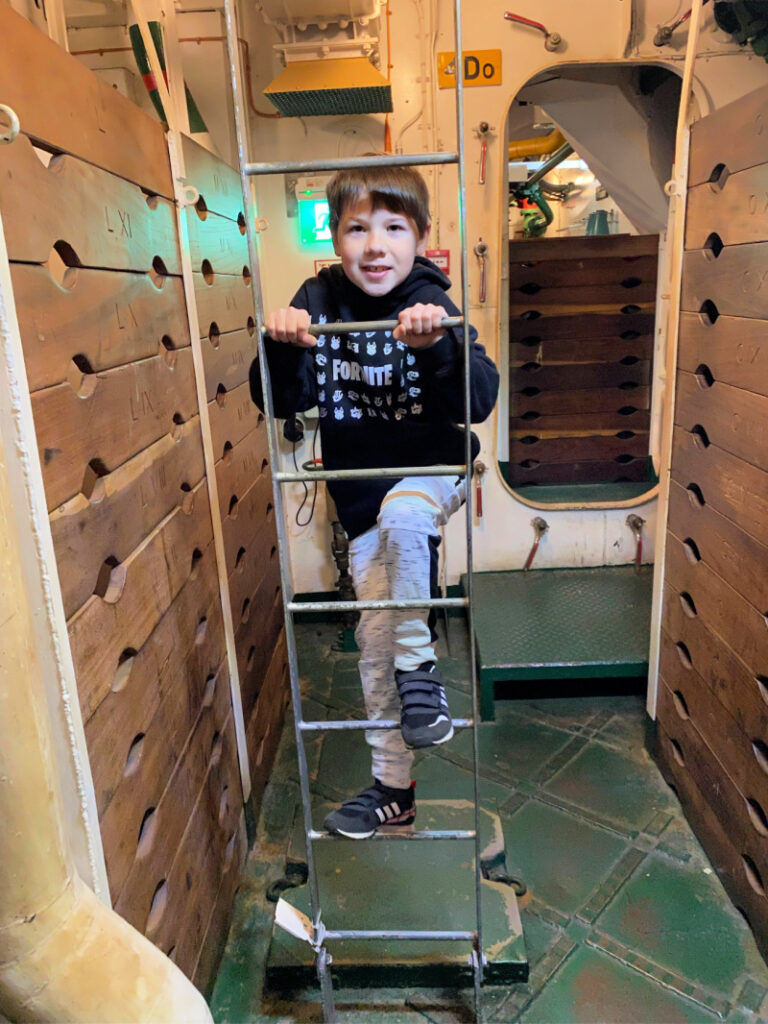 With the pandemic, we have been so used to not being able to do any hands-on activities, that it was lovely to be able to get stuck into all the activities on offer, such as learning morse code, or making our own battle plans.
If you are travelling with young children, be aware that there are steep stairs and ladders to climb, and low ceilings. so it may not be suitable to visit.
HMS Belfast is open from 10am – 6pm every day and tickets are available at www.iwm.org.uk/visits/hms-belfast/booking, with adults cost from £23.60, children from £11.80, with members and under fives free.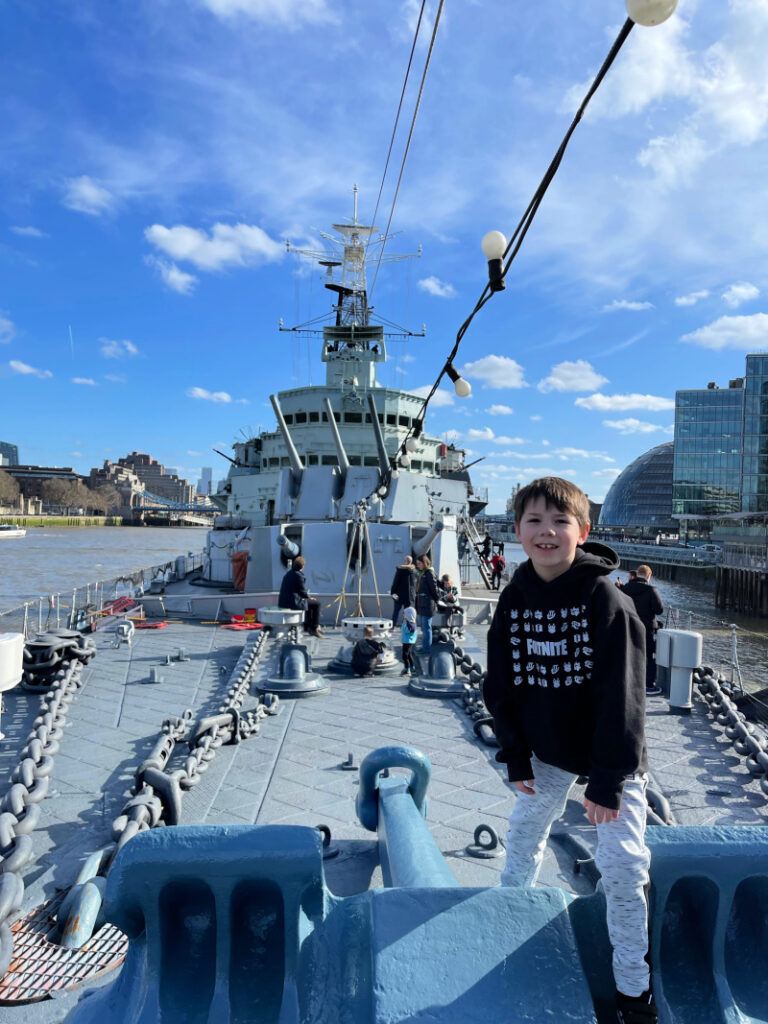 Disclaimer: We were guests of HMS Belfast for the purpose of a review. All thoughts and opinions are our own