It has been a busy week of activities.
My only evening's off are Friday and Sunday, although I am still playing Mum's taxi for the kids.
We are on countdown to Father's Day, Sebby's birthday on Monday and mine on Tuesday, so it has been a busy week of party prep and planning.
Here is our week:
Sunday 12th June
After the wedding celebrations the day before, it was back to earth (and work), with a bump.
Thankfully, I had a later start and when I left, the workmen were already hard at work ripping out all of the old fridges. Although working through a refit is tough, it is nice to see it all happening.
Monday 13th June
I covered holiday at the preschool, so got to go in and see how Lilah was getting on. She barely noticed I was there, although did confuse some of the kids when she called me Nana.
Eliza and Isaac had scouts in the evening and tonight's adventure saw them abseiling 60ft from Alum Chine Suspension Bridge.
Isaac literally flew down, but thankfully Eliza took a slower pace, so I actually got a good photo of her. I went onto the bridge to look over and I have to admit, I wouldn't have done it!
Tuesday 14th June
Another work day for me, but back at Tesco. Thankfully I got to see some sun when I took Eliza and her friend to their surf lifesaving session.
They enjoyed a cooling frolic in the sea after their session.
Wednesday 15th June
A preschool day today and it was so hot we had to keep the kids inside after lunch. I did see this beauty on the way home from school.
Thursday 16th June
Our Indian Flower Mantis has shed recently and we noticed that she is starting to change colour and get her markings now.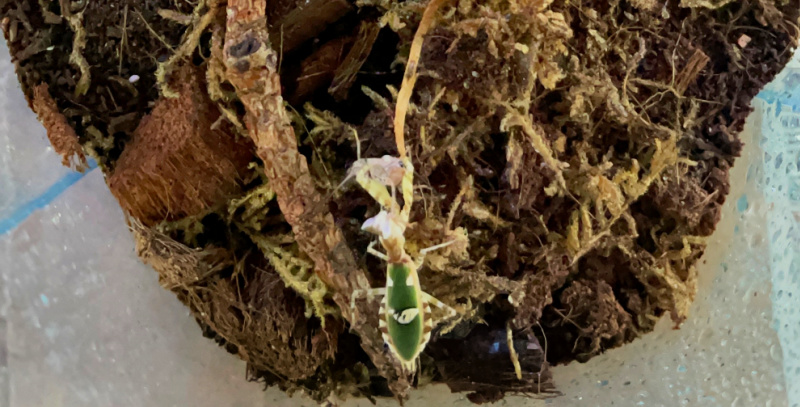 She is also big enough to see properly and I managed to film her catching her dinner – check out my TikTok video here.
Friday 17th June
The hottest day of the year so far, so we treated the kids to a barbecue for dinner.
We even ate it outside!
Saturday 18th June
It is Sebby's 9th birthday on Monday and I wanted to avoid a party on Father's Day, so we held his party today.
He was going to have a gaming party, but since the weather has started improving, he has been playing outside with his friends having Nerf battles, so a Nerf Party was the perfect choice.
I am now under instruction to buy more bullets for home, so they can recreate their battles in the park.
After the party we had to drop Isaac to the beach and popped into Tesco, where Sebby was invited to sit on the Blood donor motorbike.
How was your week?