Birthday parties are finally back with a bang and following the success of Sebby's Quad Biking Party last year, he wanted something equally as epic.
We toyed with the idea of a gaming van, but with a birthday in the middle of June, it seemed a shame to have the kids all couped up in a van on a hot sunny day. Sebby's other love is Nerf and he often goes out with his friends, with their nerf guns in tow.
There are a few Nerf party venues locally, but we settled on Kids on Quadz again, who have recently launched their Woodland Nerf Party package.
It is recommended to turn up 15 minutes early to get booked in, kitted out with a tactical vest, goggles and masks and allocated your teams.
Once you're ready, you are lead around to a woodland area next to the quad bike track, where you are given your instructions and prepare for battle in a series of fun games.
The first game gets the kids warmed up in a bit of a free for all, where they run to find a gun and then just shoot each other. Sebby was given a bigger nerf blaster as the birthday boy.
Being in a woodland setting, there are tree's to hide behind, as well as barrels and base's.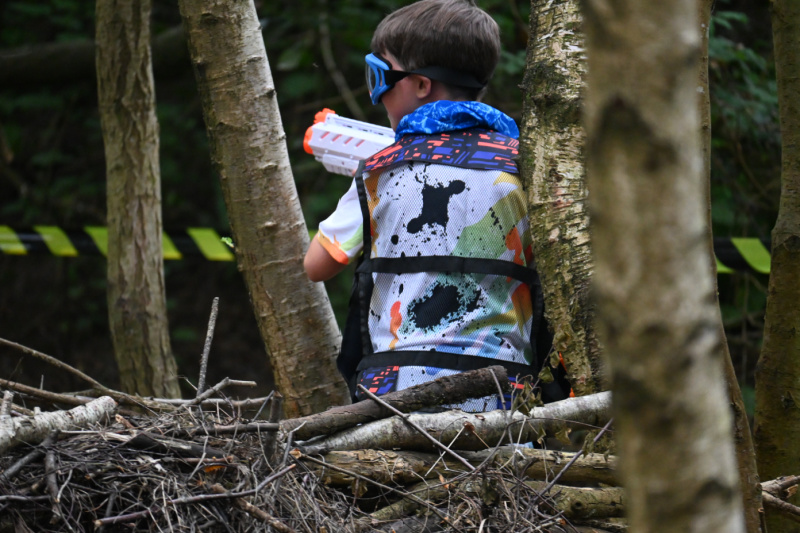 Game Modes include Capture the Flag, Domination and even a Fortnight themed game.
To add to the fun, the instructors even let off a smoke grenade, to fill the woodland with coloured smoke, which the kids loved.
It was lovely to see the kids working together during the battles and there was a good ratio of wins for both the red and blue teams.
There is a viewing area for parents, however, you are in the woodland area where they are playing and we all got hit a some point by a stray nerf bullet (or was it on purpose?).
To finish, there was a competition to see who could collect the most nerf bullets for the chance to win a bag of sweets. I was quite surprised to see how popular this game was, as the kids used their pockets, socks and even their goggles to carry as many as they could.
Once they had finished, it was off to get a much needed drink and some food. The party room is an old container unit which has been converted. We opted for the food package which included a selection of sandwiches, party snacks and unlimited squash, but you can take your own food if you prefer.
If you are looking for a birthday party with a difference in Bournemouth, I can highly recommend Kids on Quadz. Isaac fancies trying the airsoft for his next birthday.