As we near the end of term, the kids are doing more and more activities and never have I ever felt more like Mum's taxi!!
I was so tired, I even forgot to finish last week's 365, so you get two for the price of one this week.
The weather is finally acting like summer, although I am a little worried over the MET Office's Red Alert warning of dangerous heat next week. It is scary that we, as human's, are responsible for this climate change and can only hope that we manage to reverse it.
Here is our weeks:
Sunday 3rd July
After a busy few days at work, I enjoyed a mostly relaxing day at home.
Isaac stayed at a friend's house the night before and then he and his friends headed to the cinema to see Minion's, all suited and booted thanks to the new TikTok trend. They loved the film and of course, Mum had to play taxi to get him home.
Monday 4th July
Back to work for me.
Once home, I launched my first giveaway for a long time – to win a set of Magicubes
Tuesday 5th July
My husband's birthday, which we celebrated by going out for breakfast at our favourite local cafe – Flamingo.
We then headed down to the beach for a walk as it was such a glorious day.
In the evening, it was back to a different part of the beach for Eliza's surf lifesaving club.
Wednesday 6th July
After work at the preschool, I had to head to Tesco to put up the bunting and flags for our local Pride festival – Bourne Free.
Turns out that even with a big ladder, I am still too short to reach the ceiling. Luckily one of the team was on hand to help.
Thursday 7th July
I had to pick up a raffle prize for the school fair in my lunch break and couldn't walk past Starbucks with out purchasing their passionfruit and raspberry cooler.
It was delicious, but I ended up finishing it with a spoon as the paper straw disintegrated,
Friday 8th July
The day of the summer fair and the kids had to go to school with mad hair.
I think this one needs a haircut!!!!!!
Saturday 9th July
The weekend of Isaac's Duke of Edinburgh bronze expedition,
I dropped him at Pamphill, where he and his friends had to complete a six mile hike.
Sunday 10th July
Day 2 of Isaac's hike and they had to meet at Badbury Rings.
They did panic me slightly by changing the timings to finish earlier, because of the heat. Thankfully, Isaac's friend was able to bring his home as we had a date with Paultons Park.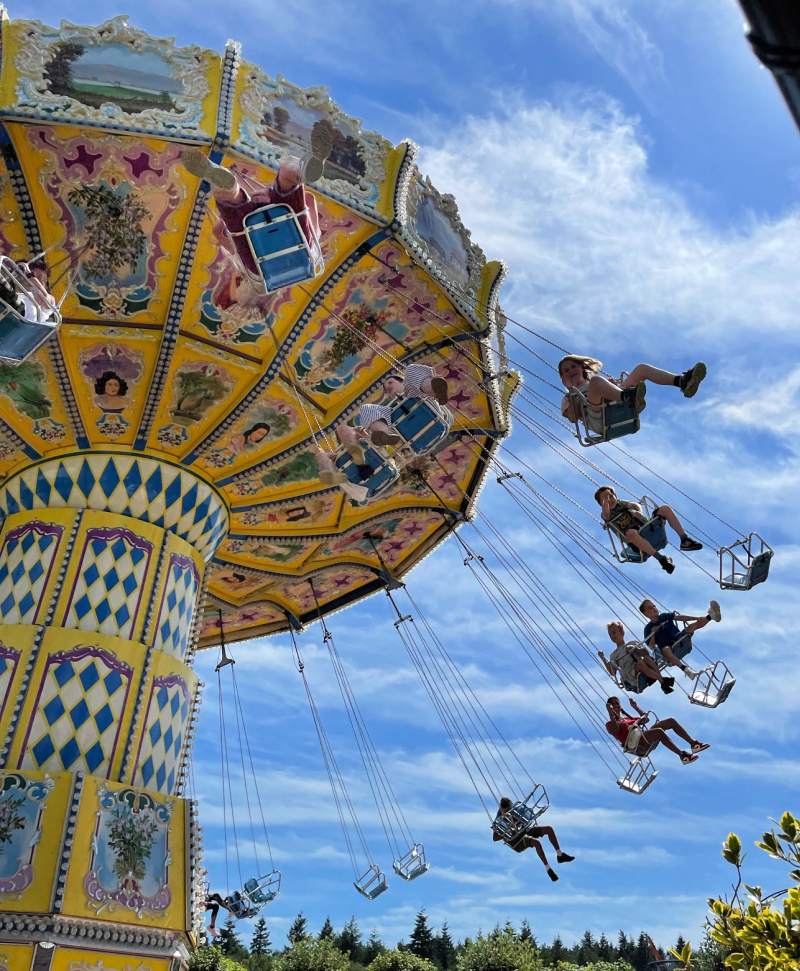 Because we had dropped Isaac off so early, we arrived before the park opened, so got to spend a full day there.
I think everyone must have been heading to the beach, as the park was really quiet and the longest queue we had was 10 minutes at most.
Monday 11th July
I was a bit annoyed at myself for volunteering to pick up overtime, as the weather was glorious. My husband wound me up by sending pictures of him enjoying the garden.
Tuesday 12th July
I ordered Eliza a copy of Dustin's Thinking Cap from Stranger Things weeks ago and it finally arrived,
I couldn't park for Eliza's surf lifesaving club, so was expecting a packed beach, but it was strangely quiet.
Wednesday 13th July
Lilah tried to befriend the neighbour's cat, Zelda but I am not sure the cat was too keen.
Thursday 14th July
We are nearing the end of our refit at work and my Community Boards have finally gone up – can you spot the mistake?
It should be more central, so I am hoping they correct it next week.
In the evening, Isaac stayed at school to help out with his school talent show, as a stage hand.
Friday 15th July
A busy day at work. We have made lots of donations to schools recently and they have almost all requested ice lollies for Frozen Friday events.
Saturday 16th July
A rare day off with my husband. The plan was to go for a walk and enjoy the local beach, but instead we stayed at home and caught up on housework and washing.
We did road test a new game – Pass The Pugs, where the first to 100 points by throwing your pugs and seeing how they land. It does get rather competitive!
How was your week?