As an early years practitioner, I see the benefits of imaginative play on a daily basis.
Imaginative play is perfect for helping kids develop their language and social skills, can also help them deal with new situations and also gives children the opportunity to learn practical life skills, such as dressing themselves, how to cooperate and share with others and problem-solving skills, which will they will need more and more as they grow up.
Children are always watching what is going on around them, learning from their surroundings and seeing how adults around them respond to different situations. You will often see them then re-enact what they have learned at a later date.
Engaging in pretend play of everyday life situations, such as different job roles or household chores, lets your child experience adult world activities and encourage them to join in with you day to day.
Lilah loves role play and often ropes in Sebby, Eliza and Isaac in her activities with her role play toys. Her favourite toy is her Smoby Garden Kitchen, where she can cook up a storm on her very own barbecue.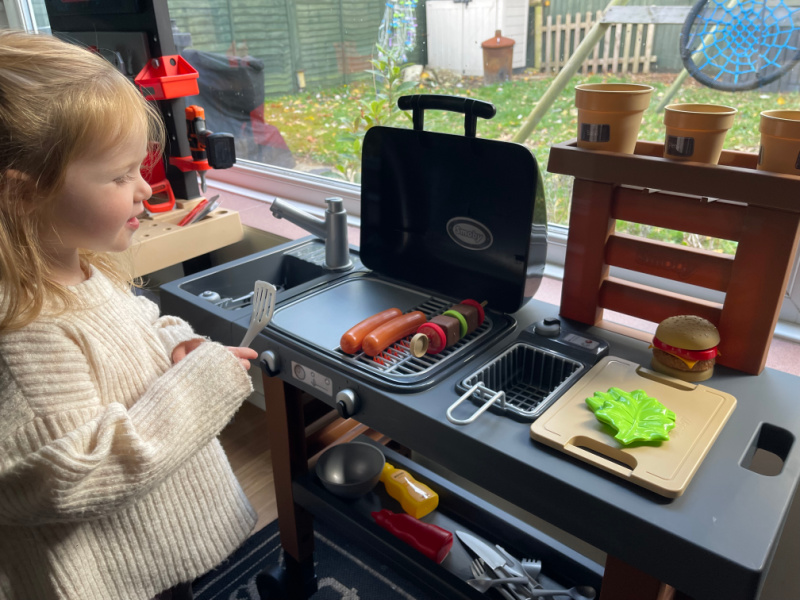 The set is suitable for both indoor and outdoor play and comes with a grill with retractable flames and a fryer. Lilah is also be able to do the dishes thanks to the sink equipped with a water pump, although we only add water when it is outside in the summer.
There are forty accessories included, including food (french fries, hamburger, skewers, salad…), and utensils (barbecue tongs, fire lighter, cutlery, plates, chopping board…) and you can even use the flower pots to plant real herbs.
With imaginative toys, I would always follow what your child enjoys playing with, or something that is happening in their lives e.g. if you need to take them to the doctors, you can play dressing up with some of the equipment they might use, so your child isn't scared when they get there.
By having imaginative toys at home, you can encourage your child to naturally explore their imagination during playtime. if you are limited on space, we love Melissa and Doug wooden toys as the are compact enough to be stored away at the end of the day, but have enough accessories to keep them occupied for hours at a time.
As you can see, Lilah has a real thing about cooking and food – maybe she will be a chef when she is older!
If you have a bit more space, you could invest in a play kitchen or work bench so your children can really get creative.
Job-based role play can help build discipline and empathy and is also a great way of copying Mum, Dad and family when they aren't actually allowed to use the tools of their job.
Lilah really enjoys playing with our Smoby Workbench, where she can saw, hammer and screw things in, which is great for developing her fine motor skills as well as role play.
Don't worry if you are on a limited budget, you don't have to go out and buy brand new items just for imaginative playtime. You can use everyday objects from around your home and guide your child as to what they could potentially be used for and nothing beats a good cardboard box, which can easily be turned into a car, a rocket or even a cot.
Do you enjoy imaginative play with your child?
Disclaimer: Post written in collaboration with Very.co.uk, who kindly gifted us some imaginative toys in exchange for a review.