I have written before about the benefits of imaginative play for kids and with budgets really stretched this Christmas, I have come up with ideas for gifts, which will provide hours of entertainment for a variety of ages, but won't break the bank.
Role Play Toys for Early Years
As an early years practitioner, I am always aware that young children are always watching what is going on around them, learning from their surroundings and seeing how adults around them respond to different situations, often seeing them then re-enact what they have learned at a later date.
Engaging in pretend play of everyday life situations, such as different job roles or household chores, lets your child experience adult world activities and encourage them to join in with you day to day.
One of my favourite brands for pretend play toys is Melissa & Doug as they really inspire young imaginations, with lifelike role play sets and I have fallen in love with their Super Smile Dentist play set.
Going to the dentist can be a daunting experience for anyone, especially young children, but you can help them understand the benefits of good dental health and what a dentist does with this 26-piece dental care play set.
The set features an over-sized set of pretend teeth so young dentists-in-training can give cleanings, treat cavities, and even fit retainers and braces!

You can mark the pretend teeth with the stickers included, or a dry wipe marker and then use the vibrating tool with interchangeable polishing and drill heads, and the toothbrush to clean them.

The set includes realistic instruments like a pick, mirror, and floss, a dental rinse bottle and cup, 2 gauze pads, 3 tooth polish cups and an instrument tray to keep organised. There is also a mask, reusable ID tag on a lanyard and a double-sided reusable activity card to really complete the dentist's office experience.
Construction Toys
Construction toys are great for engaging kids of all ages in critical thinking, problem-solving, and spatial reasoning. They also benefit their hand – eye coordination and fine motor skills.
When free playing with different types of construction toys, kids change the way they think and learn to analyse and understand how different pieces fit together to create structures. This enhances their cognitive abilities, such as logical reasoning and planning.
When following instructions, for example with a complex LEGO set, it helps improve cognitive and manual dexterity and gives them a great sense of achievement when the set is completed.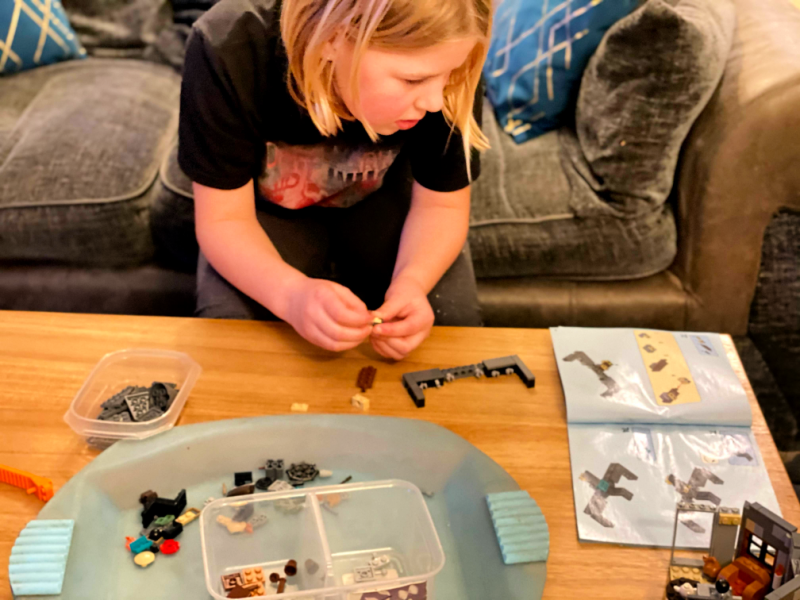 Some construction toys now include mechanics and coding to add a STEM benefit too and are great for personalising kids bedrooms by having them on display.
Get Outdoors
Getting outdoors is great for kids imaginations as it helps to give them the ability to create their own games with their own rules, as well as to create elaborate stories and play make-believe.
Encouraging kids outside can be tricky, especially in this age of technology, but when you add a bike or a scooter in the mix, I find that the kids are more keen to go.
Learning to ride a bike is not only good for your child's physical health, but it can boost their confidence, which is essential when exploring independence.
There are many types of kids bikes to choose from and Lilah loves her new heritage style bike, as her favourite Care Bears can come along for the ride to collect care hearts as they speed along.
Do you enjoy imaginative play with your child?
Disclaimer: Post written in collaboration with Very.co.uk, who kindly gifted us some imaginative toys in exchange for a review.