The weather has been fabulous this week and we have spent lots of time outside enjoying the garden and the local area.
This week has been National Walk to School week and we have been taking part in #kiawalktoschool challenge with Tots100 which the kids have loved.  I am definitely going to carry on making challenges to spot things on the school run and already have a few ideas.
Sebastian has made fantastic progress with swimming and is now happy to hold onto a woggle whilst being towed around the pool and can hold onto the side and support himself.  He is not so sure of being given a piggy back in the water but I am sure he will get used to it.
I am really excited to have been chosen as an Official blogger for not one, but two festivals.  This year we are off to Camp Bestival and LolliBop and we have been busy practising putting up tents and finding costumes.
Here is our week in pictures.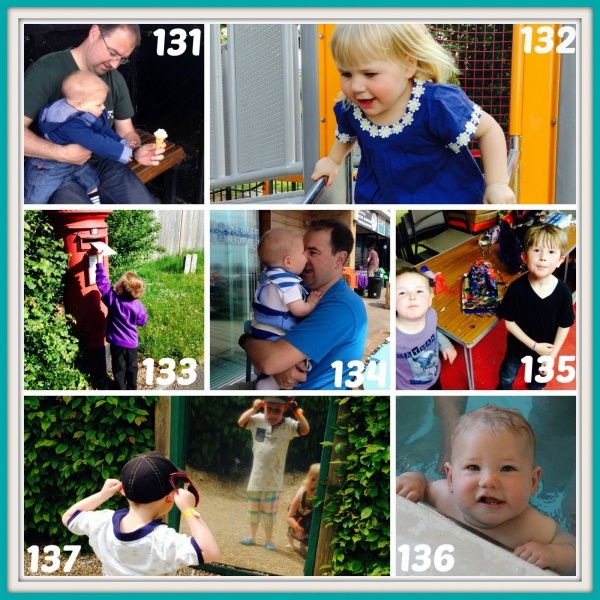 131.  Daddy gave someone their first taste of ice cream.  Safe to say he loved it and kept trying to grab the ice cream out of Daddy's hand!
132.  Eliza enjoying the slide at the local park
133.  Isaac helping me post some letters asking for raffle prizes for the School Fete.  This was one of our #kiawalktoschool challenges.
134.  We took daddy out for lunch to celebrate his new job, Sebastian just wanted to chew daddy's nose though
135.  Isaac and his bestie Alfie with their model they made at Beavers
136.  Swimming lessons with Sebastian
137.  At Adventure wonderland – the kids spent ages pulling faces in the funny mirrors