Kian has broken up from school already, Eliza finishes on Monday and poor Isaac has to wait until Wednesday lunchtime.  I have to admit I am looking forward to no school runs for 6 weeks.
I have to admit that this week I have really struggled with the heat.  I have found it cooler to be out and about though rather than sat at home and the air conditioning in the car has been a godsend!!
Last Sunday we attended Mollie's birthday party at the ice rink in Poole Park and even had a snowball fight in the park afterwards – it was quite bizarre throwing real snowballs when its warm outside and big thanks to Uncle Mark for being the target!
The rest of the week we spent visiting local attractions and making the most of them before the Grockles (tourists) arrive and they get really busy.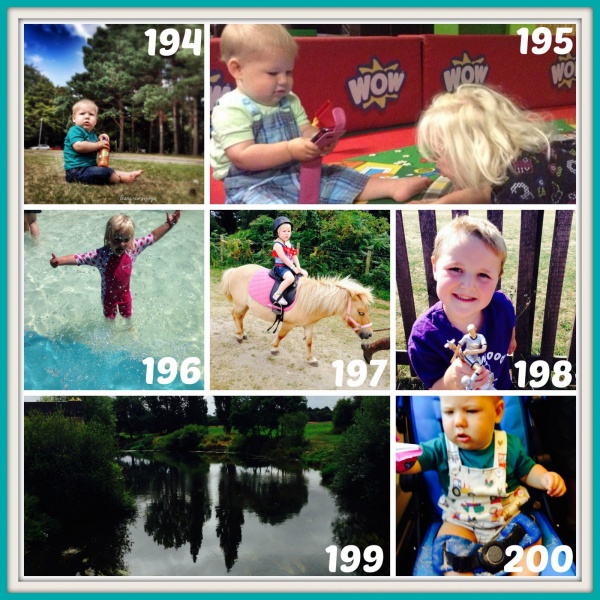 194.  Sebastian chilling out in Poole Park whilst Isaac and Eliza enjoyed Mollie's party
195.  You can tell they are bloggers children when they start setting up their own photos
196.  Cooling off in the pool
197.  Eliza enjoying a pony ride
198.  Isaac was presented with a trophy for football skills and team work from his football club for the whole of the infant school (Proud Mum)
199.  Having a walk through Blandford
200.  On the train back from London – I must apologise to South West Trains for the mess!