I forgot to do my Project 365 post!
That never happens!
In my defence we have a manic weekend and then Sebastian was ill.  Now it's 5am and I am up with Eliza who seems to have gone down with it now, and no amount of persuasion will get her back into bed.  Whilst she watches the rubbish that is on TV this time of the morning I may as well catch up.
The final week of the school holidays was epic!
Monday saw us head to Rockreef for Kian's birthday treat in the torrential rain.  On the way there the kids were splashing in the puddles and having fun and were spotted by the Daily Echo, who took lots of photo's which went in the paper the next day!
The grand finale to the school holidays though was Bournemouth Air Fest and we spend four days on the beach, having fun and enjoying everything it had to offer, with a brief interruption to drive some Go Karts at Daytona Track at Sandown Park!
Here are my pictures: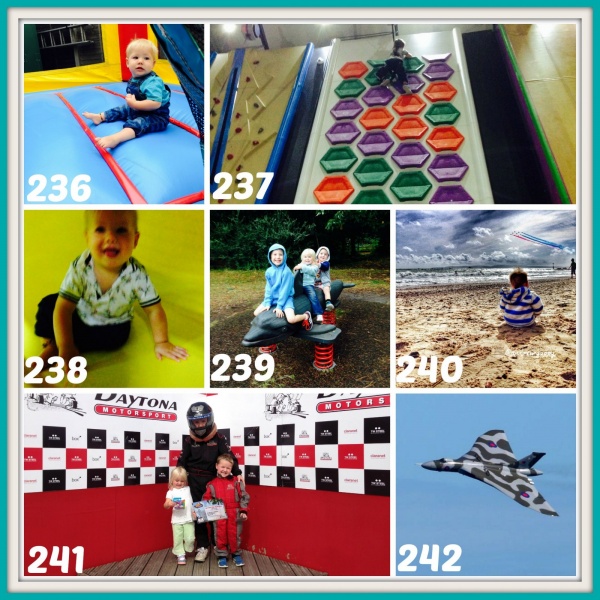 236.  Sebastian enjoying his first go on a bouncy castle whilst the kids watch a magic show at Connor and Ellie's party.
237.  Isaac makes it to the top of the highest climbing wall at Rockreef
238.  We found a tunnel at soft play
239.  Playing with friends at the Pirate Park
240.  Thursday is always the quietest day at the Air Fest and here is Sebby enjoying the Red Arrows
241.  Posing with their certificates at Daytona
242.  The mighty Vulcan put in an appearance at the Air Fest