This week was one we have been looking forward to for a while.
On Sunday Eliza and I attended a Princess Ball where she got to meet some of her favourite Disney Princesses including Cinderella, Ariel, Rapunzel and of course Anna and Elsa.  My normally confident little lady went all shy and refused to have any pictures with them, but I am hoping she will get over that by the time her birthday comes around as she insists she wants them there!
On Monday we held our first Lemur Linkup Blogger / Business night which saw local bloggers get to meet and get to work with local businesses.  It went even better than we could have dreamed of and plan to run them twice a year.
Thursday saw the first school disco of the year and both Isaac and Eliza won prizes for their dancing.  I definitely need to book them in for lessons, especially Isaac as he seems to be a natural at street dance!
This week has also seen some epic rainstorms, normally hitting us when I am doing one of the three school runs of the day.  It is safe to say I spent most of the week looking like a drowned rat.  Thankfully we found shelter when one hit whilst we were doing the Gruffalo's Child trail at Moors Valley yesterday!
Here is my week in pictures: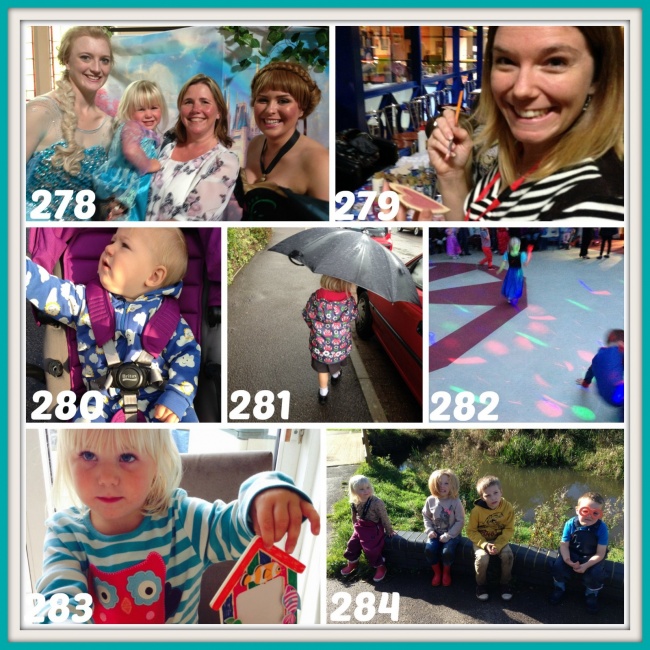 278.  Meeting Elsa and Anna
279.  Joanne from Charliemoos making a wooden heart at Lemur Linkup
280.  Since flying to Rhodes, this little man is obsessed with planes!
281.  Someone stole my brolly!
282.  School Disco
283.  We attended a Baker Ross Twitter Party hosted by my friend Jeni – Eliza made this photo frame
284.  Doing the Gruffalo's Child Trail at Moors Valley