Us Mum's love to be spoiled and a real treat for me is not having to cook.
Beefeater know this and have devised a delicious set menu for Mother's Day on 6th March, but remember to book your table now to avoid disappointment.
The Mother's Day Menu costs just £19.99 for three courses with a variety of choices for starter, main course and dessert, plus Mum also gets a few glass if Prosecco by downloading this voucher code.
Starter:
Crispy Flatcap Mushrooms
Classic Prawn Cocktail
Tomato Soup
Beef and Pork Kofta's
Loaded Potato Dippers
Main Course:
Chicken, Bacon and Avocado Salad
Double Bacon and Cheese Steak Burger
Roast Beef and all the Trimmings
Chargrilled Gammon Steak
Beer Battered Cod and Chips
Chargrilled Chicken and Woodland Mushroom Risotto
Baked Veggie Enchilada
Smothered Chicken Melt
Dessert:
Profiteroles
Ice Cream
Caramel Apple Betty
Chocolate Melt in the Middle Pudding
We went into our local Beefeater to try out the menu on Wednesday, but it is only available this Sunday only so we ordered from the main menu instead.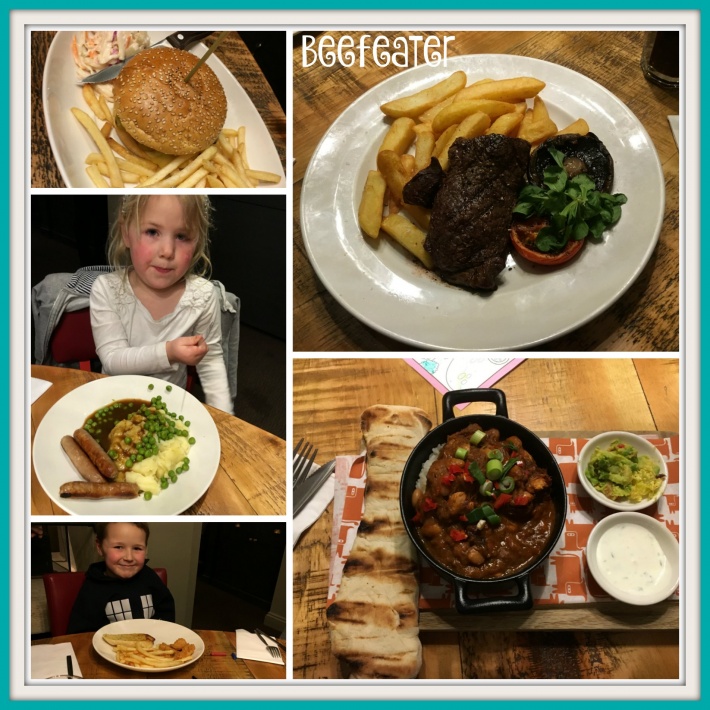 What I love about Beefeater is that the kids can mix and match their sides so they can eat exactly what they want and no food goes to waste. Eliza loved making a pea mountain with her jacket potato, whereas Isaac went for Garlic Bread and Sebby got stuck into some corn on the cob.
Of course no meal out is complete without dessert and the kids enjoyed making funny faces with their ice cream and Nanny, Hubby and I all treated ourselves to something naughty, but nice.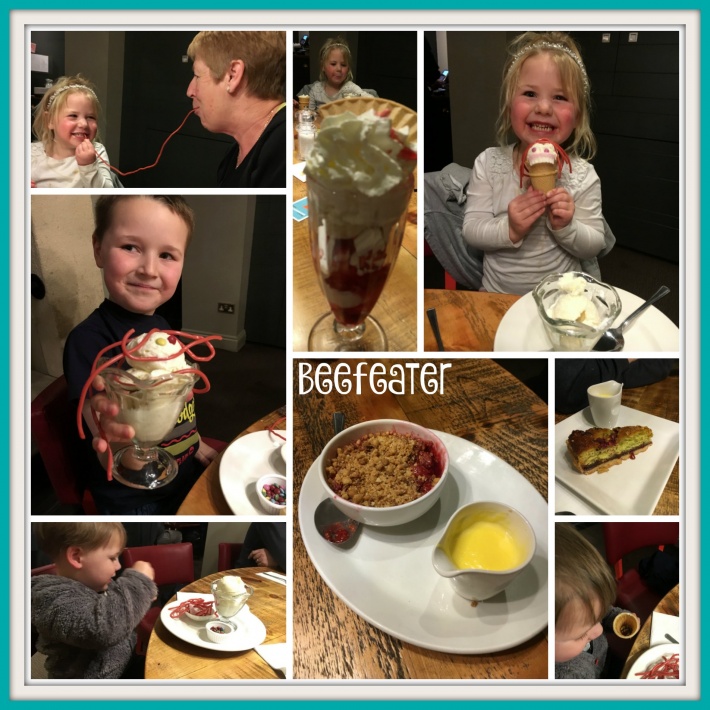 Our visit was thoroughly enjoyable, the atmosphere in the restaurant was lovely and relaxed, the service excellent and the food delicious.
Find your local Beefeater and book a table here and whatever you decide to do, I hope you have a very Happy Mother's Day on Sunday!
We were provided with a gift voucher towards our meal at Beefeater for the purpose of a review. All thoughts are our own.