We are huge fans of Doctor Who and last weekend we were lucky enough to go to the Dr Who Festival at London's ExCel and discovered the secrets behind the show in the extravaganza of cast and crew panels, behind-the-scenes demonstrations, workshops, stunts, explosions, sets, monsters, props and costumes.
I was unsure what to expect having been disappointed by MCM Comic Con a few weeks before, but I needn't have worried as we had the most amazing day.
You don't have to be a fully fledged Whovian to attend, there was something to see for all fans, young and old and there was a good mix of families as well as people in full cosplay costumes – I took my own little Doctor in the form of Isaac.
The first thing we did was got our bearings and collected a show planner which had all the events listed to help plan our day. There were a mix of different shows in various sections and the first one we attended was the Millenium FX Show with special guest Mark Gatiss who has not only acted in the show, he was Richard Lazarus, but he writes for the show too and was the brains behind this weeks episode, Sleep No More. We found out how some of the monsters were made, watched a challenge to design a new Doctor Who monster and name it, as well as meeting a Mire and a special guest appearance from a Sandman!
It was really interesting to see how these Monsters were created and one lucky audience member even got to try on a mask.
Once it had finished we headed outside to explore and Isaac spotted Davros in his hospital room, so we queued briefly to go in and see him. The attention to detail on the model was out of this world and it looked very realistic.
On our brief look around before the show started, Isaac spotted LEGO Dimensions and was desperate to have a go. It was really quiet so he took his opportunity to have a play whilst I had a much-needed cup of tea. LEGO Doctor Who sets and LEGO Dimensions are already on the boys Christmas list but I can see me playing it too. You can fly the Tardis, which changes inside depending which Doctor who are playing as and take a ride on K9 if you choose.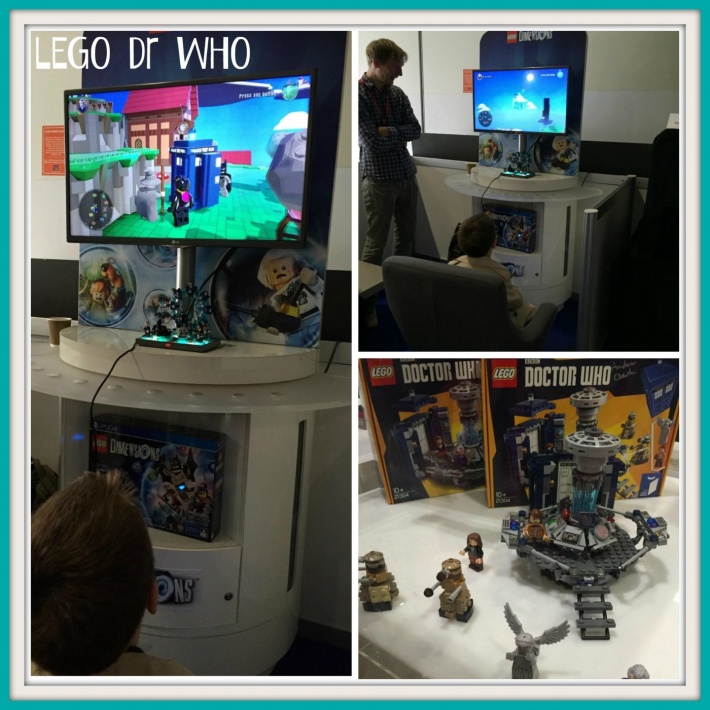 Isaac drew in quite a crowd when he was playing it, so we decided to let the others have a go and went off to explore. We found stage one where Danny Hargreaves and his team from Real SFX were showcasing the techniques they use to create physical special effects for the show. They were funny and engaging and one lucky boy even got to shoot a Cyberman.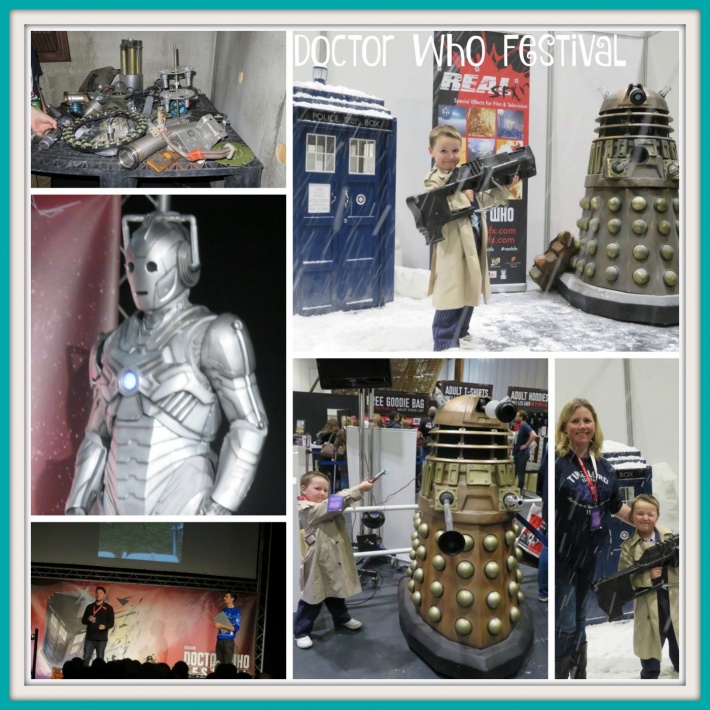 We then headed over to their stand where they had snow billowing from a machine as well as lots of substances on display that they use to simulate ice, rock and glass which Isaac enjoyed handling. He had the most fun with his sonic screwdriver in the smoke machine though.
It was then time for the next two shows – Meet the Writers who included Toby Whithouse, Jamie Mathieson and Steven Moffat followed by Meet the Cast and although the rooms were full, they split attendees into two groups, with two chances to see the shows so it wasn't over-run.
Sadly I didn't get picked to ask my question, but it was a really informative and fun couple of sessions with a few spoilers for up-coming episodes and for those of you missing the sonic screwdriver, it will be back.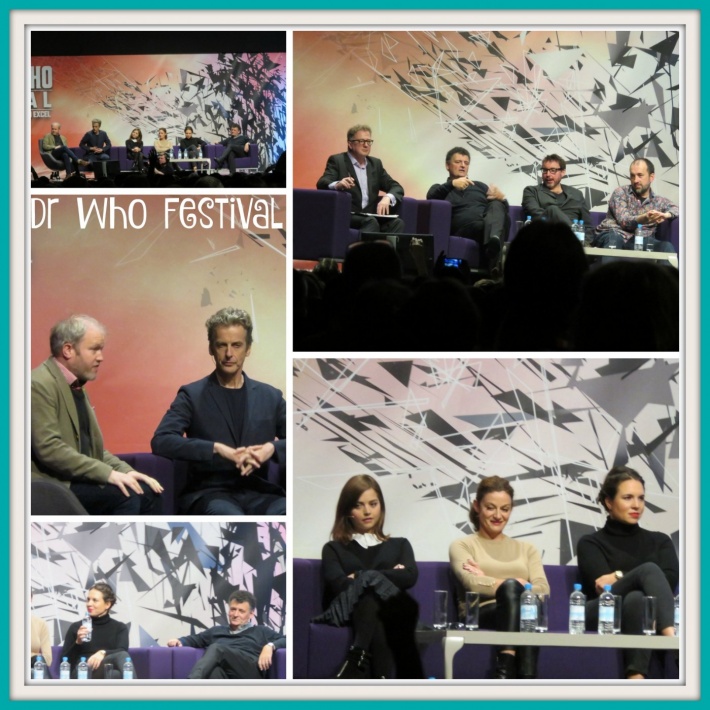 There were lost of questions from the audience and the answers caused one or two foot in mouth moments by some of the cast which was hilarious and Toby Hadoke who was comparing did an excellent job of keeping them in line.
The show was over far too quickly for my liking and we headed back out to explore some more. We found the props and costumes area which was not as large as the one in the Doctor Who Experience Tour, but did feature costumes worn in the latest series and of course those famous Osgood boxes.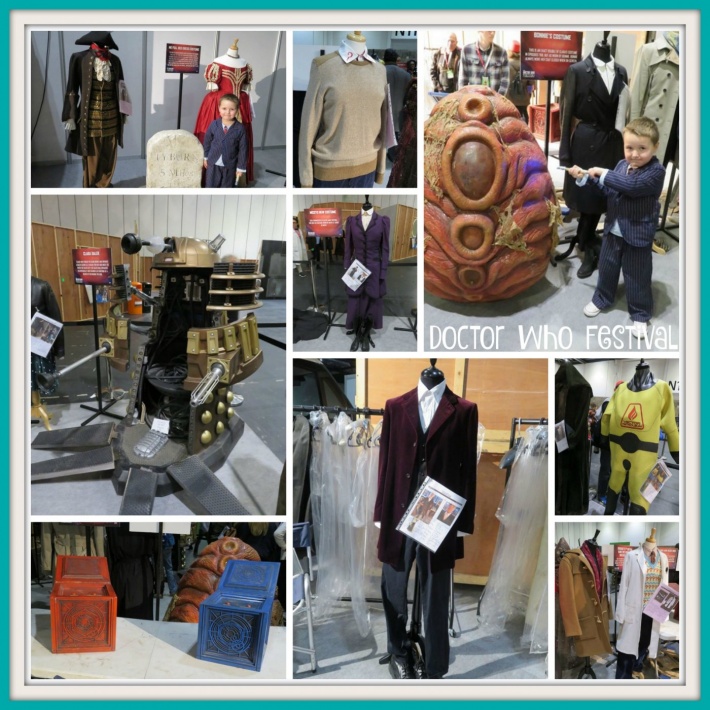 Millenium FX also had a stand showcasing some of their famous alien models and Isaac even got to try on the head of the Mire which was almost as big as him!
Production Village was next on the list and we got a look behind the scenes of the Doctor Who Viking set and were put into the shoes of the production team. I cannot believe how many assistant directors there are on top of sound, costume, make-up, vision and more. We found out the team start stupidly early in the morning and are last to leave after a busy day of filming but the job sounds like lots of fun too. They even let Isaac try on the Doctor's sonic sunglasses and sit in the Directors chair.
Sadly we ran out of time to attend Drama School, where we could have learned how to be the perfect monster or act out a scene from the audio books and Isaac wasn't keen on testing his knowledge in the fan challenge area as he has only watched the first 4 series. There was a shopping village where we found a Tardis hoody for Isaac and the perfect Christmas jumper for me and a chance to have a photograph on a green screen and in an iconic set………do you recognise it?
The highlight of our day was getting a photograph taken with Missy (aka Michelle Gomez). Sadly all the Doctor and Clara pictures were sold out before we got our tickets so it is wise to book early if you are planning to go next year. Ingrid Oliver came bounding into the room a one point and I didn't get my camera out quick enough to take a picture, but I did get some of the amazing cosplay costumes people were wearing.
If you are a Doctor Who fan than I highly recommend this festival, we cannot wait for next year.
For Doctor Who news, events and offers follow their facebook page or you can sign up to the newsletter here.