Isaac is fast following his Dad and big brothers footsteps in becoming a bit of an adrenalin junkie, so when I told him that we were visiting the new High Ropes attraction at Drayton Manor he was very excited.
We set off from a beautifully sunny Bournemouth on Saturday morning full of excitement about what was to come, until just 15 minutes from Drayton Manor when the heavens literally opened. We feared torrential rain might scupper our plans, but thankfully after waiting the storm out for half an hour or so, the rain stopped and it was time to climb.
VertiGO is situated just down the hill from the theme park's on-site hotel, and you don't even need tickets to the park to be able to try it out. From afar the VertiGo High Rope Adventure looks like a giant climbing frame, only one where adults and children can climb safely whilst attached to a special harness. Unlike some high ropes courses there is no clipping on and clipping off making it a seamless experience
After watching a short safety video, those that were climbing were geared up in safety harnesses. Hubby and Isaac were taking the VertiGO challenge whereas Eliza and Sebastian were testing out VertiGO Tots, which allows younger climbers the chance to test their balance and agility on a low-level course. Hubby and Isaac were the first to go.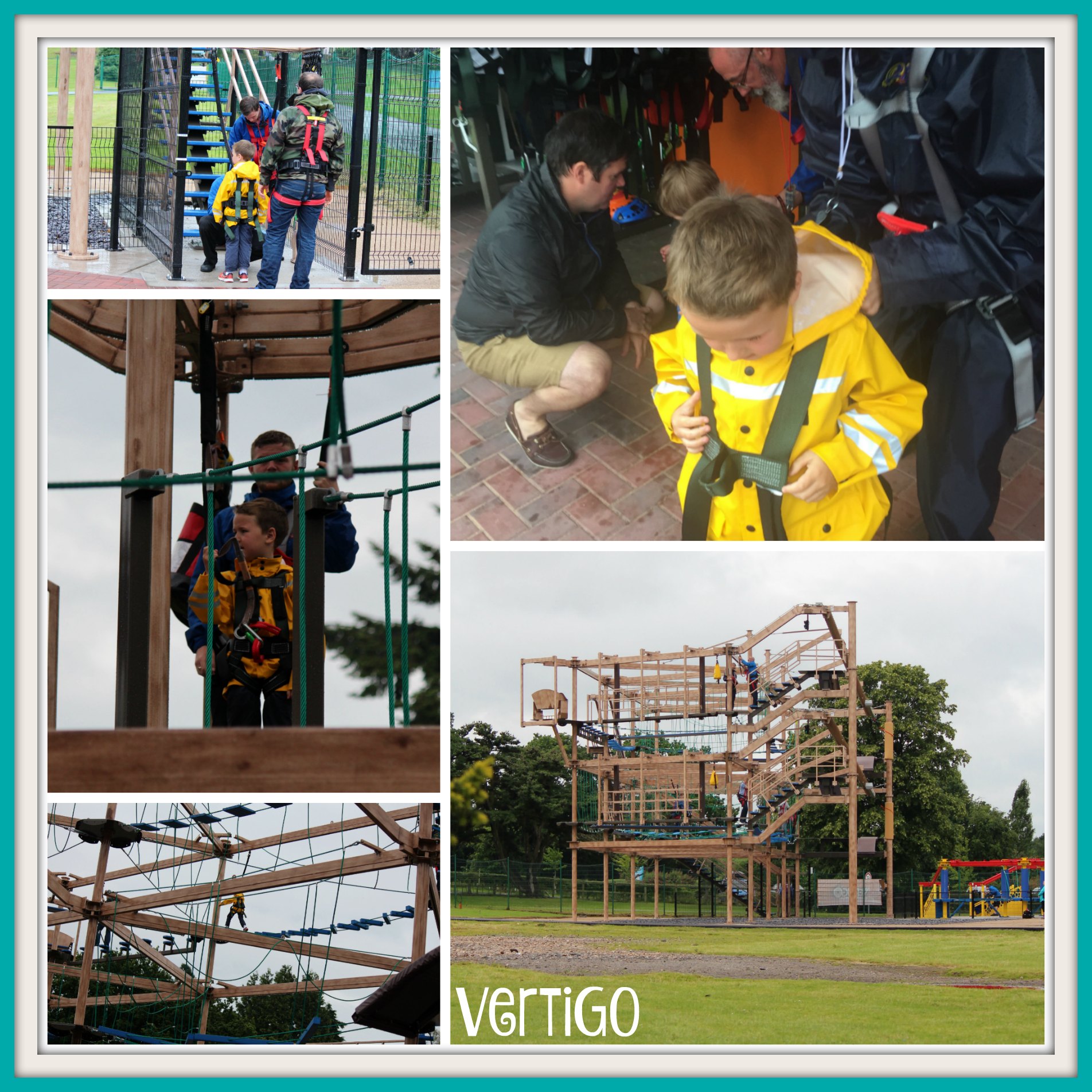 It is safe to say that Isaac has no fear! There are two levels to VertiGo, a lower and an upper level with various rope challenges and instead of gradually building up to the challenge but doing the lower level first, Isaac was straight up the top. They had 30 minutes to navigate the course at their leisure and they must have tried every single route in that time – no circuit is the same.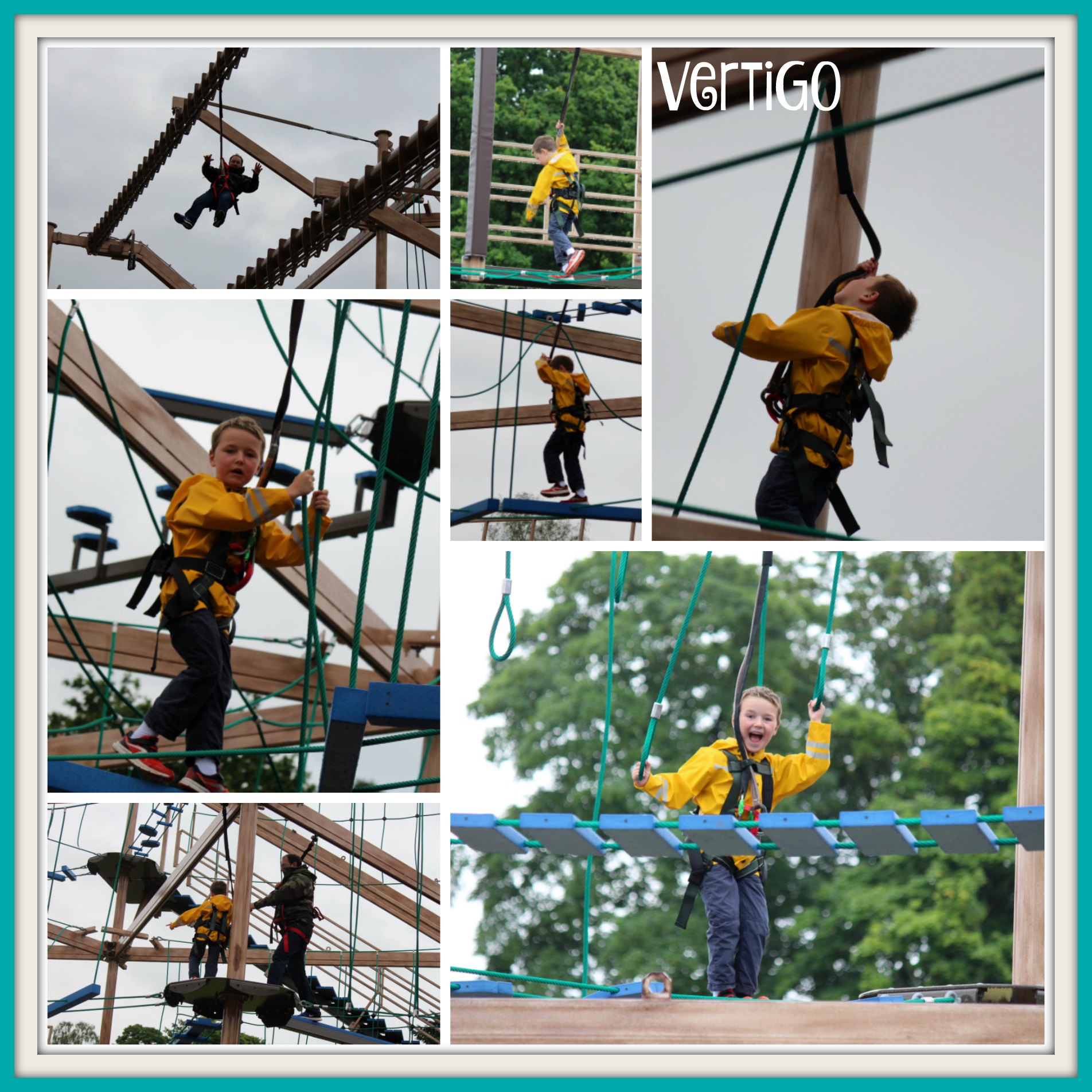 The zip wire was the firm favourite of the day though and they headed back to both the high one and low one time and time again.
Whilst the boys raced around the high ropes, it was my job to supervise the little ones on VertiGO Tots. Like Hubby and Isaac they were put in harnesses before being allowed onto the course which puts agility to the test with rope bridges and balance beams. We have done a similar course before at Portsmouth Historic Dockyard and Eliza was off, zooming around without a care in the world.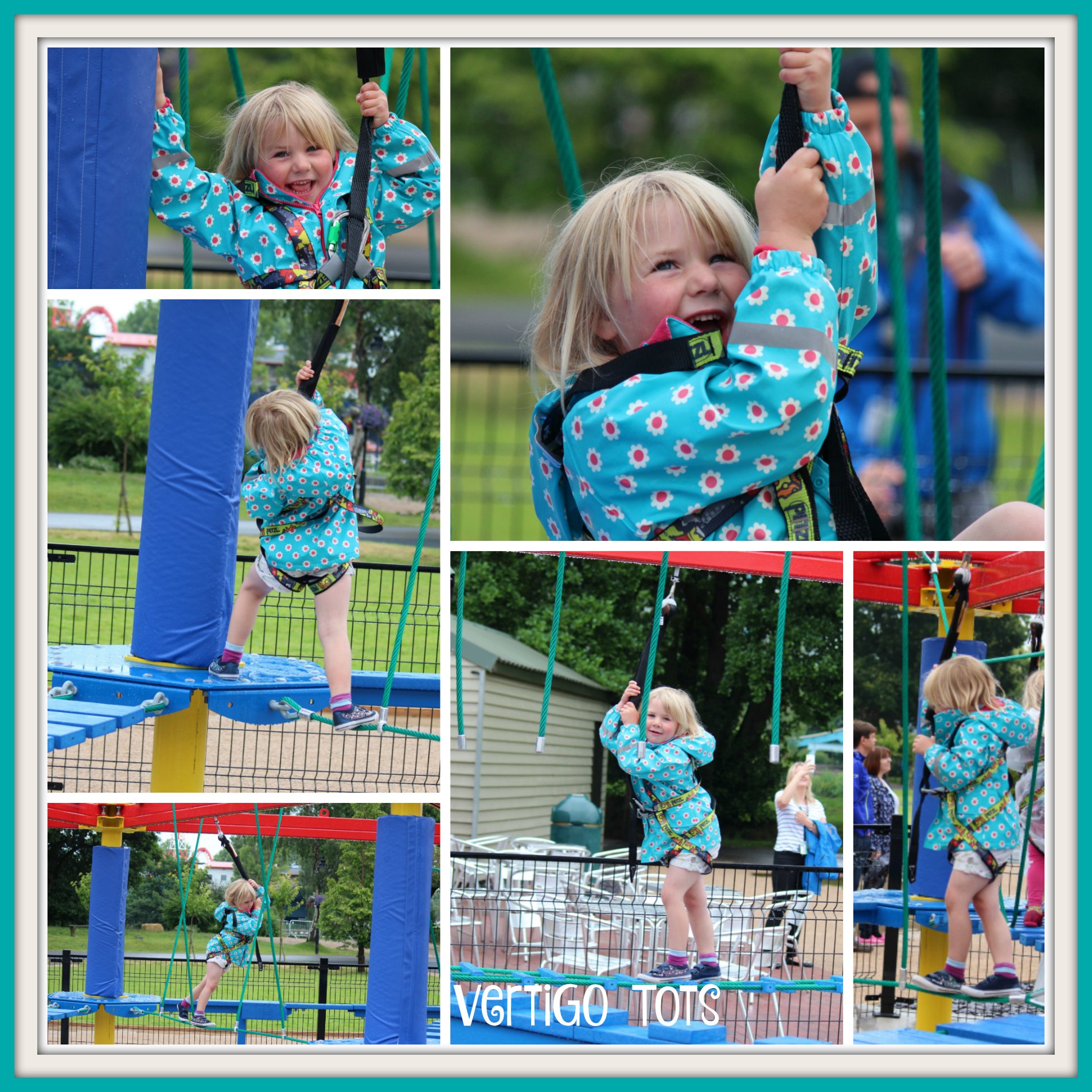 In fact Eliza tried to make it more interesting by swinging on the harness which isn't allowed – I think she would have preferred the bigger course but she didn't want to do it. Sebastian on the other hand was a little more cautious and demanded I hold his hand as he started off.
The course is designed so that you can pop in and out and help your child as you go by lifting barriers, which is great for more cautious children like Sebby. Once he realised he couldn't fall, he was off and although not running around like his sister, was happily tackling the rope bridges and walkways. He only lasted about 10 minutes though as he wasn't keen on wearing the harness.
To do the VertiGo course children must be 1.2m (4ft) or taller to climb without adult supervision and those between 1m and 1.2m must be accompanied by a responsible paying adult and stay within arm's length at all times. The maximum individual weight for VertiGo is 21 stone (136kg).
For VertiGo Tots children must be aged two and above and no taller than 1.2m (4ft). Participants must have a responsible adult with them.
Entry to VertiGO is not included in the price of an admission ticket to Drayton Manor and I recommend you buy your tickets online before your visit as it costs from £3 for VertiGO tots and from £5 for VertiGO.