If you read my blog you will know we are huge fans of the clothing brand Frugi and are part of their #FrugiFamily campaign.
If you have not heard of Frugi before they are a UK based company that designs clothes that children really do love to wear with great designs, vibrant colours and cute Frugi characters!
Whether it's paddling in the sea, splashing through muddy puddles or playing in the park, their clothes are designed to be long lasting and durable, so children can be children! In fact many of the Frugi clothes that Isaac has now grown out of have been put away for Sebastian as they still looks as good as new.
Frugi also use supersoft organic cotton for their clothes making sure that little ones are comfy, safe and happy. The breathable qualities in organic cotton make it much kinder to baby's and children's delicate skin and much less likely to trigger those horrible allergies.
We were invited to choose an item from their new winter range of clothes and I knew what I wanted straight away. Last year Eliza had the Twirly Bow dress for Christmas and has worn it numerous times to birthday parties and school discos, always drawing in lots of comments about how gorgeous it is.
This year the Twirly Bow Dress is back which a snowy town print. The gorgeous layered dress is perfect for kids to dress for Christmas and parties. The snowy town scenes are contrasted with a burgundy polka dot ribbon at the waist which can be tied into a bow at the back.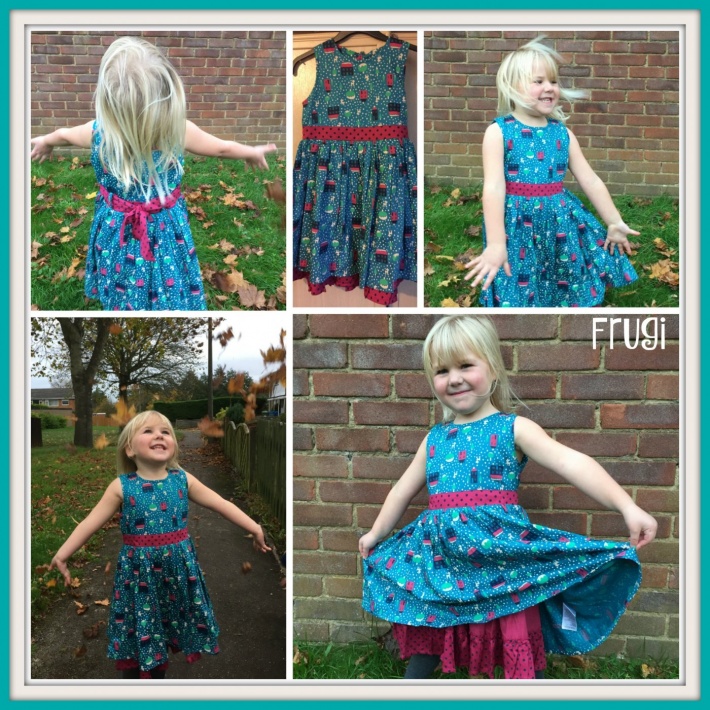 Eliza adores her new twirly dress and loves to spin and make the skirt fly out. I am going to invest in the Laura Cardigan to go with it to keep her warm when it gets chilly, but I know this will be a much loved dress again this year.
Don't just take my word for how great I think Frugi is – join Natty from Down Side Up and get their opinion and see what they chose for Christmas too.