Our Normandy holiday was for Hubby and Kian to indulge their love of history and WW2 in particular but I had one place on the list that I insisted on visiting – Le Mont St Michel.
I last visited as a young teen, too many years ago to count and was keen to return and explore as an adult.
The magical island is topped by a gravity-defying medieval monastery and is one of France's most amazing sights and it is plainly visible from the motorway as we approached it.
Le Mont St Michel is one of Europe's major pilgrimage destinations and is now a UNESCO World Heritage site as is its breathtaking bay which is subject to the largest tidal range in continental Europe during spring tides. The waters can withdraw as far as 25km from the shore and after low tide, the local saying goes that the sea waters rush back in to the bay 'at the pace of a galloping horse'.  When I last visited you had to walk along a causeway with lots of warnings about quick sand, but this has now been replaced with a bridge and a free shuttle bus service to and from the island.
The Benedictine abbey on top of the mount is reached via a steep and winding village street lined by museums, restaurants and shops. It is beautiful with "WOW" moments around every corner, although if travelling with young children they tire very quickly. I ended up having to carry Sebby most of the way which was a bit of a killer on the stone steps!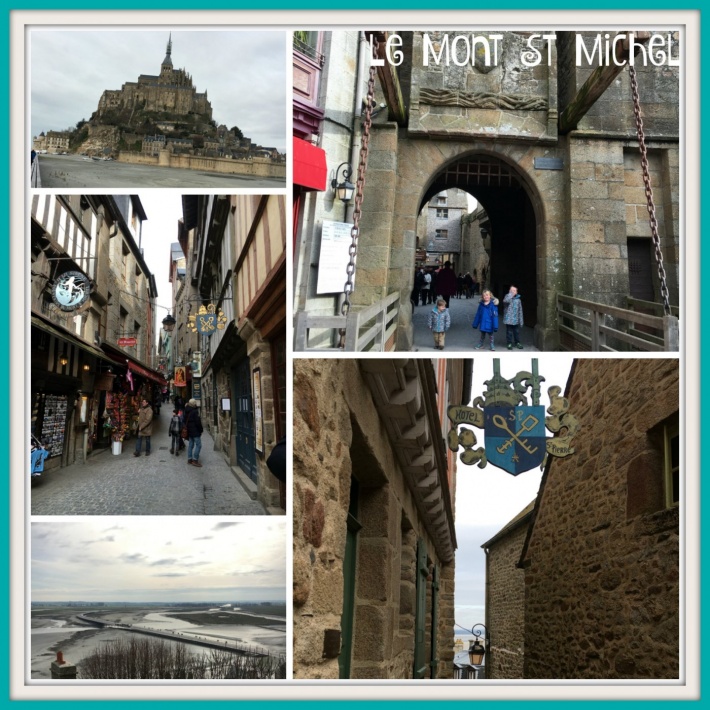 Once above the main village area you are offered spectacular views over the bay and my only disappointment is that I saw it when the tide was out. There are a couple of hotels on the island and I would love to stay there and watch a full tidal change and join a guided walk across the bay.
The Benedictine Abbey that sits atop the island is well worth a visit and cost us just €18 for the family to get in to.  Although not as beautiful as the Cathédrale Notre-Dame de Bayeux that we had seen the day before, the atmosphere of the church and cloisters and also that of the grand chambers was far more special. Some of the architecture reminded us of Hogwarts and the kids had great fun pretending to take the floo network in a giant fireplace.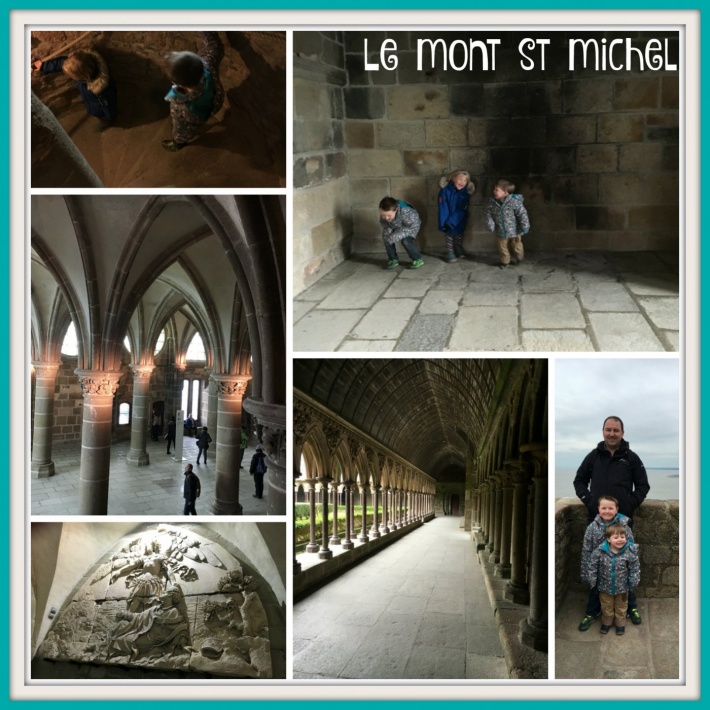 The great chambers of the Marvel were really impressive and it's only when you get outside that you realise was a feat of engineering this must have been as it clings so spectacularly to the rock. It is amazing to think that this has been here in some form for over 1,000 years.
Far above the abbey church's spectacular flying buttresses and Gothic pinnacles, an acrobatic statue of Saint Michael, weigher of souls, stands at the highest point on the mount, although it was obscured by scaffolding on our visit.
We made our way back down, stopping at a patisserie for some donuts as the walk had made the kids starving. I will warn you that the shops here are very expensive and we payed €5 for each donut.
If you plan on visiting with young children, be aware that it a very steep climb with lots of steps and inaccessible for a buggy, so use a back carrier or sling if possible but it well worth it.