Last month I announced that we were lucky enough to be chosen as Konfidence Swimologists and I still have a rather awesome giveaway running to win £50 to spend on their products here.
As part of the swimologist program we were sent some items to review and we were keen to get started as soon as they arrived.
Sebby has swimming lessons with Turtle Tots and they have always insisted that we use a double layer nappy for maximum protection from leaks.  Until now this has always consisted of a Huggies swim nappy with a neoprene nappy over the top but things are about to change with a Konfidence AquaNappy.
The Konfidence AquaNappy provides the all-in-one total solution, with its one-size-fits-all design making it superb value at just £9.99.  The Aqua Nappy comes in several colourful designs and incorporates a triple layer design, with a soft polyester outer layer, recycled PVC middle barrier layer, and soft inner mesh layer. The reusable and eco-friendly swim nappy is made doubly secure with an adjustable Velcro sash and poppers, allowing it to be sized up from 3 months to around 30 months in age and of course it's machine washable.
Designed to be worn over the top of the AquaNappy, the NeoNappy is swim school approved and is the perfect solution for those schools that require this double layer protection like ours.
The Neonappy, which also comes in several designs,  has a soft and supple neoprene shell which is soft and flexible so baby can move, but is also an impermeable barrier.  This coupled with a nylon lycra waist and leg hems, which hug baby's skin, prevent any unwanted accidents escaping into the pool.  The Neonappy costs just £8.49 and Konfidence also offer a discount on the Aqua Nappy when purchased together.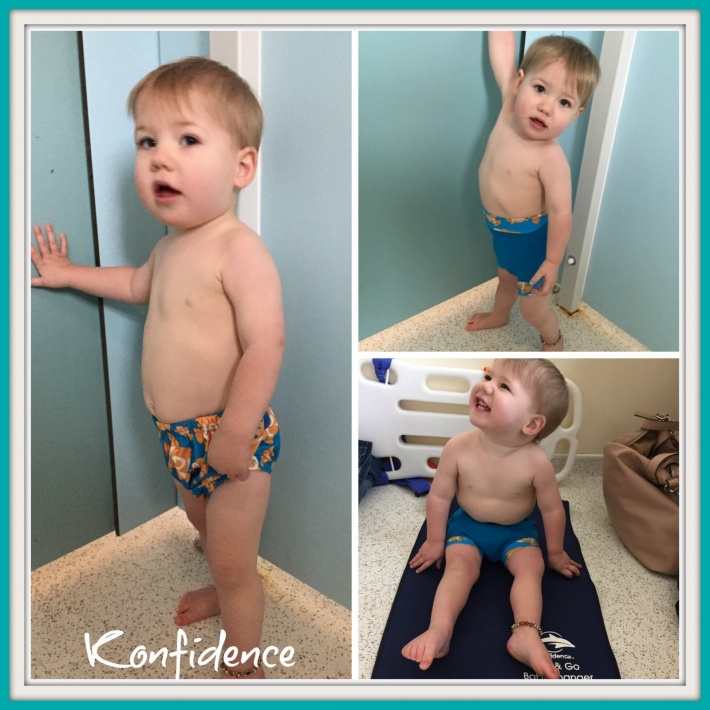 Sebastian adores going to see the fish at the local Oceanarium so I chose the clownfish design for him which he loves.  He points to his aqua nappy and excitedly says "fish".  Changing him can be a bit of a challenge as we swim in a local chiropractic centre which is fabulous for its almost bath like pool, but not so good for its changing facilities.
Konfidence sent me a Roll & Go Changing mat which is also made from soft cushioned Neoprene.  The Roll & Go Changer has a treaded non-slip back, is finished with close knit, warm laminate cover which provides a comfortable and secure mat that's hygienically clean for Sebby and means no more changing him on the hard, cold floor.  As the name suggests you simply roll it up and pop it in your bag when you have finished, ready for next time.
I am happy that Sebby is comfortable and secure in his new aqua nappy I just wish I had discovered it sooner as it would have saved me a fortune and I think he looks gorgeous in his clownfish neonappy.
Sebastian has been swimming with Turtle Tots since he was 4 months old and twice a year they have an underwater photo shoot for the babies and toddlers.  Luckily we received our new neonappy just in time for his underwater photo shoot but things didn't go all my way as he was just getting over a bug when we had it done and wasn't his usual happy self.
As anyone with children will know they will only do something if they want to and we only managed one underwater shot before he had had enough, although he was happy to splash about on top of the water.
I was worried that they hadn't got that all important picture, but they managed it and I have two fabulous pictures of him swimming underwater.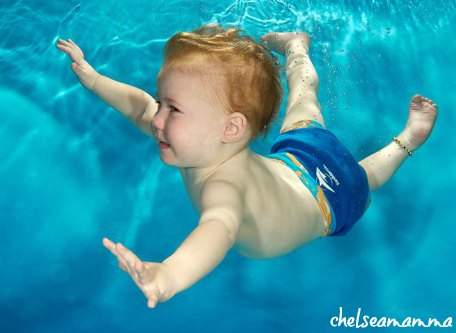 If you get the opportunity to have your child's photo taken underwater, grab it with both hands – it really is something special to see them so serene.