Isaac loved his old Mini Microscooter but it was clear that it was now too small for him so he got a new Maxi Microscooter for Christmas, with his old one being packed away and looking forlorn in the shed.
We often go for days out with the scooters and Sebastian always tries to commandeer one for himself, not that Isaac or Eliza will let him have a go, so I decided that we would give Isaac's old scooter a makeover just for Sebby.
Isaac's old footplate had snapped in one corner so that was the first thing I wanted to change.  The main body of the scooter and wheels were fine so we left them untouched but the handlebar grips were very grubby so we decided to change those too.  We had also bought the O-Bar and seat for Eliza's microscooter, but she didn't need it so it's been sat on a shelf unloved for a couple of years so we were ready to get going with the revamp.
I ordered:
A lime green footplate
Aqua & Yellow Handlebars
Orange Brake
The team at Microscooters were brilliant – I ordered the spare parts I wanted and then got a phone call to check I had the chosen the correct ones.   As it turned out I hadn't as Isaac's microscooter was a special edition model so I needed slightly different ones – it's a good job they checked and my order was soon winging its way to me.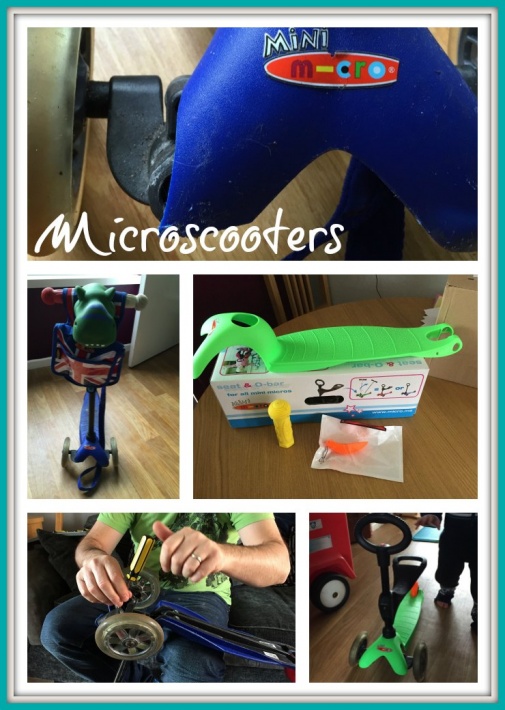 Taking the old microscooter apart was not quite as easy as I imagined, however after watching a couple of their "how to" videos on YouTube we were off and running.
We tried Sebastian with the scooter with the main handlebar but it was clear he needed the smaller O-Bar so fitted that instead, attaching the seat so he could sit down and push himself along.
Replacing the parts on our mini-microscooter has definitely saved us money and has given an old and tatty microscooter a funky look that makes it looks as good as new!  We have kept the old handle, dino head and put the new grips to one side for when Sebby is a bit bigger.
In the meantime he has been busy practising his scooter skills and I cannot wait to take him down to the prom with all of us on our scooters.  I just need to persuade him that he needs to wear a helmet as it's off his head almost as soon as he puts it on.