Back in March 2017 the Premier League introduced a new initiative called Premier League Primary Stars which has already engaged more than 10,000 primary schools in England and Wales, including ours.
The campaign is not about playing football, but uses the appeal of football to engage and inspire children across PE and Sport, English, Maths and PSHE. Premier League Primary Stars is a curriculum-linked education initiative for KS1 and KS2 teachers.
Teaching kids about health, teamwork, resilience and positive behaviour is becoming increasingly important in primary schools as these are much-needed skills that will transfer to secondary school and ultimately into adulthood.
The programme uses Premier League clubs to inspire children to learn, be active and develop important life skills via:
Premier League clubs going into schools in their communities to support teachers in the delivery of lessons
Bespoke teaching resources that are free to download for teachers and cover maths, English, PE and PSHE. For more information, go to www.plprimarystars.com
On 28th September (National Poetry Day), the Premier League launched a competition called Writing Stars, which has already captured the imagination of footballers, TV presenters, teachers and children.
The Premier League Primary Stars TV advert features an array of football stars and the "Try, Try Again" poem by William Hickson. Beginning with the words "It's a lesson you should heed, try, try again. If at first you don't succeed, try, try again", this poem is what inspired the Premier League Writing Stars competition.
The competition is backed by an all-star judging panel including Chelsea and England legend Frank Lampard, Everton FC footballer Yannick Bolasie, Charlie & Lola author-illustrator Lauren Child and young people's poet Caleb Femi.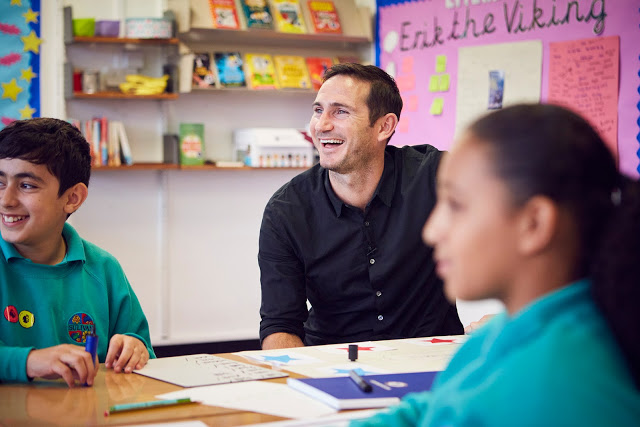 How to enter the competition
To enter the #PLWritingStars competition, teachers should encourage pupils to write poems based on the theme of resilience entitled "Try, Try Again". There are two categories – one for pupils in KS1 and one for those in KS2. Key Stage 1 can submit individual or group entries with individual entries only for Key Stage 2.
Poems should be no more than 20 lines or 150 words and must be on the theme of resilience. Poems can be of any structure and don't have to rhyme. Pupils can write a new poem themselves or continue the Try, Try Again poem.
Entries will be considered against a range of criteria including creativity, tone and originality. All entries need to be submitted via their school. Teachers and parents should visit plprimarystars.com to register or nominate their schools to take part. The competition is open from Thursday 28th September 2017 (National Poetry Day) to Friday 22nd December 2017.
Premier League Primary Stars will contact schools in February 2018. The winning poems will be published in a limited-edition book. Other prizes include money can't buy prizes like author-led writing workshops and Premier League trophy school visits, as well as winning poems being read aloud by football stars. The first 1,000 schools that enter the competition will receive a bespoke 'Book Bag'.
Disclaimer:This post is in partnership with Mumsnet. I am a member of the Mumsnet Bloggers Panel, a group of parent bloggers who have volunteered to review products, services, events and brands for Mumsnet. I have not paid for the product or to attend an event. I have editorial control and retain full editorial integrity and all opinions here are my own.