Perfect for fun and outdoor adventures, Splash About's new range of outdoor clothing, 'Splish Splash About' is practical, bold and beautiful.
Their first capsule collection features raincoats, stomp suits and rain capes suitable for children aged from 12months up to 8 years. The range is designed to stand out on grey wet days and the collection is available in a pinky-purple Dolly print, a green-blue Dinosaur design or classic Mulberry and Navy with a Wellington Boot motif.
We were sent the classic Navy design for Isaac to review and he really put it through its paces. Isaac is 7, although small for his age and the age 7-8 is a little large for him, but during winter he will have plenty of room to layer up underneath.
The raincoat is designed with a contrasting orange inner towelling lining, tapered cuffs and a fully lined hood. The breathable fabric keeps warmth in and wet out and the raincoats have a longer lip at the back for a 'no more wet bum' feature to protect little bottoms from damp benches, swings and slides.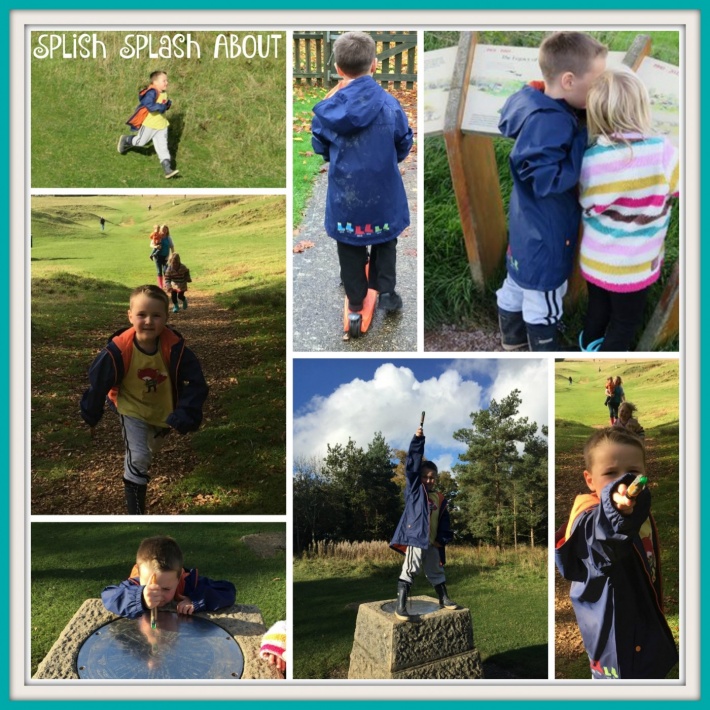 The coat has kept him dry on some very wet school runs recently and survived a wet and muddy walk through Badbury Rings where Isaac thought it would be a great idea to roll down the hill!  Because the The Splish Splash About collection is made from high quality, hard-wearing PU fabric, it is wipe clean or machine washable at 30 degrees too.
I also love the look of the Stomp Suits which are perfect for children with a passion for jumping in puddles! With foot stirrups to ensure legs stay in place, the suits have a hard wearing double zip system which makes for easy step in, step out dressing. The stomp suits are lightweight but fully lined ensuring your little one stays warm and dry. Perfect for post-swimming; the toweling lining is warm, soft, bobble and fluff-free making it ideal for sensitive skin – and it's also absorbent for loose wet hair. The range is available now from www.splashabout.com.