There is nothing worse than sleepless nights. You are prepared for it when your child is a baby, but what if they are still waking throughout the night when they are older.
One of the most common reason for a child waking during the night, especially at this time of year, is covers slipping off their bed, but help is at hand with the new Tuck n' Snug bedding product that keeps your child cosy, warm and secure all night long.
Tuck n' Snug was born when mum-of-two Annabel Anderson decided to devise her own solution to her children's sleepless nights.
"My five-year-old son Oliver used to be a particularly bad sleeper, who would wake about six times a night," Annabel, 46, says. "I used to spend a lot of time in his room in the small hours, trying to get him back to sleep and as a result I was exhausted! I met many other parents at school whose children were often awake for half the night and the whole family was tired as a consequence."
Annabel found that Oliver's pillow would end up resting on his head and waking him up, while his sister Isobel, seven, would throw off her duvet and feel cold. After trying a variety of products without success, Annabel developed Tuck n' Snug.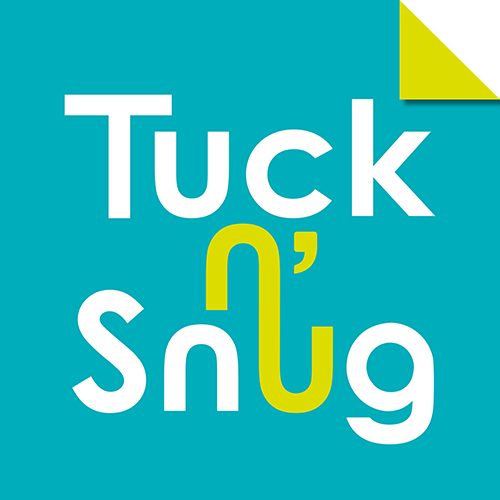 Unlike other products that are purely designed to keep children in bed, Tuck n' Snug is a duvet cover and pillow case that secures the duvet and pillow using fabric flaps that are tucked under the mattress. These are then concealed by the duvet cover, so it looks like any other bedding set. There are no zips, buttons or Velcro – your child is free to move around and get in and out of bed, so they feel comfy and unrestricted.
Sebastian is a terrible fidget in bed and is forever kicking his covers off and waking himself up. When this happens he either comes into our room and gets into bed with us, or into Kian's bed with him so I was keen to find something that would stop this happening.
I have to say I am impressed. The first couple of nights he woke up as I think he was in a routine of waking up at those times but by night 3 he slept in his own bed for the whole night – a miracle in our book and it is still working.
Available in two gorgeous designs, the first limited edition sets feature a pair of fun characters that children will love: Peanuts the Puppy and Kitty the Kitten. Suitable for children aged 12 months and over, each set comes in toddler bed and single bed sizes, so you can make sure your child continues to enjoy restful nights as they grow.
Tuck n' Snug is made in Britain and is an attractive product that adds charm to any child's bedroom – as well as restful nights! Priced at £39, Tuck n' Snug is available from www.tucknsnug.co.uk