We have had a slightly better week with Isaac this week as we discovered he was playing up at school as he didn't want to say his line in his class assembly, so the teacher came up with a plan to give him a non-speaking role which he was happy with.
Isaac is normally my confident little man who loves showing off in front of everyone so this had surprised me, but by Thursday he not only delivered his line perfectly but completely stole the show with some Egyptian dance moves whilst all his classmates stood rigid.
Eliza kicked off the week at her friends Princess party and on Monday hubby had his day off so we took Sebastian to the Oceanarium to catch up with his friends, the turtle and the penguins.
On Wednesday, Eliza had the class teddy to stay so looking for somewhere interesting to take it for the school diary we headed for the library.
The weather has been a bit up and down this week, but has produced some spectacular skies which I just had to capture and include in my round-up.
Saturday was a mixed bag. We headed to Cadbury's World for our Carnival Cruise Christmas Party. We had a great time meeting the Cocoa beans and seeing how chocolate is made (and tasting it of course). The drive home was horrendous though as it was torrential rain and high winds all the way back, plus they closed the A34 so we had to take a detour home which the satnav had a wobbly about and decided to exact her revenge by sending us down narrow country lanes, which is no fun in that weather!
Here is my week in pictures: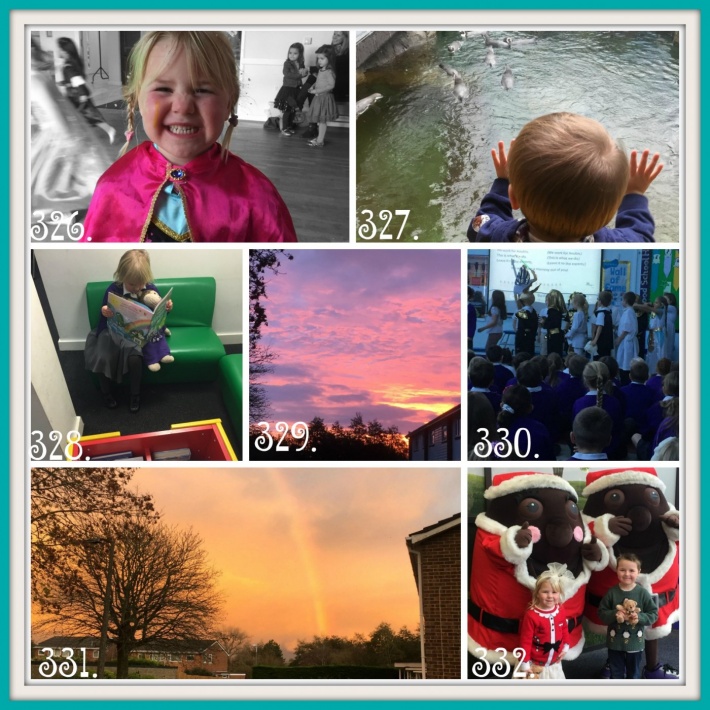 326. Eliza at the Princess Party
327.  Watching the Penguins
328.  Reading a book in the library with Pip
329.  Stunning sunrise
330.  Isaac doing his school assembly (he is the one stood up at the back)
331.  A stunning sunset complete with rainbow
332.  A visit to Cadbury World