I have been meaning to visit Liberty's Owl, Raptor and Reptile Centre for years, but have never got round to it for one reason or another, so when my friend Joanne from Charliemoos spotted a, not to be missed, special offer on Living Social we bought our tickets and set a date to visit.
The centre is signposted well from the main A31, but isn't from the back way in and I managed to miss my turning but I got their eventually!  We arrived just after midday and the carpark was packed, so if you are visiting in the height of summer I would advise you get there earlier to ensure you get a parking space.  Thankfully some of the staff realised how busy it was becoming and moved their cars allowing us to park.
Liberty's Owl, Raptor and Reptile Centre is named after Liberty, their Alaskan Bald Eagle, who we got to meet later in the day and is one of the many birds of prey,  including Owls, Hawks, Falcons and Vultures that they have on display at the Centre as well as a collection of Reptiles and other creepy crawlies in their Reptile House.
Just past the entrance they have a small table and chairs for children with colouring, and the girls seemed to want to just colour in, whilst the boys shot off to find all things creepy crawlie in the reptile house.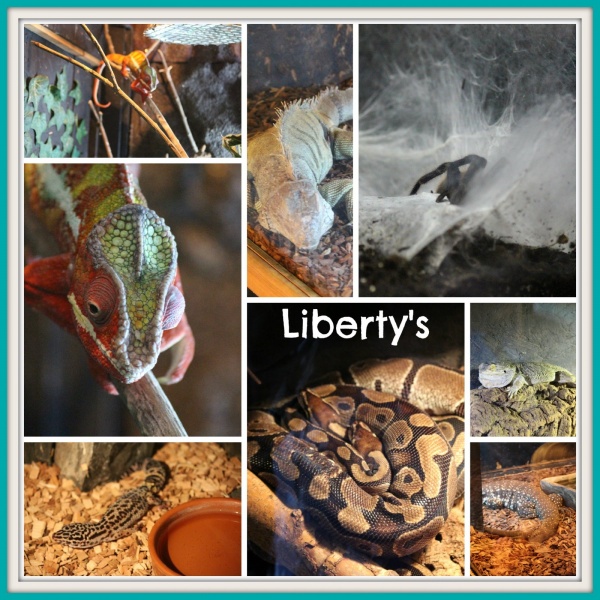 We promised them we would return in time for the talk, which was planned for later in the day, and set off in search of the Owls.  There were lots to be seen, including some I had never heard of, but we were a bit disappointed that they were all behind cages as they are difficult to photograph.
We soon found some birds that were on display for us to see up close though.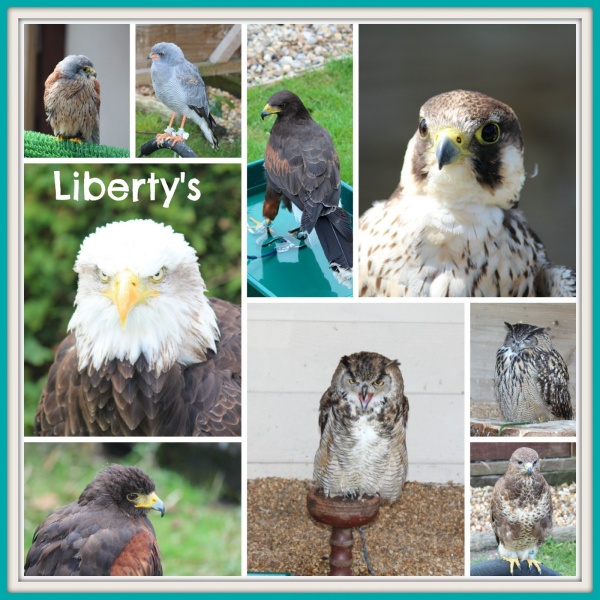 By now the kids were hungry, so stopped briefly in the education room and then found their small cafe where we stopped for a bite to eat.  They do have a small picnic area if you decide to take your own food, and if you are planning on buying lunch it is reasonably priced but they don't take card payments – you have to go back to the entrance to pay for your food!
Next up was the reptile show.  We thought we had got their early but the seating was packed.  Thankfully the staff were happy for the kids to sit at the front on the floor, and as it turned out it really didn't matter where you sat as they brought the animals out to you…….which is great until I had a massive tarantula literally inches from me!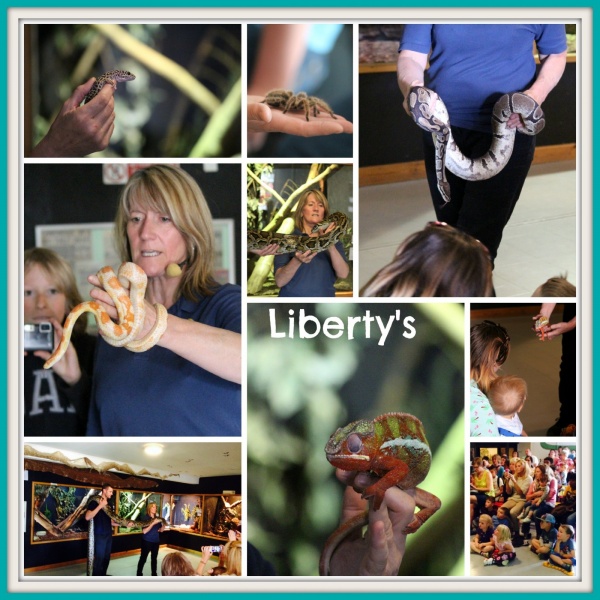 The talk was packed full of information, and many of the animals were those that had been rescued from owners that had bought them thinking they were an easy pet to look after.  I won't be buying a reptile anytime soon, no matter how much the kids want one!
Once it had finished we headed straight out to the field, where the falconry display was about to begin.  We watched as someone had their own experience of falconry with a huge Buzzard right in front of us – not sure I would be brave enough to do that!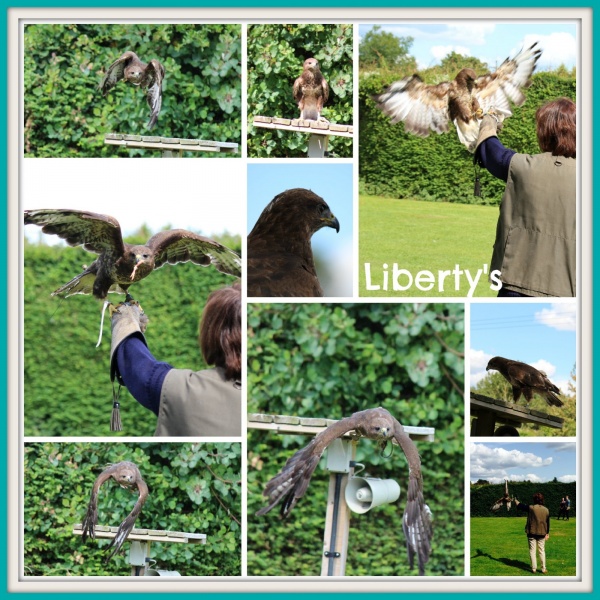 I did a brief camera session with the kids so they could see the birds up close and then it was time for the show to begin!
I was a little disappointed that they didn't fly any Owls, but we did see a great display of Hawks, Vultures, Falcons and Eagles, who on occasions came and sat with the crowd as they wanted to watch what was going on themselves.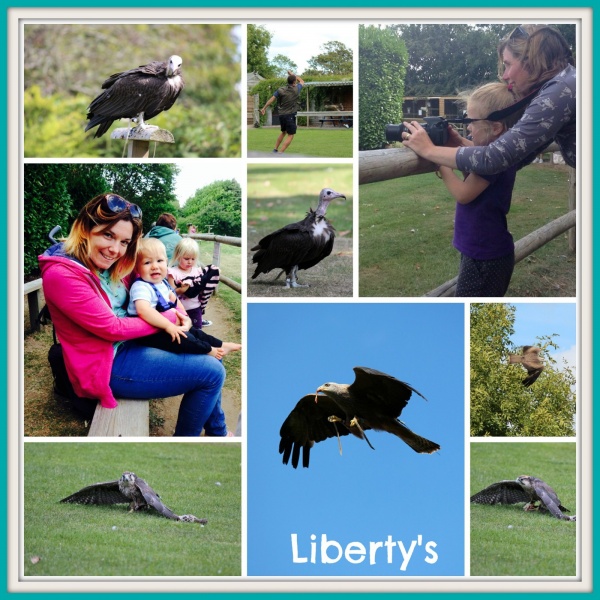 I have to say that the Vultures made us chuckle.  They behaved a bit like dogs, following the man doing the display to his heel.  He gave lots of information on all the birds and made sure they did fabulous display for us.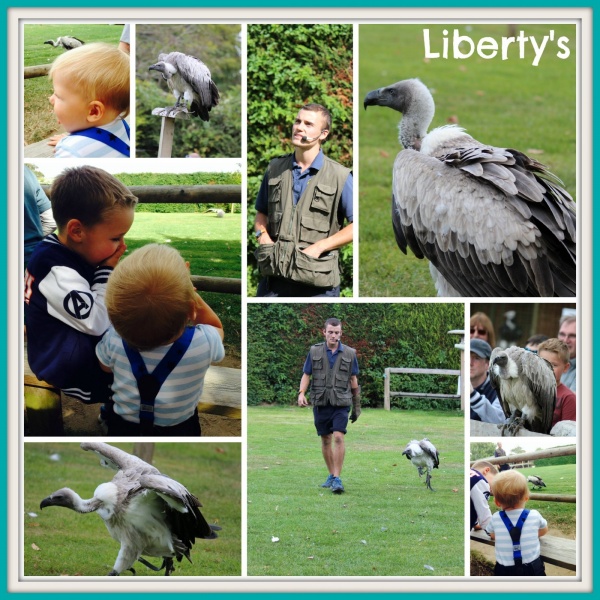 The finale was Liberty, the Bald Eagle whom the centre is named after and she didn't disappoint!  Just the sight of her 8ft wing span was impressive!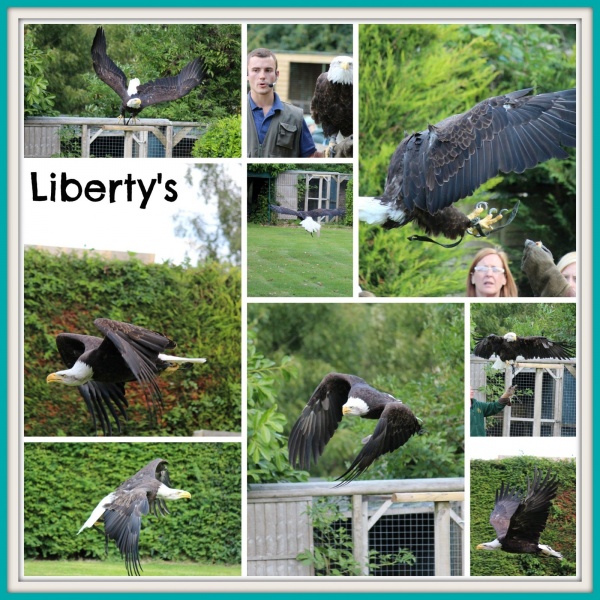 Liberty's Owl, Raptor and Reptile Centre is a fantastic, educational day out for all ages.  We were really lucky with the weather but was reassured that they have an indoor display arena if the weather is poor.  They also offer falconry experience days, photographic experience days and hawking days to people who want to take up the opportunity to enjoy a closer encounter with some of their birds.