Inspired by true events, "Dolphin Tale 2" continues the story of brave dolphin Winter, whose miraculous rescue and rehabilitation – thanks to the invention of a groundbreaking prosthetic tail — made her a symbol of perseverance to people around the world and inspired the 2011 family hit movie "Dolphin Tale."
The film reunites the entire main cast, led by Harry Connick, Jr., Ashley Judd, Nathan Gamble, Kris Kristofferson, Cozi Zuehlsdorff, Austin Stowell, Austin Highsmith and Morgan Freeman.
Several years have passed since young Sawyer Nelson and the dedicated team at the Clearwater Marine Aquarium, rescued Winter, a young dolphin who lost her tail after being entangled in a crab trap.  With the help of Dr. Cameron McCarthy, who developed a unique prosthetic tail for Winter, they saved her life against all odds.  In turn, she helped save the Aquarium — as people came from far and wide to see the courageous dolphin firsthand, enabling CMA to greatly expand their mission to "rescue, rehabilitate and, when possible, release" injured animals.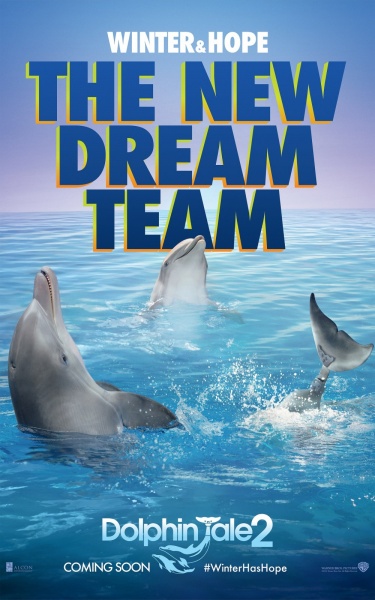 Yet their fight is not over.  Winter's surrogate mother, the elderly dolphin Panama, passes away, leaving Winter alone and grieving, unwilling to engage with anyone, even her best friend, Sawyer.  However, the loss of Panama may have even greater repercussions for CMA.  The USDA warns Clay they will have to move Winter from the Aquarium because regulations require these social creatures to be paired.  If they don't find a female companion for her — one that she accepts — CMA will lose their beloved Winter.  But as time runs out, there may still be Hope…
I'm giving away 5 giant 3'4″ stuffed dolphins worth £23 each to celebrate the launch of  Dolphin Tale 2, in cinemas now!
© 2014 Alcon Entertainment, LLC. All rights reserved
To Enter:
Fill in the Rafflecopter widget below to verify your entries
Entries can be by comment, Facebook, twitter etc
Please read the rules below
Closing Date: 2nd November 2014

If there is no form hit refresh (F5) and it should appear
If still not working please check that your computer is running Javascript
You need to complete the mandatory entry first – Leave your best travel tip
Rafflecopter will tweet, like and follow on your behalf making it really easy to enter
Really want to win the prize? Come back every day for bonus entries via twitter
Terms and Conditions can be found in the Rafflecopter form below