My children adore gaming and so were bouncing off the walls with excitement when they found out we had been invited to an exclusive Nintendo event, where would be testing the delights of the 3DS with games such as Mario Kart 7, Super Smash Bros and the not even launched, Disney Magical World.
Armed with our Nintendo DS collection, we set off nice and early from Bournemouth station and arrived in London with plenty of time to spare.  After a hairy tube ride – I had forgotten how stressful the London Underground is with toddlers and a buggy – and a wrong turn from Leicester Square tube station, we finally arrived at our destination and the WOW moments started from there.
We were welcomed at the door by none other than Mario himself and were treated to our own mini photo shoot with a Mario World backdrop before heading inside to see everything Nintendo had to offer.
Kian spotted Super Smash Bros and immediately and got stuck into the new game.  There were plenty of people on hand to explain the games features, but being an old hand at this gaming malarkey, he was soon teaching them how to do things.
Isaac was itching to try Mario Kart 7 and after some brief tuition was soon racing around the track and winning in style!  Eliza on the other hand was more interested in David Crofts, who was creating the most amazing Pokemon Balloon animals!
Also on offer for the kids to try was face-painting, cake decorating and a fun photo booth where you could dress up as your favourite character and take silly photo's.  Isaac managed to persuade Mario to pose inside with him, although he was a little to big to get his whole head in the pictures!
We had been Tomodachi Life to review but if I am honest we didn't quite get it, however, one of the Nintendo helpers talked us through the game and now it is back on our consoles and being played a lot, especially by Eliza who has recreated all her friends as Mii's and goes shopping for all their favourite gifts.  If you have the game make sure you create a Luigi too and send him to have a bath……he sings badly!
Eliza was then introduced to the new Disney game whilst Isaac challenged David to make him his favourite Pokemon character – Froakie.  We found him a plush toy as reference and he did an amazing job!
The event was held in conjunction with Toxic and Go Girl and we got some amazing goodie bags to take home with us.  The Toxic magazine was a real hit, with a free gift of spy glasses which kept the kids amused all the home, well that and the cakes they made!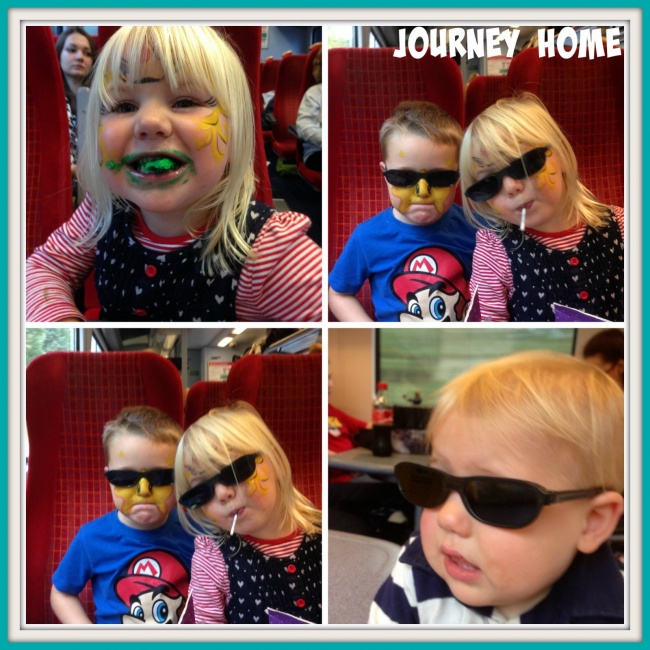 Thank you Nintendo for a great event. The kids have added new games to their Christmas list!!
Luigi is the best dancer!! #nintendokids