On Saturday we ventured to London for HP's Instant Ink Print Party where were lucky enough to meet HP's resident Inkologist Thom Brown who was visiting from the US to host some fun, interactive activities around inks and printing.
The event was held at Maggie and Rose which is a lovely intimate venue in Kensington and we were welcomed in the door and encouraged to dress up straight away.
After posing for a few photographs we got stuck into some scrummy lunch before the fun experiments got underway.
Thom wet everyone's appetites with a fun trick (well it was really a science experiment, but I prefer to think it was magic) before we got to see what we were going to be doing.
Our first experiment was optical illusions and we were presented with various sheets of paper with different pictures on them and were instructed to stare at each one for 30 seconds.
The results were amazing, one saw looking away from pictures and they were suddenly projected onto the plain walls in completely different colours.  Then there were lined pictures which used parallel lines but looked wonky until you knew what you were looking for.
Like all children, their favourite activities involved getting messy!
We used just three colours and managed to make all kinds of other colours just by mixing them up – Isaac was very proud to manage to make several colours including violet.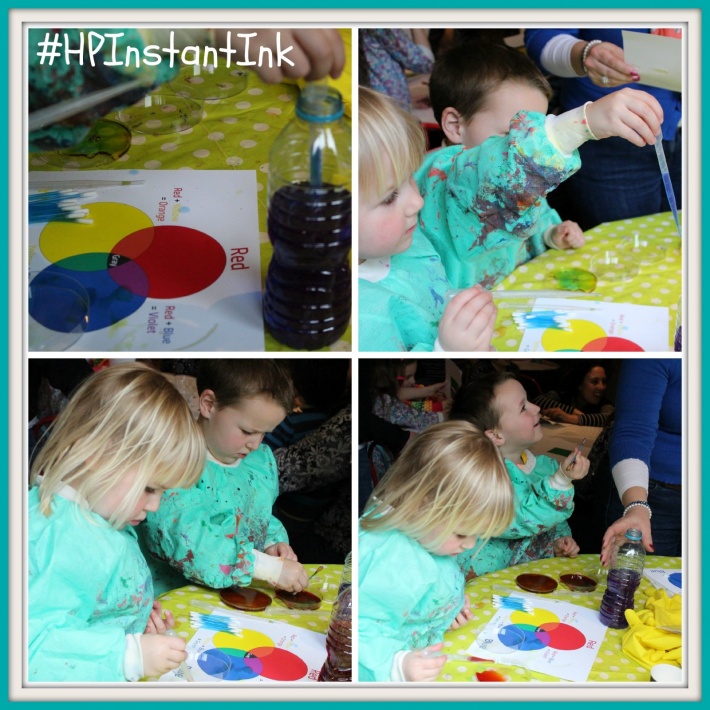 Then there was the target practice.  The Ink-Jets in our HP Envy printer have to travel the equivalent distance of 30 storeys to get to the paper so have to be accurate.  How accurate could we be with water droplets……..we didn't do too bad but certainly not good enough.
We were also impressed that the inks didn't run, as they are not water based.
The final activity was trying to draw a picture just using dots, just like the HP Printer does – it's not as easy as it looks, but Isaac made a brilliant crown and Eliza's picture is apparently a playground.
Once the activities had finished Thom, the Inkologist did some comparisons between HP Ink and some of their competitors and we were shocked to find out just how different they were.  The HP ink doesn't bleed into other colours like some do which creates sharper images.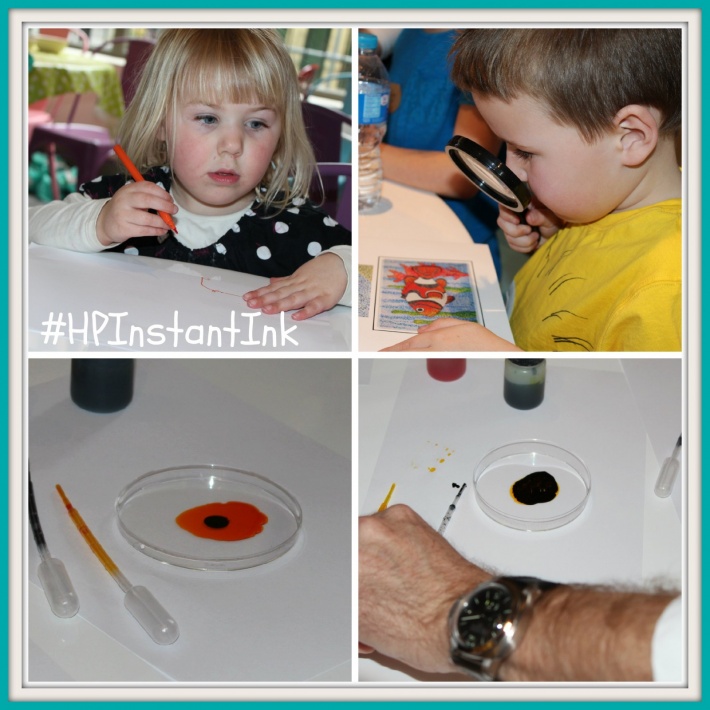 We came away bursting with knowledge and set with some fun challenges.  Keep an eye on my blog for more details!
I shall leave you with Thom and his fabulous short video all about Instant Ink!