We are all proud owners of microscooters in one form or another. Kian has the MX Trix stunt scooter, Isaac has the Maxi Microscooter, Eliza a pink Mini Microscooter and Sebastian has Isaac's old Mini Microscooter which we refurbished last year. Even I have my own with the Microscooter Floral which I used to complete the Team Honk relay a couple of years ago.
At this years Toy Fair I finally met the team at Microscooter as they unveiled their new Deluxe range and it is stunning. I wasn't sure how they could make microscooters any better, but they have!
Microscooter sent me the new Mini Micro Deluxe Scooter for Sebastian to review and we were really impressed with its new features;
An adjustable handlebar height meaning the scooter will grow with your child as well as being suitable for children aged from 2
The deck of the scooter has been redesigned and now has a raised silicone Micro grip
 A new anodised stem not only protects your scooter from corrosion but provides a stylish look
It took less than a minute to set up as you literally popped the stem in the hole on the board and away you go.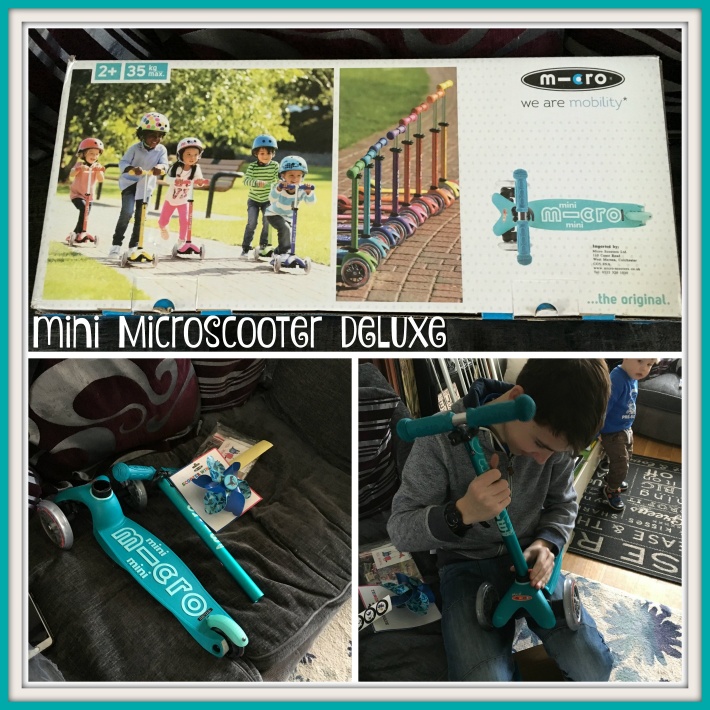 We were also sent a Windmill which clips onto the stem which really adds to the fun of the scooter. I have promised Eliza I will get one for her too.
The Mini Micro Deluxe's intuitive 'lean and steer' scooting style is easily understood by younger children and greatly improves their balance and co-ordination which are vital for the development of early motor skills. Up until now Sebastian has been using the Mini Microscooter with the O-Bar and the seat, but now, because the new Deluxe mini microscooter has an adjustable handle, he can scoot with this on its lowest setting.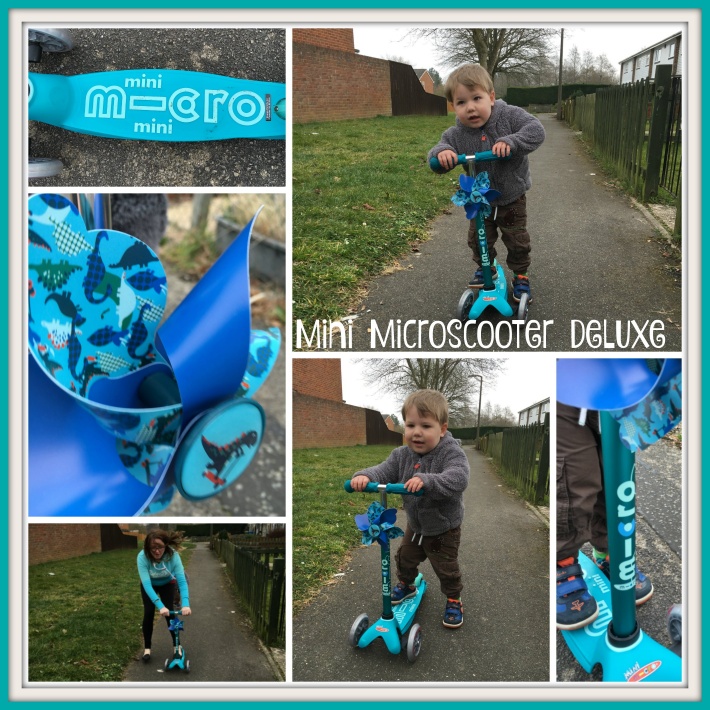 The Mini Micro Deluxe is lightweight and therefore perfectly suited for younger children like Sebastian. The brake has been ingeniously designed so even the slightest pressure put on it will bring the scooter to a gentle halt and its 3 wheels and sturdy deck provide stability, giving Sebby the confidence he needs to master scooting. He is still quite slow, but it won't be long before he is speeding after his brothers and sister.
I just need to get Hubby his own now, then we can all go out for a family scoot along the prom!