If your friend, family member or even you yourself are getting married then there is some very important and vital wedding trivia that every bride to be should know. Obviously there are plenty of things that everyone knows about weddings such as the basic format of the day and the main reason that everyone is there which is to celebrate and share in the couples' special day. There are some interesting facts about weddings though that a lot of people don't know and which are important for the bride to read up on. There are many different traditions and rituals when it comes to weddings, depending on which part of the world you are getting married in. Some of these wedding facts and trivia could even be used to create games for your wedding guests on the day, or used for inspiration for things to do for the hen or stag nights.
Sapphires are considered the jewel to signify martial happiness, as well as being a beautiful stone. You could incorporate this jewel into a piece of jewellery to wear on the day, or even have it incorporated into your wedding ring.
The most popular wedding destination for people to tie the knot is Las Vegas, with more than 100,000 weddings taking place here every single year.  Valentines Day and New Years Day are the two busiest days of the year for weddings to take place in Las Vegas. Hawaii is the second most popular destination with over 25,000 ceremonies taking place every year.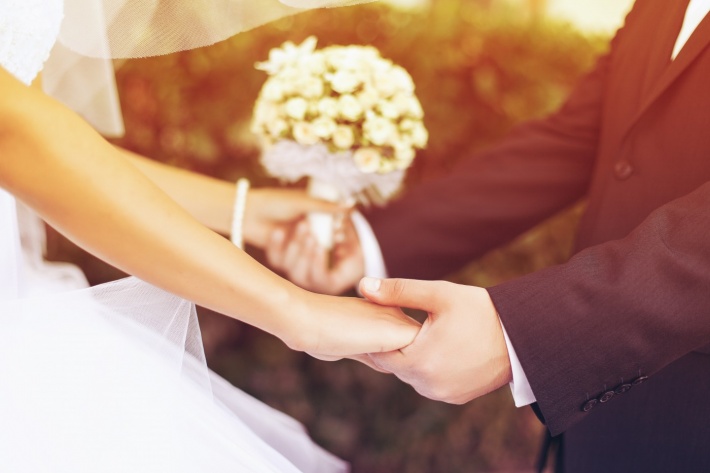 It's tradition to have a gorgeous wedding cake made for your big day which is shared amongst your guests and given as a gift for each person or to eat on the day. Many celebrities go all out on their cakes and have huge cakes made for their day. Something that many people don't know is Queen Victoria's wedding cake weighed a massive 300lb! The custom of a tiered cake emerged from a game where the bride and groom tried to kiss over an ever-higher cake without knocking it over.
This is one for all the single ladies out there; it is believed that single women will dream of their future husband if they sleep with a slice of groom's cake under their pillow.
The famous saying 'three times a bridesmaid, never a bride' originated back to the sixteenth century where people believed that if a woman had been to a wedding three times as a bridesmaid and not caught anyone's eye, then she was destined to never be married. This curse however is meant to be broken after the seventh time of being a bridesmaid, so all is not lost!
If you love nature then you'll love this fact, in India it is considered good luck to be married to a tree, however we don't recommend it!
In China the bride's family will hire a 'good luck' woman who will take care of the bride as she travels from her home, to her groom's home in an elaborately decorated chair. Attendants shield the bride with parasols and toss rice at her for good luck.
In the UK, we believe that finding a spider on your wedding dress signifies good luck, although personally I don't think it's something I would want to find on my dress!
Mid-week weddings are becoming increasingly more popular, especially with a lot of venues and suppliers offering mid-week deals to entice couples into saying 'I Do' on a less popular day. Traditionally in England, having your wedding take place on a Monday is for wealth, Tuesday is for health and Wednesday is the 'best day', so there's even more reason to have a wedding during the week! Funnily enough according to folklore Saturday is the most unlucky day to get married, however it's also the most popular day for people to get married on.
Did you know that the reason that engagement and wedding rings are worn on the fourth finger on the left hand is because it was once thought that a vein in that finger led directly to the heart and as many as 70% of brides wear a traditional diamond on their engagement or wedding ring.
Seventeen tonnes of gold are made into wedding rings in the United States every year.
The tradition of wearing something old on a bride's wedding day is done to symbolise continuity with the past. The tradition of wearing something blue symbolises purity, fidelity and love.
The tradition of the bride standing on the groom's left hand side during a Christian ceremony is because in the past the groom needed his right hand free to fend off other suitors.
More than 40% of couples plan their special day together and three out of four grooms help select the items for the wedding gift lists.
Music is one of the most important aspects of a wedding day and has the power to set the tone and create the ambience. The top 10 songs for a couple's first dance in the United States include "The Way You Look Tonight," "Just the Way You Are," "Come Away with Me," Unforgettable," "Wonderful Tonight," "From This Moment On," "This I Promise You," "Thank You For Loving Me," "Don't Want to Miss a Thing," and "All I Ask of You."