We have been fans of Paulton's Park for many years, but most people associate it with being the home of Peppa Pig World and therefore a theme park perfect for the under 5's.
Back in 2016, The Lost Kingdom opened, bringing with it two new rollercoasters and dinosaur themed rides, perfect for the more adventurous members of the family.
Now, there is even more to enjoy with their new Tornado Springs.
Tornado Springs at Paulton's Park
Tornado Springs is a brand new world featuring 8 incredible new rides and experiences including a spinning coaster, gyro swing ride and a driving school attraction.
Set in a midwest desert resort town in the American heyday of the 1950's, a trip to Tornado Springs is a vacation like no other and the kids could not wait to try the new rides.
The first ride on the list was Windmill Towers, a drop ride suitable for almost all the family – children have to be over 0.9m. The kids whooped and giggled as it spun around and dropped them at the same time.
Next up was the new Storm Chaser rollercoaster, where we used the Tot Swap facility so we could queue at the same time to ride.
The rollercoaster features back to back seats for 4 riders, so you could either be facing forwards or backwards as you climb, but once you reach the top, the carriage also rotates as you race around the track.
It definitely feels like the fastest rollercoaster at Paulton's Park and is a lot if fun to ride. It also has a relatively short queue time than some of the other rides, so you can ride again and again.
The other big thrill ride is the Cyclonator, a gyro swing which spins and swings you to a height of 25 metres!
For the younger children and the slightly less adventurous, head out onto Route 83 at the legendary Al's Auto Academy driving school, where adults and children can climb aboard a 2 seater, electric-powered, 1950's style open-top mini streetcars and take a drive around the dedicated driving course.
There are also two playgrounds where kids can let of steam in between rides; Junkyard Junction and Parking Lot Tots.
Sebby has been a rollercoaster fan ever since he was big enough to ride them, but it has taken Isaac and Eliza a little more time to brave them. The rollercoasters in Paulton's Park are definitely a stepping stone to even bigger ones and you can see by the smiles on their faces how much they enjoyed riding them.
The Lost Kingdom
The Lost Kingdom is set within four acres of Jurassic landscape, inspired by the era of fierce velociraptors, flying pterodactyls, giant triceratops and the mighty tyrannosaurus rex complete with animatronic dinosaurs, Dino-Chase mini rollercoaster, 4×4 Jurassic Jeep expedition and two larger rollercoasters: Flight of the Pterosaur and Velociraptor.
Flight of the Pterosaur is a 395m suspended dinosaur coaster, which takes family adventurers swooping high and low around the prehistoric landscape with speeds of up to 35mph.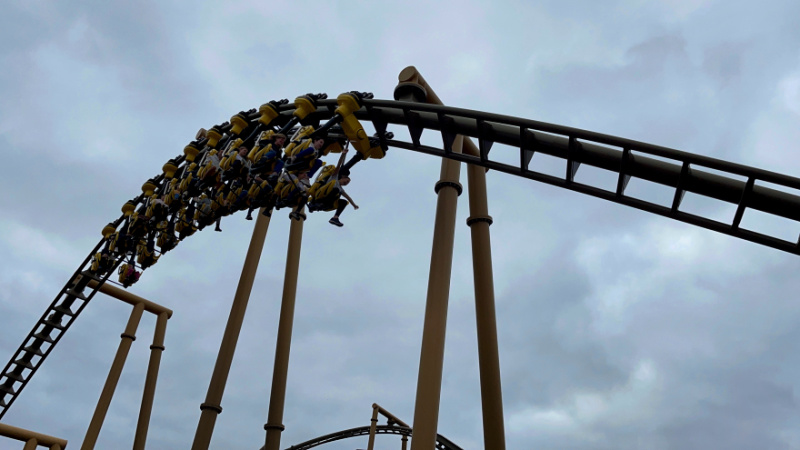 Velociraptor is a breathtaking 200m dinosaur family coaster drops you from 20m in the air and sweeps around tight bends with speeds of up to 40 mph and then sends you back around the track backwards.
Just across from the Lost Kingdom, you can find the log flume, kids splash park, toddler rides and the Sky Swinger.
There are four more adrenalin rides as this end of Paulton's Park; Dragon Roundabout, Edge and Cobra Rollercoaster and Magma Drop Ride.
As we had Lilah with us for day, we couldn't not pay a visit to Peppa Pig World.
Peppa Pig World
Paulton's Park is home to the world's first Peppa Pig World and has 9 fun rides suitable for young children and is perfect for toddlers! 
 Walking into Peppa Pig World is like walking straight into the animated series, complete with the infamous and annoyingly catchy theme tune, characters everywhere you look and rides based on some of the kids favourite episodes.
Despite being teens / tweens, my three all enjoyed revisiting Peppa Pig World and introducing Lilah to their favourite rides of yester year.
Paulton's Park is a great destination for all the family, with lots to see and do. If you need to get away from the hustle and bustle of rides, explore the beautifully manicured gardens and their birds and animals on display, enjoy a blast around one of the numerous play areas, or stop to enjoy a show.
Paulton's Park really is the perfect mix of rides and attractions for toddler's to tweens with the addition of the new Tornado Springs area, where little ones can explore the delights of Peppa Pig World and smaller rides, whilst older kids can test their metal on the adrenalin rides. We loved their Tot Swop, which allowed us to join in too.
Tickets to Paulton's Park cost £45.50 for an individual over 1m, £134.00 for a family of 3, £178.00 for a family of 4, £222.50 for a family of 5, £43.00 for senior's and children under 1m are free.
Disclaimer: We were guests of Paultons Park for the purpose of a review. All thoughts and opinions are our own