Paulton's Park has been a family favourite theme park since are older kids, now in their mid-20's were small.
The park has changed a lot since then, with the introduction of Peppa Pig World in 2011, The Lost Kingdom in 2016 and Tornado Springs in 2021.
When Isaac, Eliza and Sebby were preschoolers we had an annual pass, which meant we visited almost every week and took advantage of a much quieter park during their off-peak hours.
Now, Paulton's have relaunched their annual passes and have two to choose from:
Paulton's Park Premium Pass
The Premium Pass is valid for 12 months and allows unlimited entry any time the Park is open. No pre-booking is necessary, apart from their seasonal events, which run at Halloween and Easter.
It also offers 20% discount on food and drinks, 10% discount on shop purchases, plus £2 digital downloads for ride photography.
Paulton's Park Essential Pass
The Essential Pass allows entry on selected weekdays during school term time and is specifically designed for those who prefer to visit the Park during their quieter periods.
The benefit of having a Premium Pass
The main benefit is that you can visit the park any time of the year for free and it includes entry to their seasonal events, such as Halloween and Christmas.
Paulton's Park offers you a full day out, whether you are looking to entertain your toddlers, or take on the adrenalin fuelled rides with your tweens and teens.
They have some fabulous places to eat, serving proper meals and their toy shops stock a large range of toys. They have a dedicated Peppa Pig toy shop in Peppa Pig World and then another larger shop at the park entrance.
Peppa Pig World
The world's largest and first Peppa Pig World feels like you have stepped right into the cartoon, with 9 themed rides suitable for young children and perfect for toddlers, including George's Dinosaur Adventure (still a firm favourite in our house), Peppa's Balloon Ride, Daddy Pig's Car ride and many more.
You can meet Peppa Pig and George, the cartoons most popular characters who appear every day that the Park is open for photograph opportunities with them, You may even meet Mummy Pig, Daddy Pig, Zoe Zebra and Suzy Sheep too.
As well as the rides there is a large themed soft play area, Mr Potatoes Play Park, the Muddy Puddles Splash Park. You can also visit Peppa and her family in their house and Madame Gazelle's Nursery.
The £2 digital download for ride photo's is brilliant value, as photo's are £12 each, or £40 for 5.
Tornado Springs
Next door to Peppa Pig World, is the newest of Paulton's Park themed areas, set in a midwest desert resort town in the American heyday of the 1950's.
Tornado Springs has something for a mix of ages and features 8 incredible rides and experiences including a spinning coaster, gyro swing ride, a drop ride and a driving school attraction.
On our most recent visit, we spent the majority of our time here as the kids loved the Storm Chaser rollercoaster, which you can ride facing forwards, or backwards. It is definitely their most thrilling ride.
The Lost Kingdom
With the fossil rich Isle of Wight and Jurassic Coast on the doorstep, The Lost Kingdom is a dinosaur lovers paradise, where animatronic dinosaurs of all shapes and sizes greet your every turn.
You might even find a real one, but be careful, this one likes to steal hats!
The Lost Kingdom also features two world class roller coasters, Jurassic themed family rides, and a prehistoric Dinosaur adventure play park.
Alongside the Lost Kingdom, you have a larger splash park, a play park for older children, the log flume and a giant sky swinger ride that the kids love.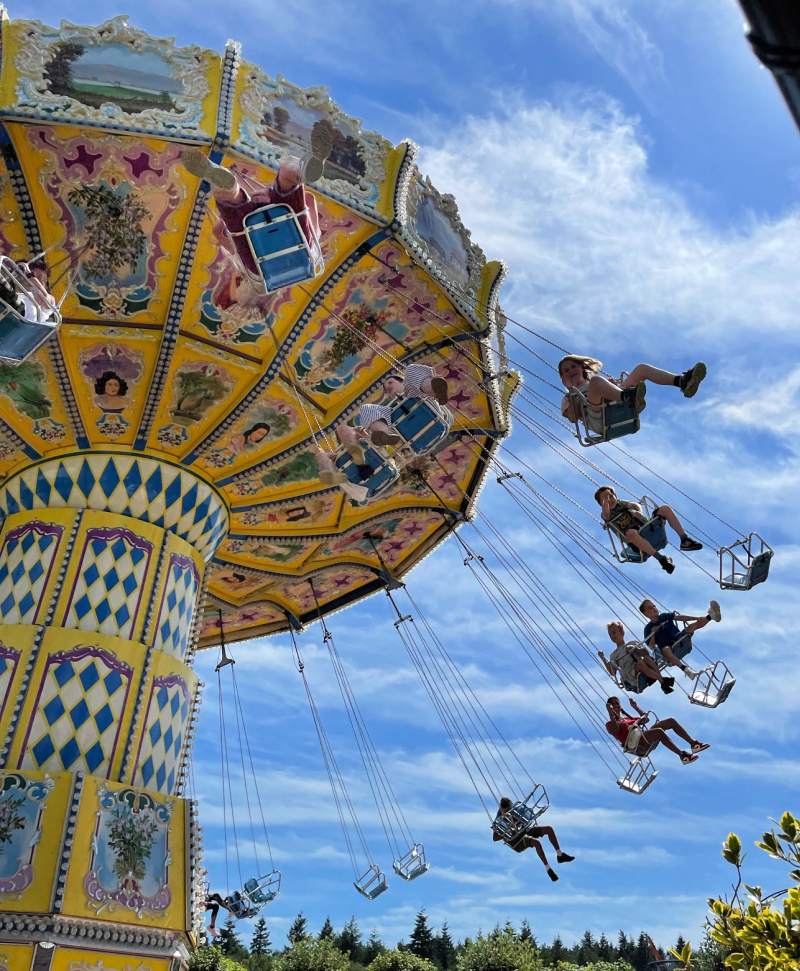 There are more thrill rides at the far edge of the park, including the old favourite Cobra rollercoaster, the Edge and Magma drop ride.
For those looking for a slower pace, the middle of the park has beautiful gardens to wander through and stop for a picnic, dotted with exotic birds in their aviaries. They also have penguins and the Little Africa and Critter Creek areas with a variety of different animals to see.
Top Tip:
To get the full benefit of the annual pass, you need to visit at least 6 times in the 12 months it is valid and if you have children under 1m tall, they get in free, so you would only need a pass for the adults.
Have you visited Paulton's Park before?
Disclaimer: We were gifted a Paulton's Park Premium Pass for the purpose of a review. All thoughts and opinions are our own