Last year when watching Dragon's Den we saw Mad Mark win funding from the Dragon's for his science parties and from then Isaac knew just what sort of party he wanted for his birthday.
Sadly, looking into it, Mark's company doesn't cover Dorset but after a bit of research I discovered Fun Science Dorset and booked their complete package for a joint party for Isaac and his friend Scott and we hired our local community centre so we didn't have to worry about trying to squeeze in my house, although you could have a science party at home if you had a big enough room.
We printed the free invitations from the website and handed them out. It felt like such a long wait but finally Saturday arrived. We set up the hall ready for everyone and our host, Kinetic Kate, arrived with her equipment which Isaac and Eliza both insisting that they help her set up.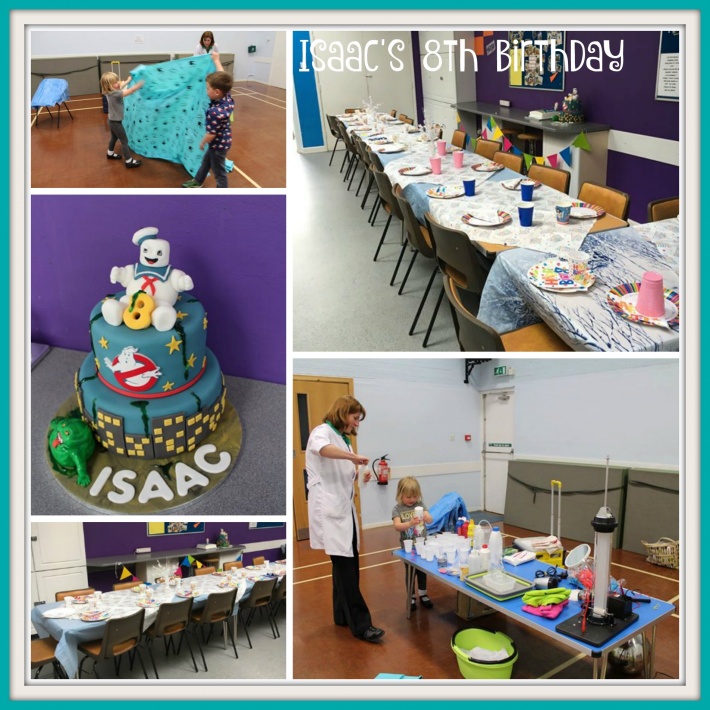 We booked the complete package which consisted of a chemical/electrical extravaganza for roughly 65 minutes before a break for the children to sit down to eat their party tea and then a second half where they run a sweets and surprises party for half an hour after the children had finished eating.
I cannot praise Kinetic Kate highly enough. She was fun, factual and engaging with the children, testing their knowledge in a fun way. I have never seen a group of 24 children so quiet at a party – until the fun chemical reactions that is, which they met with whoops and cheers. Some of the experiments included blowing up a balloon without using their mouth, making slime and a fun volcano.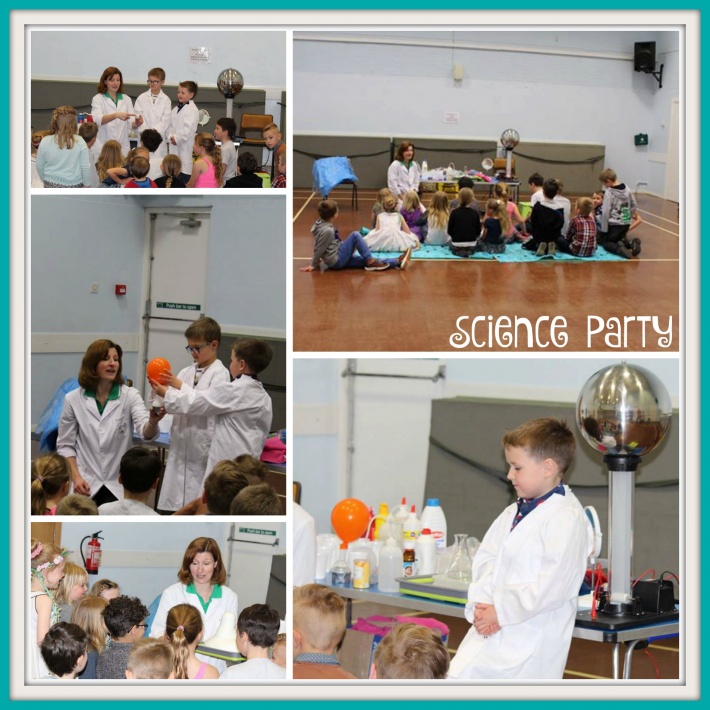 Next up was an introduction to the Van de Graaff generator which is a machine Kinetic Kate used to make people's hair stick up as well as making lightning – all using static electricity! She also used flashing circuit balls and the kids had to link up to become a circuit whilst learning about conductors, insulators and switches.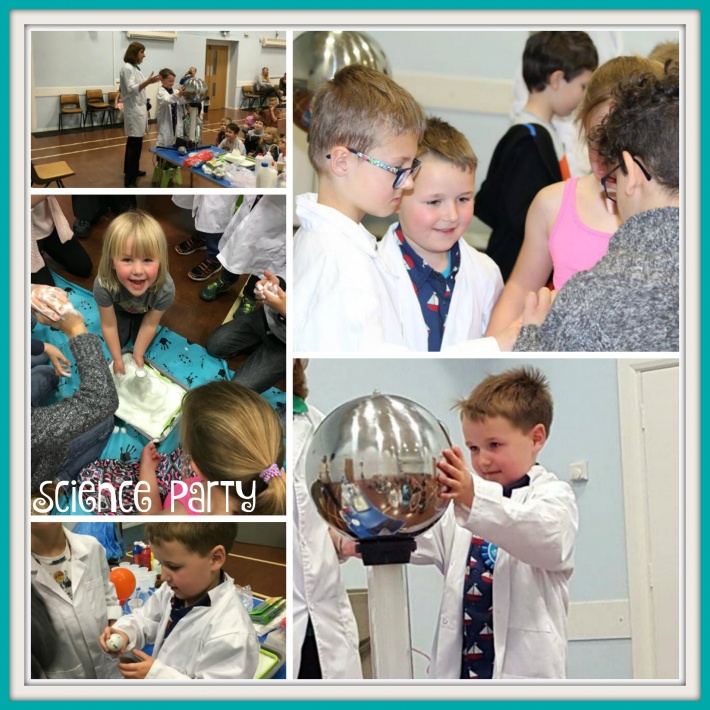 Everyone got a turn at making their hair stick up, which caused lots of giggles especially when she turned the generator off as the hair literally snapped back down into position. The kids then got to try out the science of colours by making rainbows appear before their very eyes whilst Kate set up the slime making. Everyone put on an apron and then made slime in the colour of their choice which they got to put in a bag and take home after the party.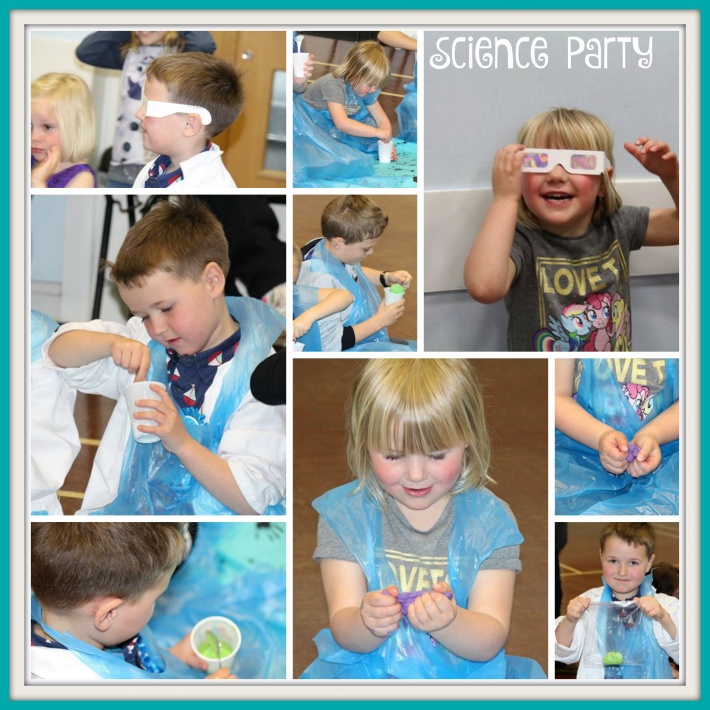 It was now time for some food and the kids sat down eat excitedly chatting about what they had been up to before the second half before singing Happy Birthday to the birthday boys. I must send a big shout out to my friend Helen from Scrumptilicious Cakes for making Isaac's Ghostbusters cake – it was amazing.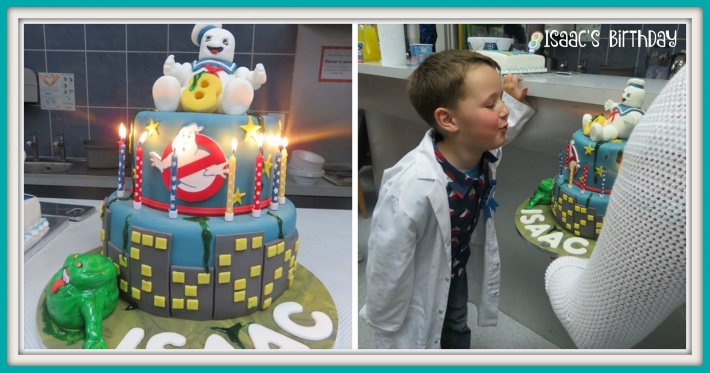 They started the second half of the party by making their own (additive free!) sherbet to take home in an envelope. Some of their faces were hilarious as they tried the very sour sherbet! They also found out what puts the fizz into our fizzy drinks and we headed outside to do the mentos in a bottle of lemonade experiment which definitely got the loudest cheers of the day. The final experiment of the day was making candy floss and everyone got to have a taste, including the adults, before the children were handed their own certificates with their new scientist names.
If you are looking for a party with a difference then I cannot recommend this highly enough. The kids had a blast and what's more, they were learning too without realising it.