Do you have a toddler who wriggles so much they don't keep the covers on and you are forever going in to put them back on?
I do!
Eliza seems to throw her covers off within seconds of falling asleep and no matter how many times I cover her up she does it again and again and again.  I have tried tucking her in tightly, giving her a special blanket to cuddle but nothing works and she keeps waking up because she is cold.
I have found the answer!
The Twinkle Tog Toddler Sleepsuit by dreamgenii®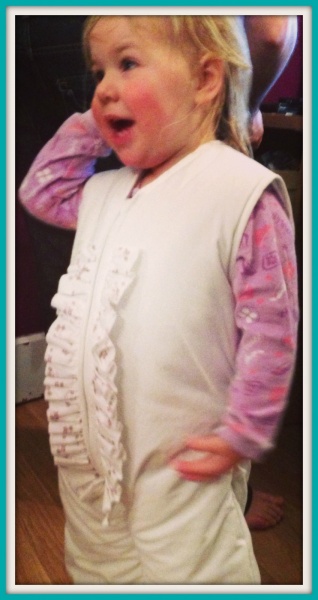 The Twinkle Tog is a cosy, wearable bedtime quilt with a tog rating of 2.5 which is the ideal move up item from a baby sleeping bag as it allows your toddler to move around freely, naturally and unrestricted in their bed.  It also helps avoid upsetting tumbles as they try to get out of bed when their legs are trapped in a sleeping bag.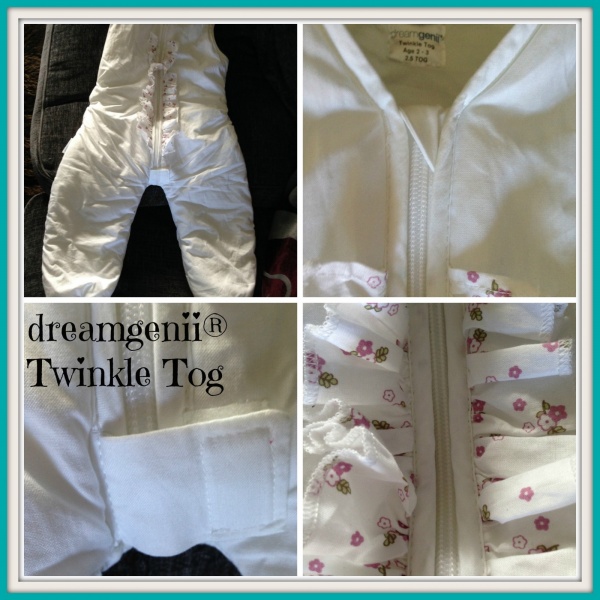 I changed Eliza into her Twinkle Tog before she went to bed and she danced around the lounge saying she was a princess. The suit zips up from the top to the bottom and there is a flap of material which pulls over the top part of the zip to stop it rubbing on the chest.  There is another piece of material that velcro's over the zip pull to stop the child playing with it too.
If you travel in the car during the evening the dreamgenii® Twinkle Tog also allows your toddler to be unstrapped easily from their car seat and transferred to bed without unnecessary disturbance.
It is made from 100% cotton and with a soft jersey lining and is designed to keep your toddler warm and cosy at a vital stage for their development and independence. The dreamgenii® Twinkle Tog will ensure that your toddler has a comfortable, undisturbed and cosy night!
It worked and Eliza had quite simply A Magical Night's Sleep.  I am sure that she was waking early due to her being cold, and now with the assistance of this and her Gro Clock she is staying in bed until 7am.
They have some gorgeous designs for boys and girls and I will definitely be investing in one for Sebastian for we he starts walking.  They do have some gorgeous bedding for older children too!
The lovely team at dreamgenii® have offered me a TwinkleTog* to give away to one of my readers.
*You can choose from Blue Shark, Pink Frill or White Frill.
To Enter:
Fill in the Rafflecopter widget below to verify your entries
Entries can be via comment, Facebook, Twitter etc
Please read the rules below
Closing date:   16th March 2014
If there is no form hit refresh (f5) and it should appear
If it still not working check that your computer is running Javascript
You need to complete the mandatory entry first – Leave a comment
Rafflecopter will tweet, like and follow on your behalf making it really easy to enter
Really want to win the prize? Come back every day for bonus entries via Twitter
Terms & Conditions can be found in the Rafflecopter form below