When Butlin's announced that Dick and Dom would be appearing on stage whilst we were on holiday at their Bognor site, the kids went into excitement over-drive!
We have seen them twice live at LolliBop and they always whip the crowd into a frenzy with their antics on stage.  The parents definitely enjoy the show as much as the children.
As we were staying on site we got the opportunity to see them at a hotel only show earlier in the day.  We had B-Line passes which enabled us to access the venue 15 minutes before everyone else and I am so glad we had them as people starting queuing over an hour before the venue even opened its doors.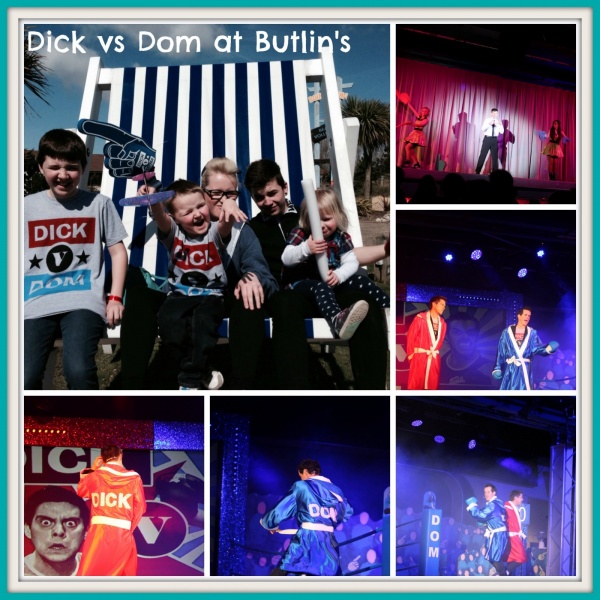 First on stage was the Referee and two cheerleaders who got the kids up and training for the big Dick vs Dom fight. Next was the opening trailer was hilarious and featured their training program (or lack of) before they came bounding on stage.
We tweeted them the above picture, saying we couldn't wait to see them and they spotted us in the crowd and gave the kids a wave and a thumbs up which made their day.
There was some rather disgusting smoothy making action by some Dad's, some paper bag escape action from a couple of brave mums, crowd surfing and some legal swearing in a song before a some custard pie action and a resounding sing along of Nellie the Elephant.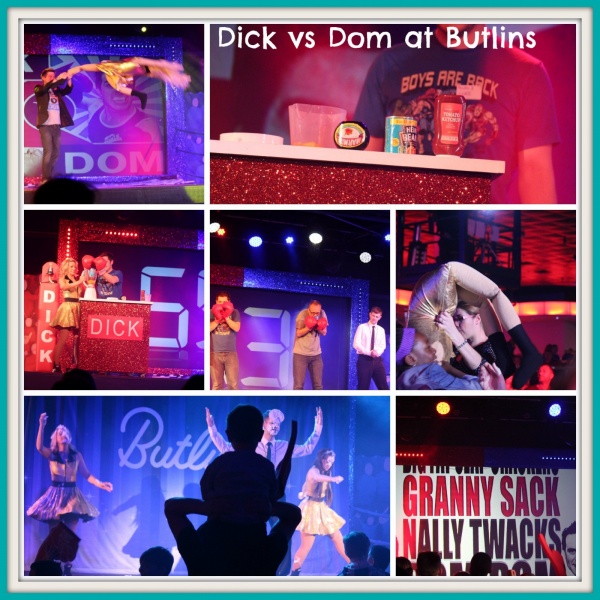 The show was 45 minutes of fun and we were lucky enough that Dick & Dom came out and met some of their fans and signed their new book before heading back for a much needed rest.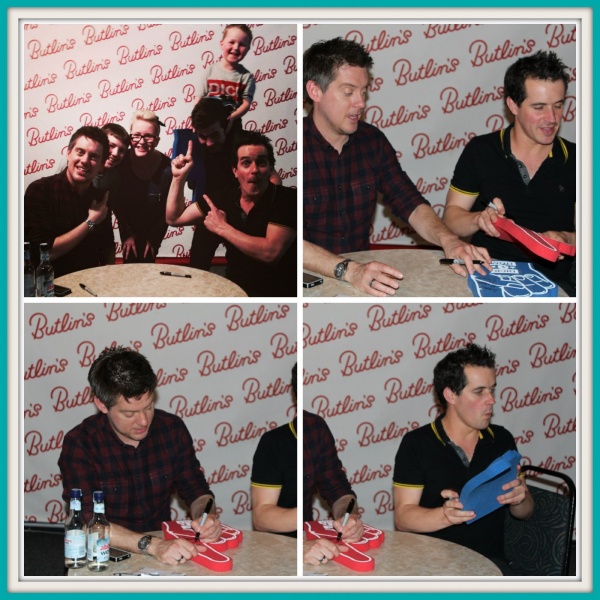 Whilst waiting in the queue to meet Dick and Dom we asked how the kids were selected to go on stage and discovered the Red Coats enlisted the "volunteers" before the show.  I should have twigged as I was approached to be one of the mum volunteers before this show but kindly declined.
We thought having got to meet Dick and Dom that the kids wouldn't be bothered about seeing the evening performance…..yeah right!
Kian and Isaac were desperate to go again and hoped to get chosen to go up on stage.
Again we queued early and got some fab seats before finding the Red Coat who was recruiting volunteers………. they were to go up to the stage at Round 5.  The show was identical to the earlier one, albeit with a slightly merrier audience who were determined to make the crowd surfing challenge more difficult.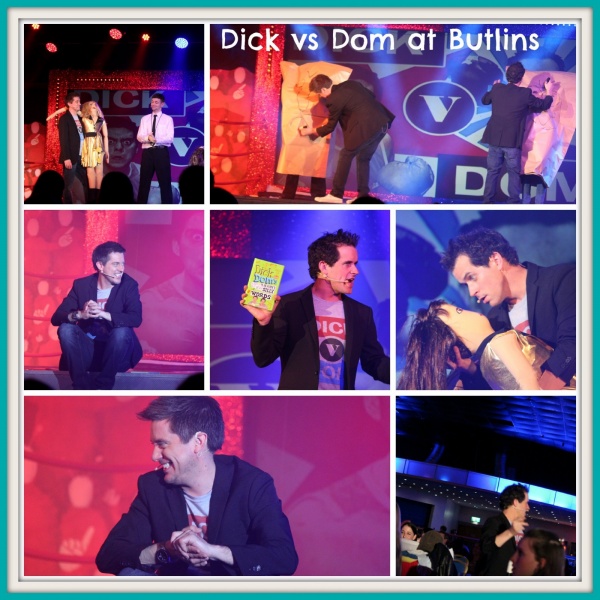 and then it was Kian and Isaac's turn to go on stage.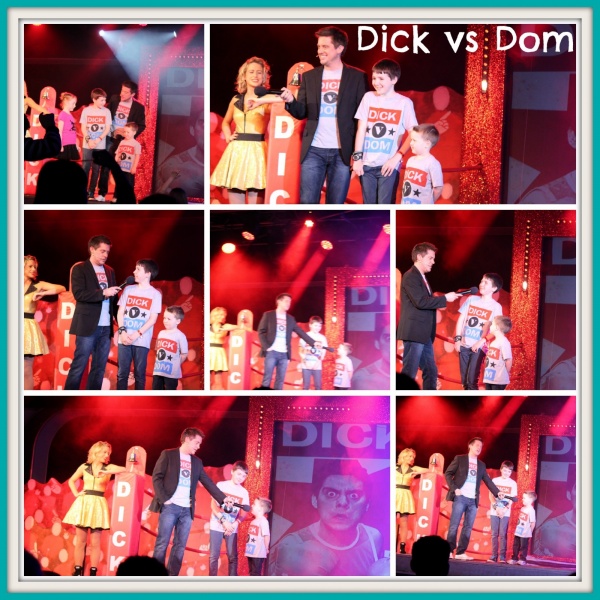 My heart wanted to burst with pride as they confidently spoke to Dick.  Kian helped his little brother when he forgot where we lived and then it was time to play Musical Splatues.  Think musical statues with a custard pie if you move when not supposed to.
Cue some very serious dancing…….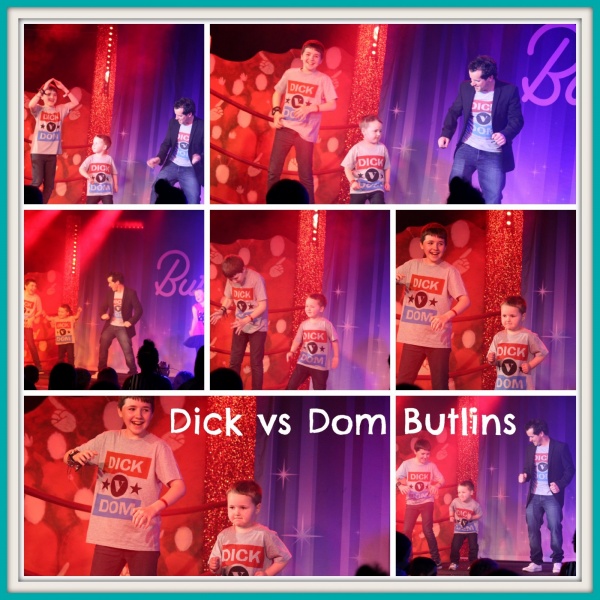 Both boys got through the first round unscathed, but the nature of the game is that one was guaranteed to get picked next.
Isaac was picked and did brilliantly despite not moving a muscle.  Because he is small for his age all the audience were behind him and jeered willed Dick and Dom not to "pie" him.  They asked him the rules and then it happened…….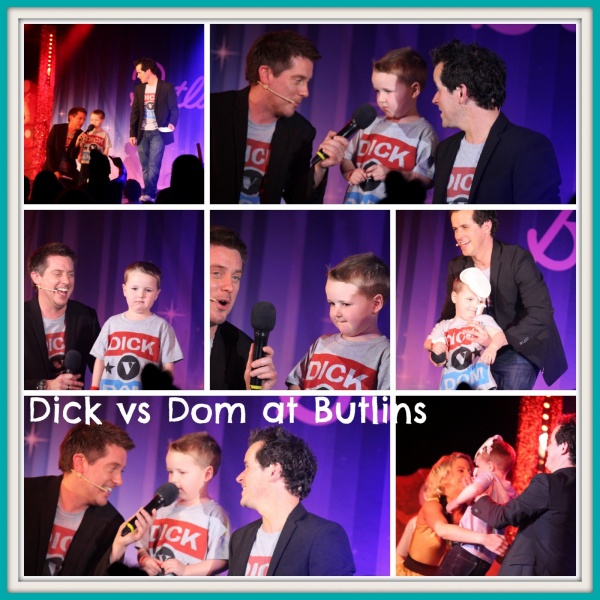 Now it was Kian's turn to win it for Dick's team.
There was some serious dancing going on until the other boy slipped on the stage.
There was only one thing left to do……………………………………. FIGHT!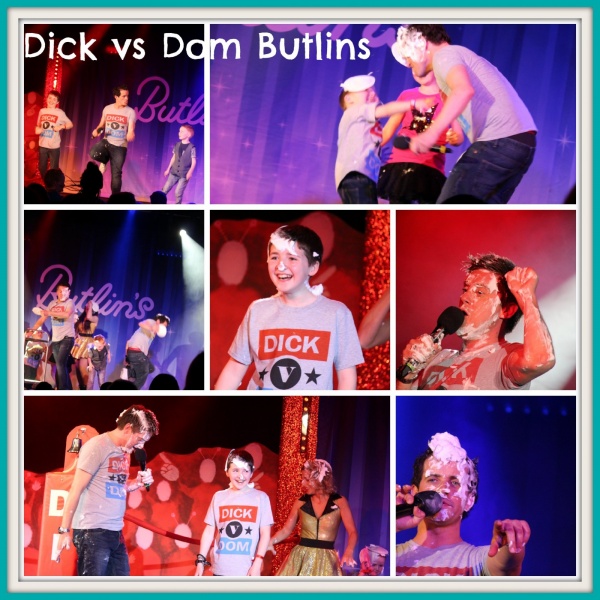 It was hilarious.  Kian gave Dom a real run for his money (literally) and managed to avoid a pie for a while.  Isaac got two full face shots in which we are enormously proud of, although looking back at the footage both Dick and Dom stopped and bent down for him.
I am proud to say that Dick's team won too.
It is an experience that both will remember for years to come and most definitely a magic moment!