We live in East Dorset and often forget that Hampshire has some fabulous attractions to visit that are close by.
My older boys have been wanting to visit Beaulieu Motor Museum for some time, but I never quite managed to persuade hubby as he isn't a car fan – as long as it can get him from A to B he is happy.
The boys, however, have a list of dream cars as long as my arm from a Lamborghini Diablo, Aston Martin DB7 to a slightly more reasonable Range Rover.
The one thing we all have in common though is a love of the TV show Top Gear.  It is what I call a "Marmite" show – you either love it, or hate it!  We are all firm fans in this house thanks to the dry humour, the constant mickey taking and the rather amusing challenges that never seem to go quite to plan and Beaulieu has the World of Top Gear which features many of the vehicles from their most ambitious challenges.  This was my bargaining tool with hubby to go.
We decided to go on Bank Holiday Monday and I fully expected it to be very busy – it wasn't!  We parked easily and headed inside the grounds of this magnificent estate.  Not only does it hold the world-famous National Motor Museum, but the tickets also give you access to Palace House, home to the Montagu family and historic Beaulieu Abbey which was founded in 1201 by Cistercian Monks.
The first thing that struck me was how green and well kept the grounds were and that all the attractions seemed to be spaced out well.  Our first port of call was to see the "On Screen Cars".  The kids had been given challenge sheets to complete when we came in and we found a couple of answers straight away.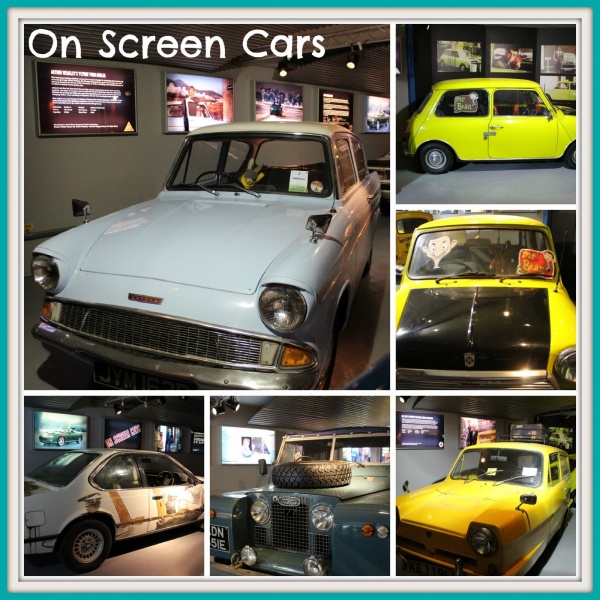 Next Door was the World of Top Gear and we were ushered in to a screening room as a short film was about to start.  The room was set up just like the Top Gear set, albeit a lot smaller, with both large and small screens to watch a video of Jeremy, Richard and James showing us around their rather un-glamorous production room and how they came up with their quite ridiculous plans, plus some of the funniest moments.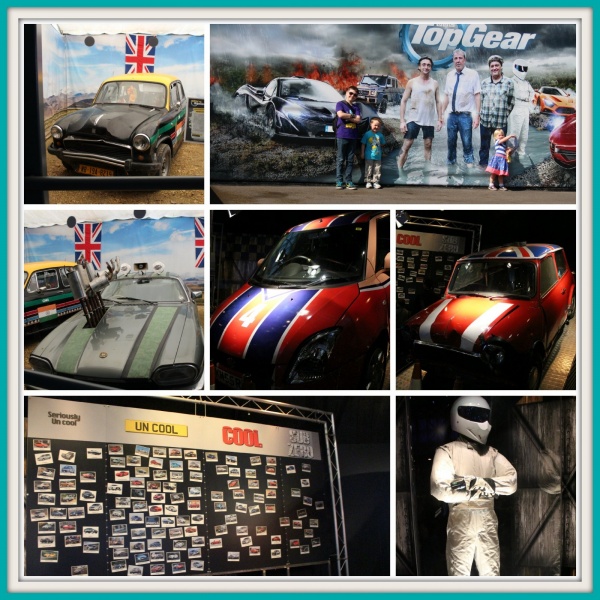 As you exited the room, you got to see even more of the improvised, odd-looking and battered vehicles they had used in the show.  There were also some screens showing the challenges again and information about all the vehicles.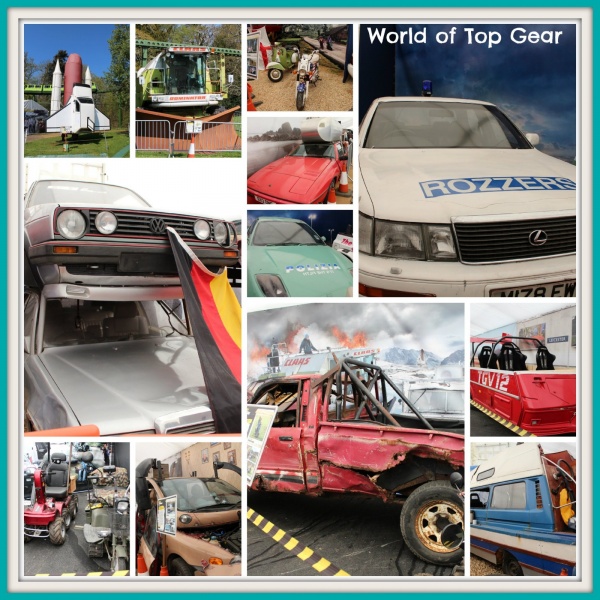 We were in the World of Top Gear for ages, remembering and giggling at some of the antics the team got up to and were pleased to see that the car they drove locally was in the display too.
Next door to the World of Top Gear is the monorail – the perfect way to get a bird's eye view of the museum and the grounds of Beaulieu itself.  We had to persuade Isaac it wasn't a rollercoaster, but after watching it slowly creep around the park, he decided it didn't go fast and happily got on.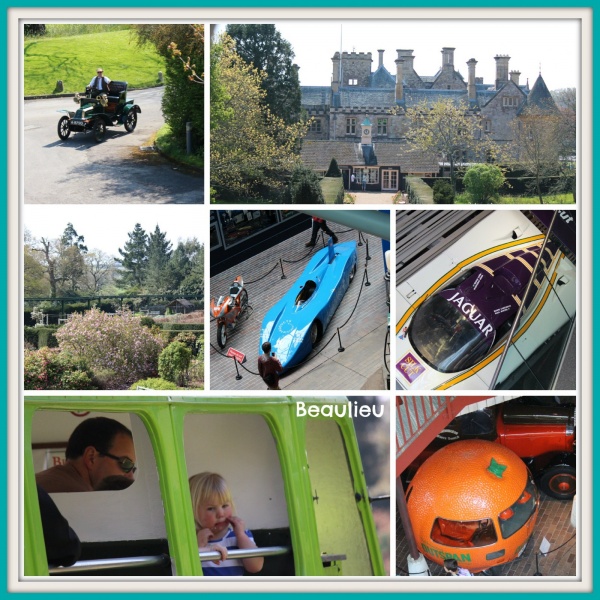 After "flying" through the top of the exhibits we then headed into the Motor Museum itself.  With lots of vehicles to see from bikes, to electric cars, land speed record vehicles to motorbikes there is so much to keep all ages interested. There was even a chance to dress up!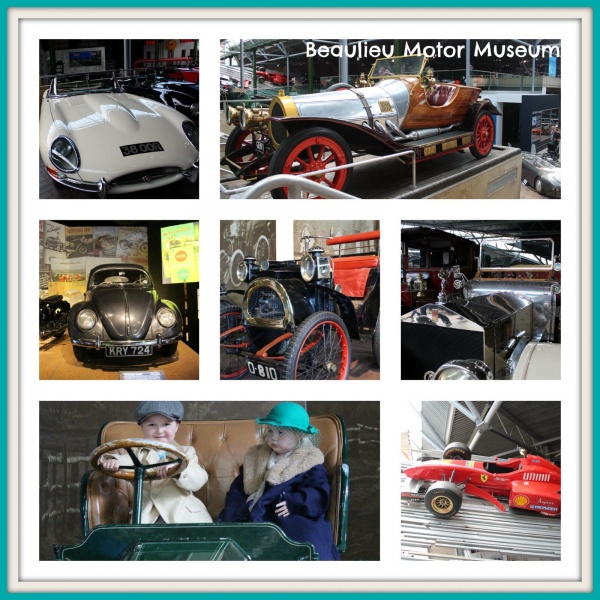 I reminisced about learning to drive in a Morris Minor and was delighted to see my first car – a VW Beetle, as well as admiring all the stunning old cars.  Even Chitty Chitty Bang Bang was there!
There are in the process of installing a Motorcycle Story display and although it wasn't quite finished we got to look around all the bikes they had on display so far.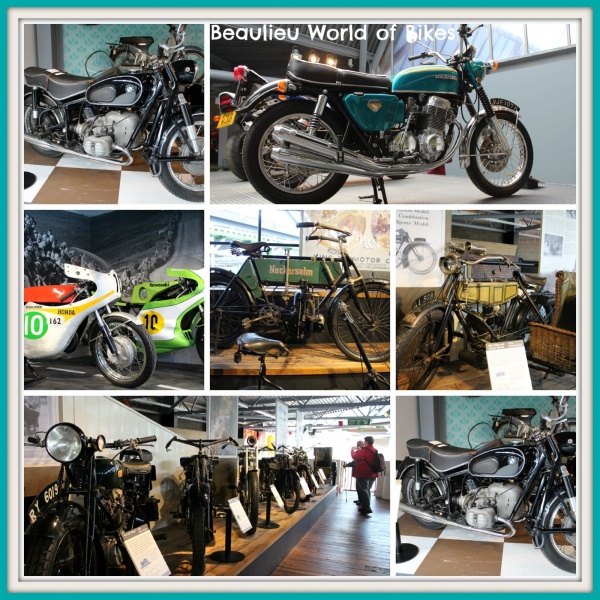 As we headed downstairs for the Landspeed display, we spotted a craft activity – a landspeed record challenge of our own.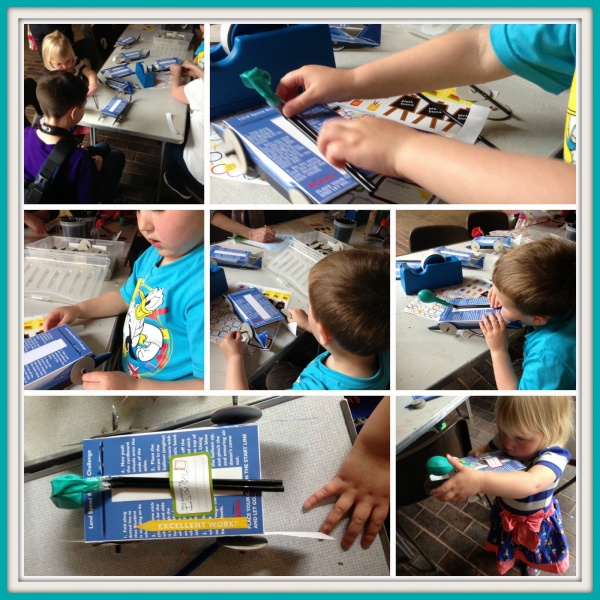 The instructions on how to make the vehicle were clearly marked on the top and the kids got stuck in.  Both little ones needed a little help with the wheels as getting them onto the straw axle was a little tricky, but they soon came together and the kids had great fun racing the balloon propelled cars up and down the hall.  It made for a great science lesson for Isaac too.
We continued on through the ground floor of the exhibition looking for the clues in our challenge books and taking a ride on the Wheels ride which took us on a journey throughout the history of the wheel from the stone age to the modern vehicle.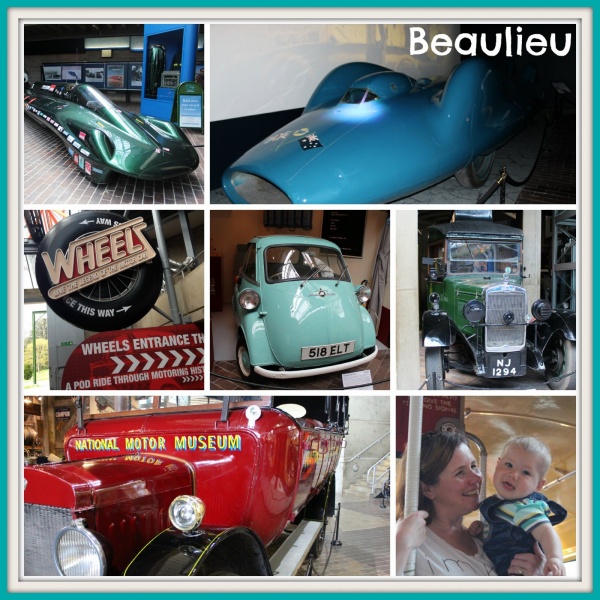 Once we had finished exploring the exhibits we headed outside to the children's play area that we spotted from the monorail.  There was a covered picnic area beside it with a small kiosk for tea, coffee, drinks and ice cream which suited us perfectly as we had brought a picnic.  There is also a restaurant with both indoor and outdoor seating if you choose to buy your food there.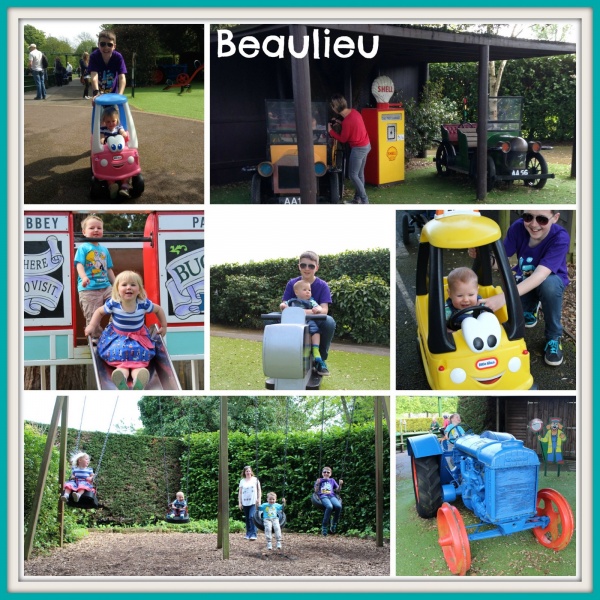 The play area was filled with vehicle themed apparatus, as well as having a road track around the outside with plenty of Little Tikes to borrow and ride around on.  Eliza adored the big red bus climbing frame and slide whereas Isaac wanted to drive the big blue tractor.  The one thing all the kids loved were the swings!
Next to the park is a small race track with electric cars for young drivers.  I was surprised that they were free to use and Isaac loved speeding around the track.  Although Eliza could reach the pedal she didn't quite have the strength to push it down but the ride assistant pushed her around the track so she could have a turn!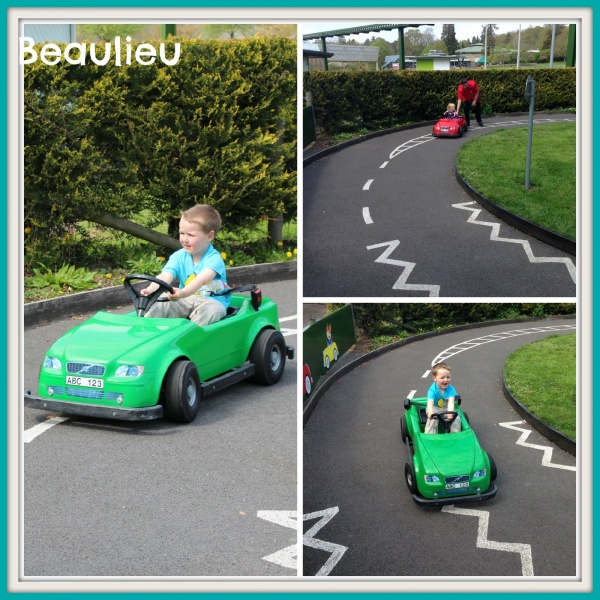 Once we finally managed to prise the kids from the cars we headed off to explore the Abbey.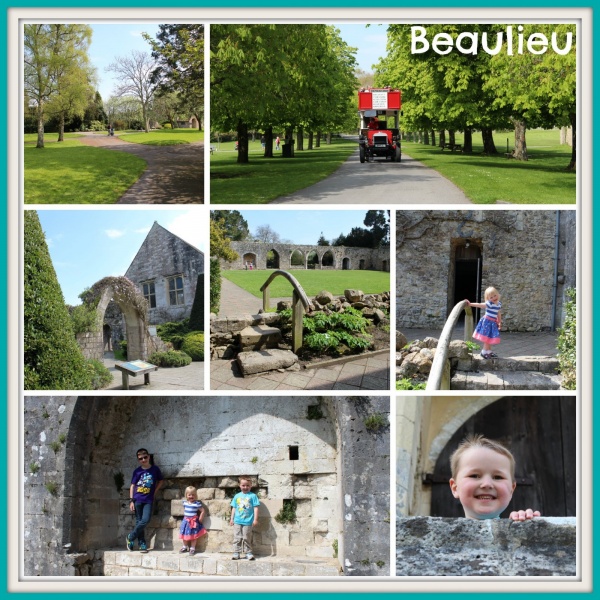 When then headed to Palace House and made the most of its beautiful gardens.  You can go inside but by now Sebastian was snoozing in his pram and buggies are not permitted inside.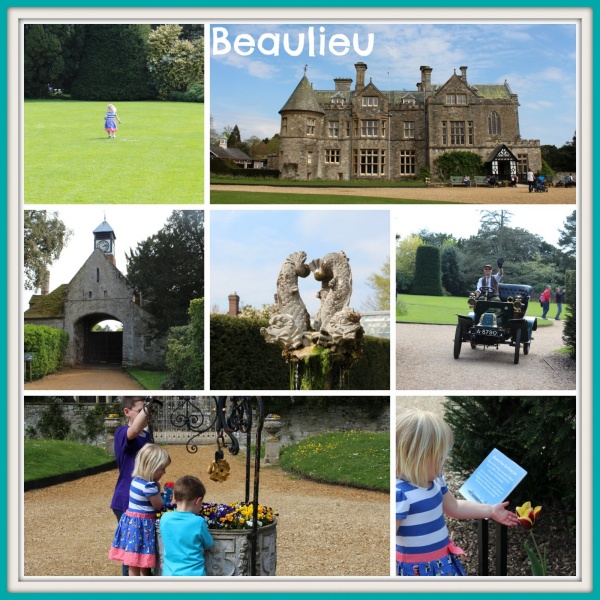 We finished the trip to Beaulieu with an ice cream and a trip aboard an old fashioned double decker bus where we saw this car decorated entirely with toy cars, before taking a leisurely drive back home through the New Forest so we could see the ponies.  Everyone agreed it was a fabulous day out and you don't have to be car lovers to enjoy yourselves.
Everyone agreed it was a fabulous day out and you don't have to be car lovers to enjoy yourselves.  The facilities were all immaculate and there was even a roomy dedicated baby changing room.
I give Beaulieu a 5/5 rating!
For all the latest offers on Beaulieu and other attractions in Hampshire, visit www.hampshireattractions.co.uk
Join Beaulieu on 5th May and be part of a Guinness World Record attempt for the longest line of "toy cars", where you will be able to watch the event take shape as they hope to have over 15,000 toy cars are laid.  Children who donate 2 or more toy cars on the 5 May will receive half price entry. All the donated cars will be used to raise money for Naomi House & Jacksplace after the event.