I have been concentrating on things to do in Dorset on my blog, but we live a stones throw from the Hampshire border so we have decided to start exploring.
There are so many fun things to do in Hampshire that it was difficult choosing where to go first.  My dad lives in Hythe, near Southampton to so decided to pick something close to him so we could visit at the same time.
Longdown Farm is situated in Ashurst, New Forest.  The farm promises a daily schedule of activities which run throughout the day meaning you won't miss out no matter what time you arrive.
You can bottle-feed the kid goats and the calves, feed the ducks, meet the pigs, donkeys and ponies.  They even have baby rabbits and chicks to cuddle, plus lots more friendly animals to see.
We arrived at Longdown Farm at 11am on Good Friday to glorious weather.  I think everyone had the same idea as the overflow car park was full to bursting.  I was surprised that we had to cross a busy road to get to the farm, which with young children isn't ideal.  I would like to see some sort of pedestrian crossing or bridge to make it safer.
Once we finally made it over to the other side of the road we had a 15 minute queue to get inside, however there were some piglets playing in their pen beside us which kept the children amused.  Once we were in the kids spotted a chance to stretch their legs on the tractors whilst hubby and Kian played some table tennis.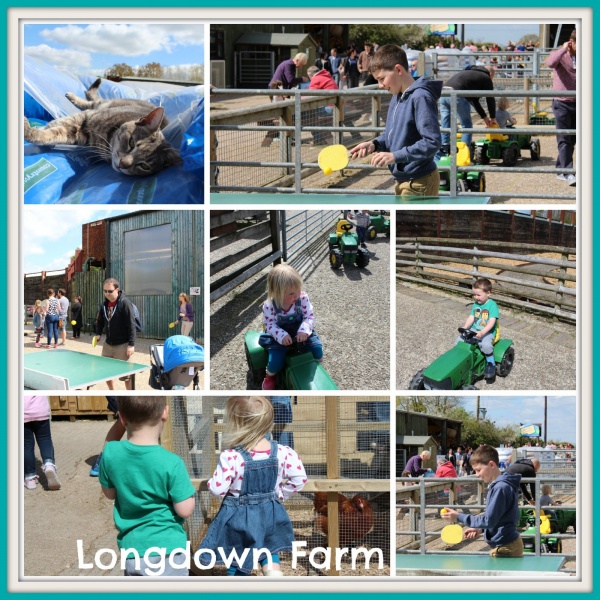 Once they had finished we set off to explore the lots of brilliant farmyard buildings that stretched out in front of us.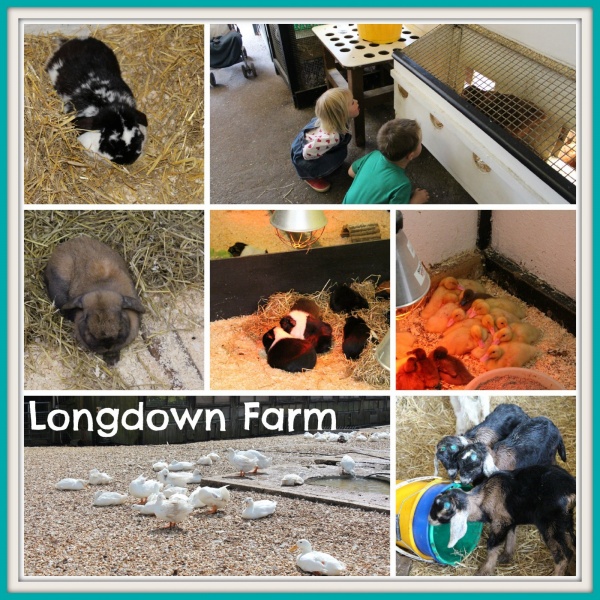 We found Rabbits, Guinea Pigs and the cutest chicks and Hens.  The kids tried to find some eggs, but sadly there were none.  If you do find some, you can buy them and take them home to eat!
As we headed in to see the kids (baby Goats) we realised that we had missed the bottle feeding, however we got a chance to stroke them and then headed off to feed the adults next door.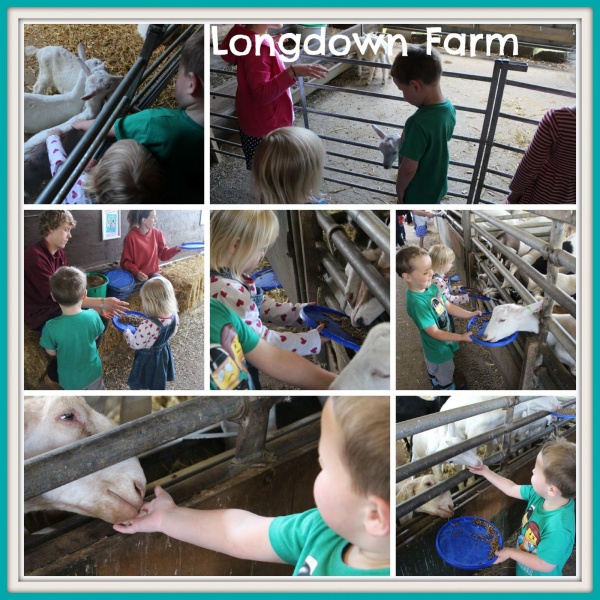 The kids were given trays with food on, which proved quite difficult to hold with the goats all clamoring to get to it. Isaac decided that he preferred to feed them by hand and giggled as they tickled him with their tongues.
Each barn is equipped with soap and warm water so you can wash your hands after each activity, so we cleaned up once we had finished and headed outside.  By now the kids were hungry so headed for the picnic area, stopping to say hello to a couple of turkey's on the way.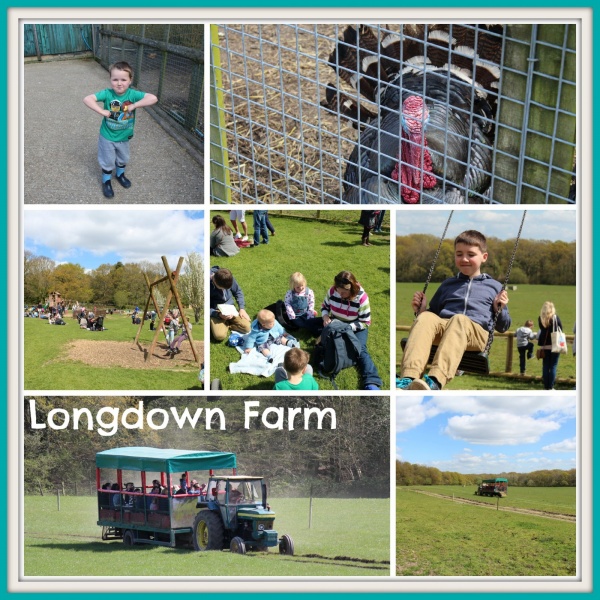 The picnic / play area is huge and despite being busy it didn't feel overcrowded.  There are not many wooden benches so we set up our picnic on the grass and watched what was going on around us.  The kids spotted a tractor ride and I was surprised to find out that it was free, so I queued for it whilst the kids finished their lunch.
We have no photo's of Isaac as he found a friend and was off playing with him but Eliza had a whale of a time playing on all the equipment they had to offer.
We then headed off to see what other animals we could find.
We also found an indoor play area and a trampoline barn but people were literally queuing to use both so we didn't get to try them.  
There are other activities on offer that cost extra e.g. Go Karts and Pony Rides but thankfully there was enough to do to keep the kids occupied and it was so busy we couldn't get near the tearoom.
We did pay a visit to the farm shop though and brought home some delicious bacon!  They sell lots of produce from the farm and you can even buy a chicken coop and chickens if you fancy keeping your own!
Have a look at their events page, as Longdown host numerous special days throughout the year.  I quite fancy attending the Vintage Rally.
I did have a couple of grumbles on the day.  The toilets are situated in a portacabin type block and were up steps, which with young children can be difficult and they were not pleasant.  There were also no baby changing facilities, so I had to change Sebastian on the grass, which was no issue as it was warm but if it was raining I would have been stuck.
I give Longdown farm a 3/5 rating.
I leave you with this rather blunt, but to-the-point sign about their tractor rides!