We were awoken by the sound of rain on the tent and the wind was whipping up, but we were warm and dry.  I made the decision early that I was going to attempt a shower at the Posh Wash facilities today and left the tent in time for their opening time of 7am.
There was a queue, but not a bad one and I waited around 20 minutes.  I had no idea what to expect – there were 21 single showers and 2 double showers for families, all promising hot water.
I expected luke warm if I am honest, so when it was my turn to climb into the small cubicle I was surprised to see the mirror steamed up.  The showers are given a quick squeegee wipe between each use and then away you go, locking the door behind you.  There is a sink, mirror, hook for your clothes and that all important shower which was piping hot!
The queue had gone down even further when I emerged, so I sent Kian and Hubby down too, who managed to snag a double shower as they were sharing toiletries.
It was still drizzling when they returned and not even 5 minutes the later the heaven's opened.  The rain was torrential and we made quick work of sealing any gaps, where the kids hadn't shut doors properly that were letting water in.  We did start to worry that this was going to be our Saturday, but by 10am it cleared and we were treated to warm sunshine once again and set off to watch the one act that the kids were desperate to see – Mr Tumble.
He wasn't sue to perform until noon, but the Castle Stage was already packed.  We managed to get a good position towards the side of the stage and watched the Lips Choir and the slightly odd Best of 155 dancers.
Then is was Tumble Time!
I am pretty sure the set was identical to last year's but the kids didn't care – they sang, danced and screamed the answers to the questions he asked.  He had 10,000 children and adults doing the Hokey Cokey which is a sight to behold in itself……..he smashed it!
Mr Tumble finished his set at 1pm, so we headed off to find some lunch before the planned meeting with the other Camp Bestival bloggers which was planned for 2pm.  We found a lovely spot under a tree and relaxed, took in the atmosphere and watched as the flags fluttered in the breeze.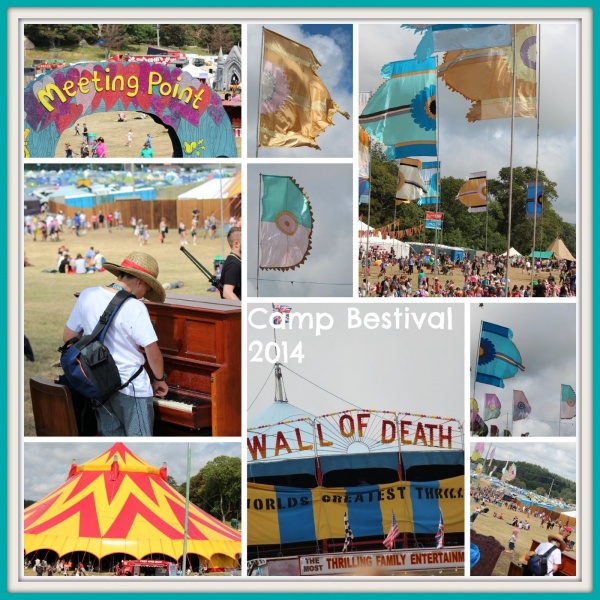 Then is was Bollywood time!
The lovely Gemma from HelloitsGemma brought us all some moustaches to wear, as you do!  They stayed on for a brief photocall, before my kids decided that they looked better on them and struck a pose, whilst the Sangria flowed and we all had good chinwag.  Who can you spot?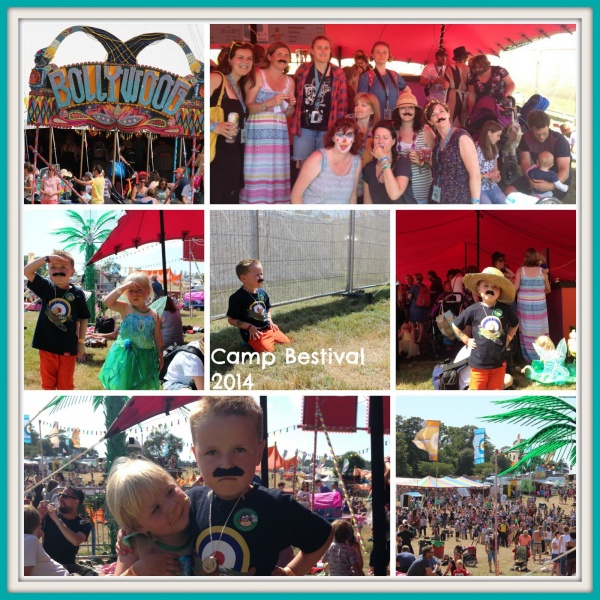 I was persuaded by TattooedMummy that the gentlemen who were jousting were rather nice to look at (she liked the Earl of Lulworth), so I persuaded the children to go and watch.  We weren't disappointed and they had the crowd in the palm of their hands with the edge of your seats show.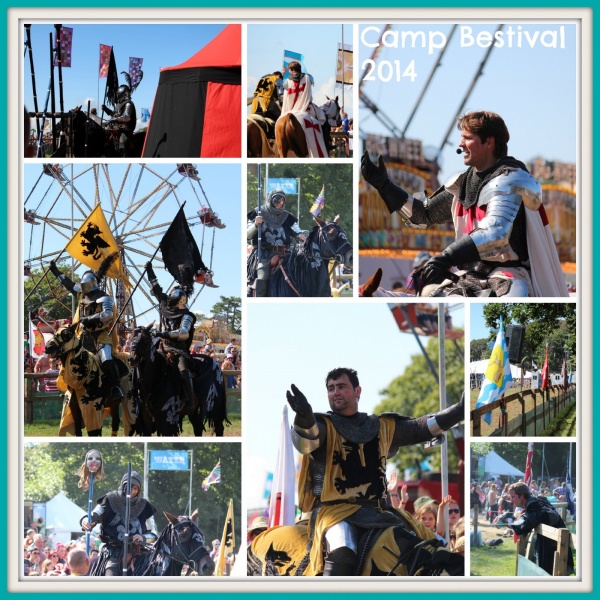 Once it had finished we promised Kian that he could have a Skylanders fix, so headed off to the kids field, only to be distracted by a pop up performance.  I had heard about them, but never seen one and I have to say it was one of the highlights of the weekend!
Rasputin's Caravan of Lost Souls started as a parade of characters all carrying equipment in the most amazing costumes, which then transformed into a small stage before our eyes.  With jugglers, a diablo, acrobat and escape artist they performed for over half an hour and even their kids joined in!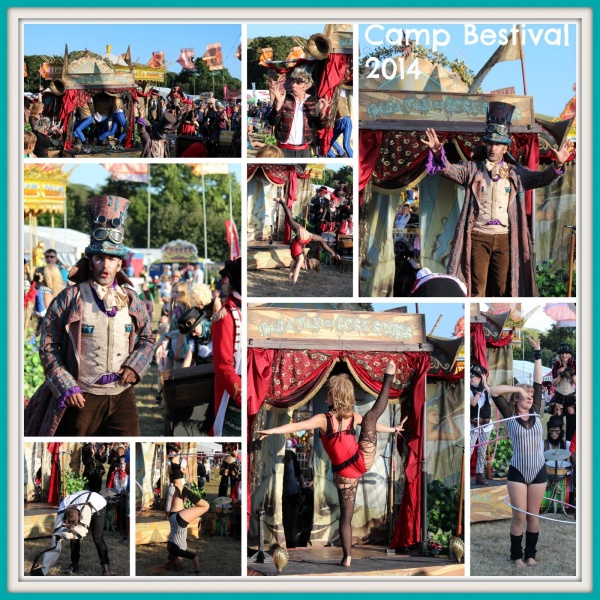 Tummies were rumbling by the time they had finished, so we headed off in search of food.  Kian had spotted a stand selling burritos' earlier in the day, so we had them and next door was selling nuggets and chips for the kids.  It was here we bumped into MyTwoMums and the kids got some all important playtime.  Going to keep an eye on M and Eliza though from now on ;0)
Whilst the kids were playing I realised Sophie Ellis Bextor was playing and we got down to the stage just in time to hear her perform her song with Groovejet which was number one when Kian was born, plus other pop classics from that era.
It was then time to get those glow sticks out for a spot of Laura Mvula and then Saturday's headliners – Del A Soul, who really got the crowd going.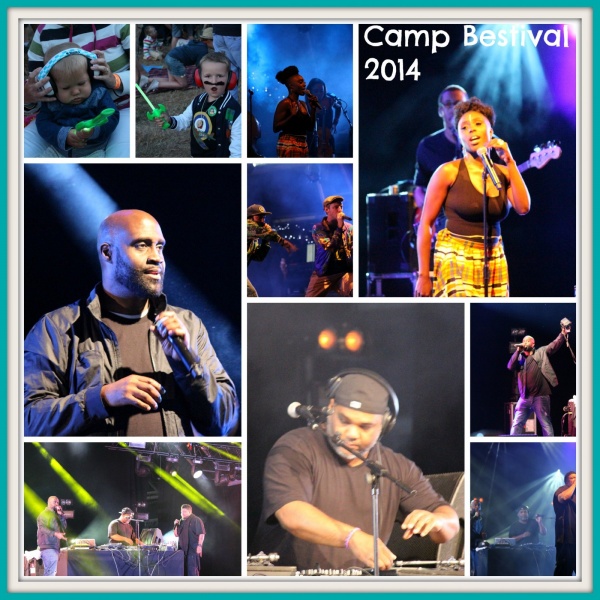 The walk back to the tent was well-lit and there is so much to see and do at night too!
We settled down for a good nights sleep before doing it all over again tomorrow!