Kian turned 14 on Wednesday and this year I really struggled to find something for him to do.  He is desperate to do the Pier Zipline in Bournemouth, but it has been delayed and still isn't open yet, so when I  heard about the Summer of Sport Sky Studios I knew it would be ideal!
Sky Studios is a free family attraction located in the main entrance hall of The O2, London which open every day (expect Christmas day) between 11am and 7pm which gives visitors the opportunity to get closer to their favourite TV programmes through a range of interactive experiences. The experiences at Sky Studios change on a regular basis (every 1-2 months) and at the moment they are hosting a Summer of Sport to celebrate the start of the Barclays Premier League season and other great sporting events with free interactive challenges running every day until 28th September.
We found the O2 really easy to get to and arrived at 11am for the opening of the attraction.  I spotted people walking over the top of the O2 and wish I had booked hubby and Kian in for that too – it looks amazing!
The attraction wasn't busy and the staff were friendly and helpful, explaining what each interactive challenge entailed.  I have to admit that will never get in a car with Kian after watching him drive crash an iconic Formula 1®  circuits in a Sky Sports F1®  simulator – he did get a bit better by lap 3 though.
I am sure the golf instructor must have been exasperated with hubby's attempt to take on the Par 3 17th hole at Gleneagles on the Sky Sports Shot Centre ahead of September's Ryder Cup – he definitely isn't a golfer, and hubby's sprint for the finish in the Team Sky Time Trial was hilarious.  He really went for it and was so out of breath he was seeing stars!
We all love Soccer AM so we excited  by the replica of the Soccer AM Car Park Game.  Hubby scored a goal in the Premier League hole, but sadly to win a Soccer AM t-shirt he had to score the Champions League and couldn't quite curl it in!  We got a picture of a replica Premier League trophy too!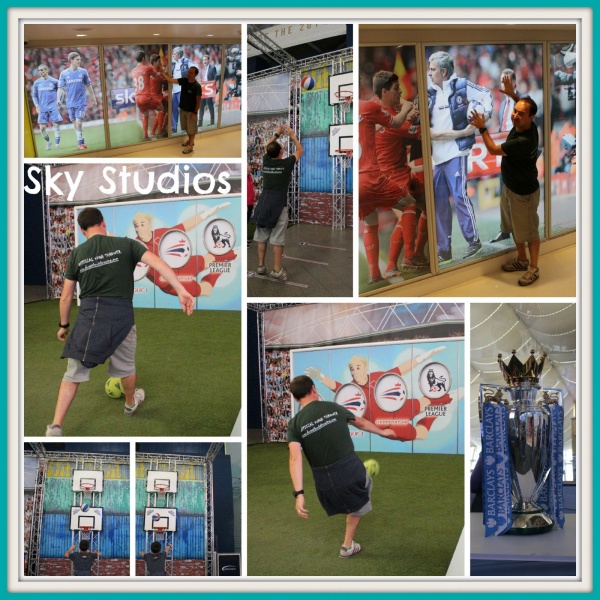 We also tried to master basketball skills in the Game Changers 'Change Your Aim' hoop challenge, tested our reaction speeds in the 60-second Sky Sports Batak challenge and joined the Monday Night Football line up.  Hubby and Kian had the opportunity to have a photo taken with top sport stars in the Sky Studios green screen booth – who did they choose?  Kirsty Gallagher!  You don't have to pay for the pictures either, you simply download them when you get home!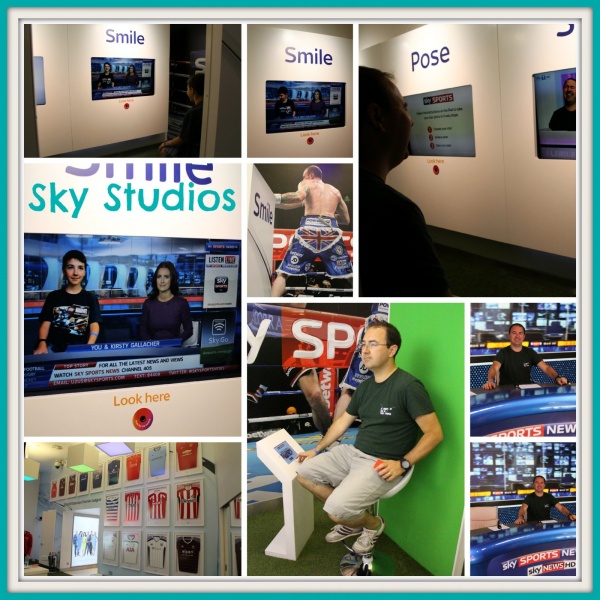 Hubby's favourite part was the chance to present the latest sporting headlines behind the news desk. In the replica Sky Sports News HQ Studio, visitors can be filmed filling the roles of Sky Sports presenters as they inform the nation of important sporting news.  Apparently he is now the new Chelsea FC first team coach!
If you are planning a visit to London and have older children, I can highly recommend the Sky Studios attraction at the O2.  We were inside for a good 3 hours and you could also enjoy the Cable Car ride and walk over the top of the O2 for a full day out!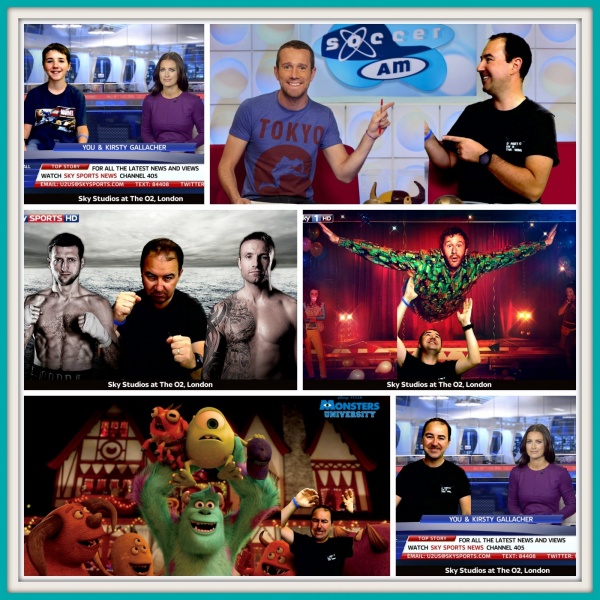 Kian made Eliza's day with this pic!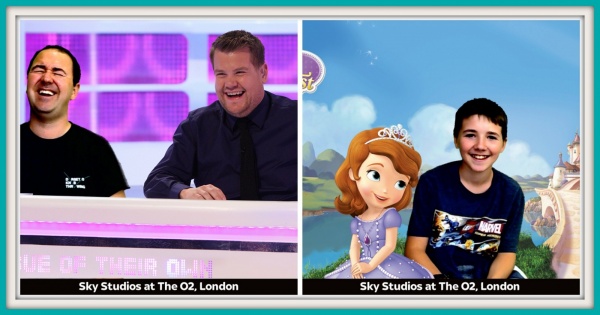 I am a member of the Netmums Blogging Network, a unique community of parent bloggers from around the UK who have been handpicked by the Netmums team to review products and brands on their behalf. I have been paid expenses and supplied with a product sample for this review but retain all editorial control. All my Netmums Reviews will display the Netmums logo within the post."
This is a Netmum's sponsored review.To find out more click the button: