We are frequent visitors to Moors Valley as it is our local country park which has plenty to offer families of all ages with play trails, parks, miniature trains and nature trails.  Over the past couple of years, it has also seen the Gruffalo Trail in 2012/2013 which was then followed by the Stickman Trail at the end of 2013.
Recently launched just in time for October Half Term is the Gruffalo's Child Trail and we couldn't wait to give it a go.  The weather has been a bit hit and miss this week, with torrential showers mixed with warm sunshine, so we put on our waterproofs and wellies and met up with our good friends, the Charliemoos family, and set off in search of the Gruffalo's child.
Joanne suggested we walk from Potterne Park in Verwood, to Moors Valley rather than drive into Moors Valley itself. It was a lovely walk and the children adored dashing over the wooden bridges, stopping to see if they could see any fish and checking out all the signs with information about what wildlife lives in the hedgerows and trees.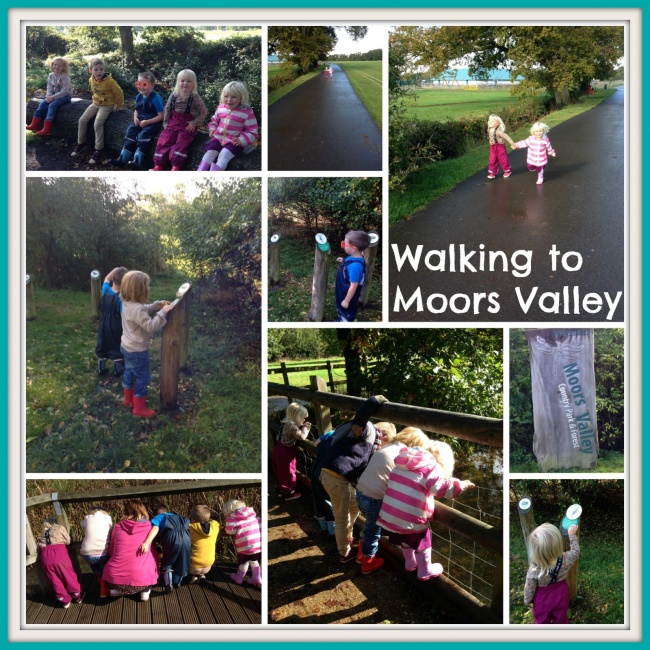 We found a fabulous tower where you can do leaf rubbing, but we forgot our crayons and paper (must remember to pack them next time).  As we neared the visitor centre at Moors Valley a huge black cloud was approaching, so we took this as a sign and stopped for a bite to eat in the cafe before heading off to do the Gruffalo's Child Trail.  The double rainbow that was left behind was stunning!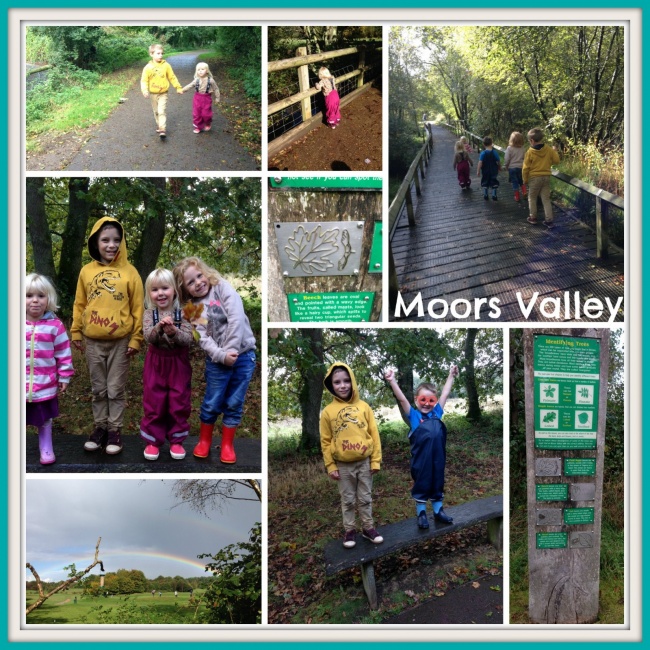 The Gruffalo's Child Trail is a self-guided trail with fun interactive activities along the way for parents to enjoy with their children.  We picked up a booklet at the visitor centre for £2 which came with added challenges, but you don't have to have it if you don't want to.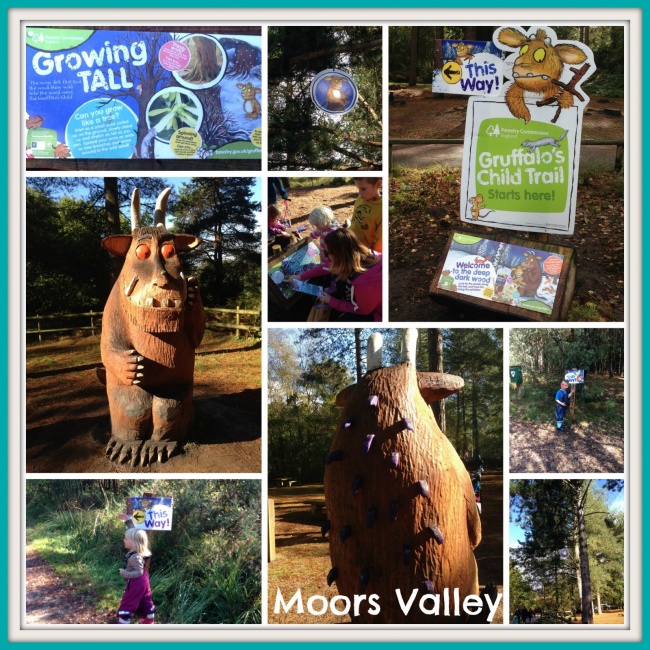 There are 10 stops along a 1 mile route through the Forest with activities based around the characters from the popular story including looking for shapes and animal tracks, collecting natural treasures and listening for animal sounds.  Isaac insisted on taking his magic "Gruffalo spotting glasses", much to the delight of everyone who saw him and admired them.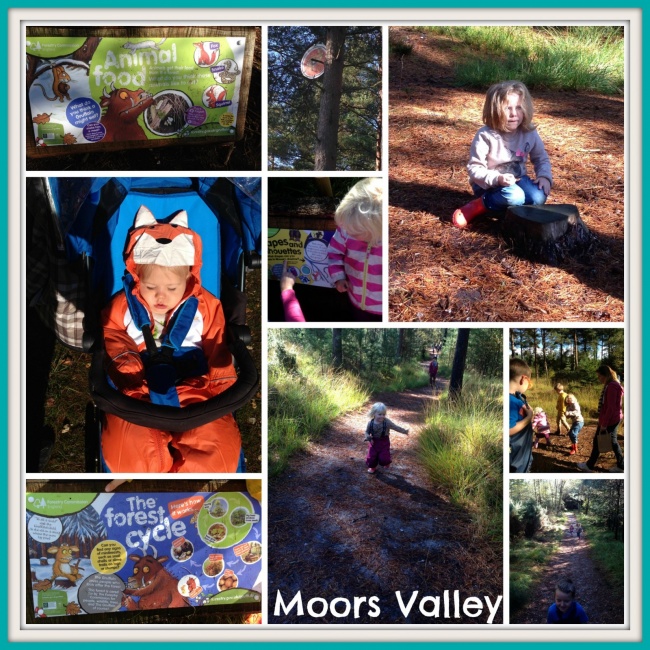 The kids enjoyed splashing through puddles as well as activities such as making a nest of their own, pretending to be a tree and even making our own Gruffalo print.  At the end of the trail they were rewarded with a sticker each for completing the booklet.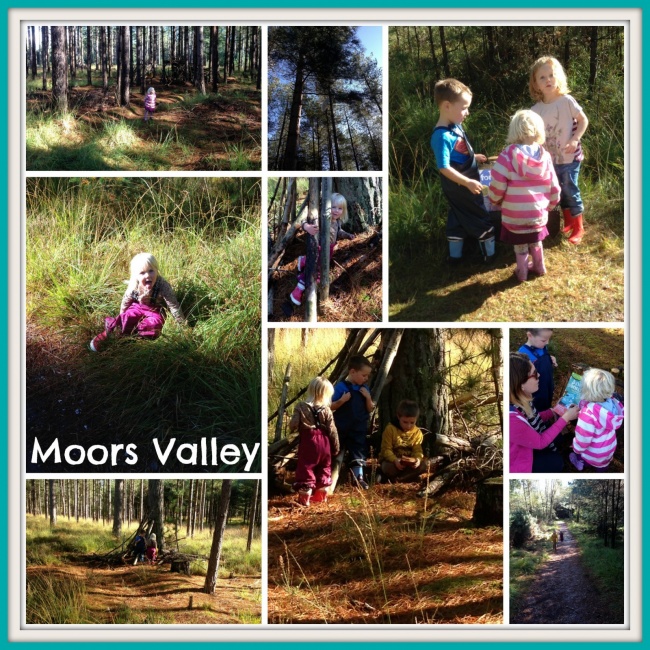 I have to admit we were all shattered by the end of the trail and walking back to Potterne Park did prove a bit of a challenge, especially for the smallest members of the party who stopped frequently for a rest.  They did manage to climb the bridge to wave to the train and find the deepest puddles to wade through though.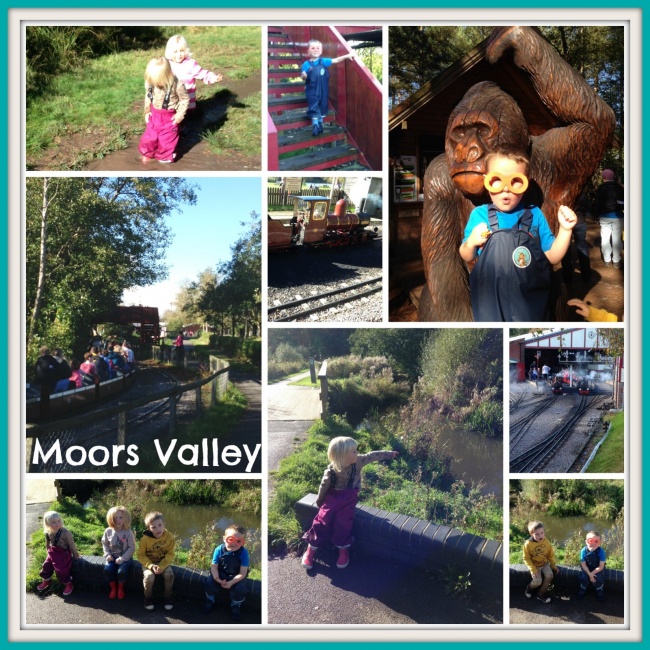 We finally made it to Potterne Park and were prepared to clamber in the cars and head back home, but the kids somehow found some hidden energy to play in the park.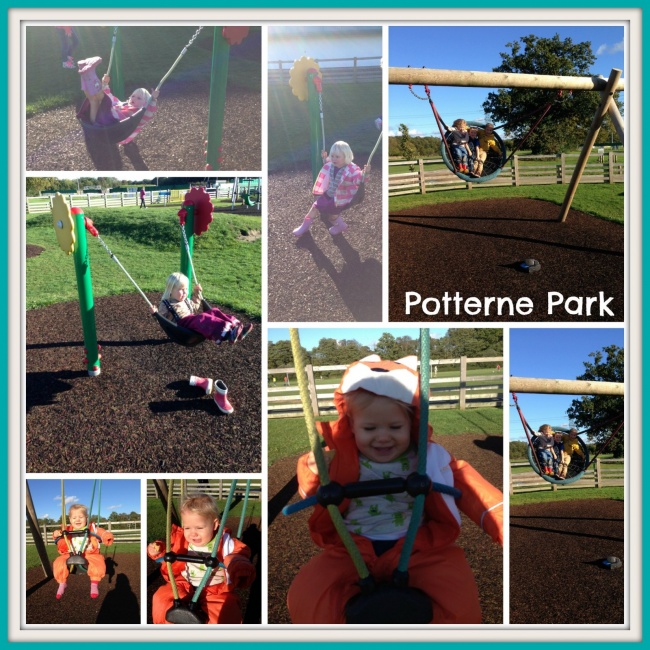 I have no idea how I kept them all awake on the journey home, but I did and they all slept soundly that night!!
Don't worry if Moors Valley is too far for you to travel.  The Forestry Commission have sites with the Gruffalo's Child Trail all over the country!