Over half term we were invited to take part in the Kidizoom Smart Watch Challenge.  From taking photos, videos, telling the time to recording their voice, the device is perfect on the move and we got to put it through its paces whilst having a fun experience at Go Ape!
The new Kidizoom Smart Watch is a new and amazing smart watch just for children! It is so easy to use even Eliza (3) can do it as it has an intuitive touch screen which features lots of different analogue and digital watch faces for the kids to choose from.
The watch also has a camera for taking photos and videos with fun stamps and effects, along with a photo gallery! There is also an alarm, stop watch, timer and 3 fun games, plus the kids can also record their voices with different voice effects!
From the moment they put their watches on their wrist it captured their imaginations.  The first thing you have to do is set the time and date and then they are off.  We have been trying to teach Isaac to tell the time for a while now and this watch has suddenly made it click!
Isaac instinctively knew how to operate his watch and was using it like an expert within minutes.  It took Eliza a little longer to grasp, but she is expertly recording herself singing Frozen songs now and even managed to get some footage of Isaac swinging through the trees.
Sadly Eliza was too small to do the Go Ape challenge, but Isaac couldn't wait to get started and happily took part in all the challenges he was set.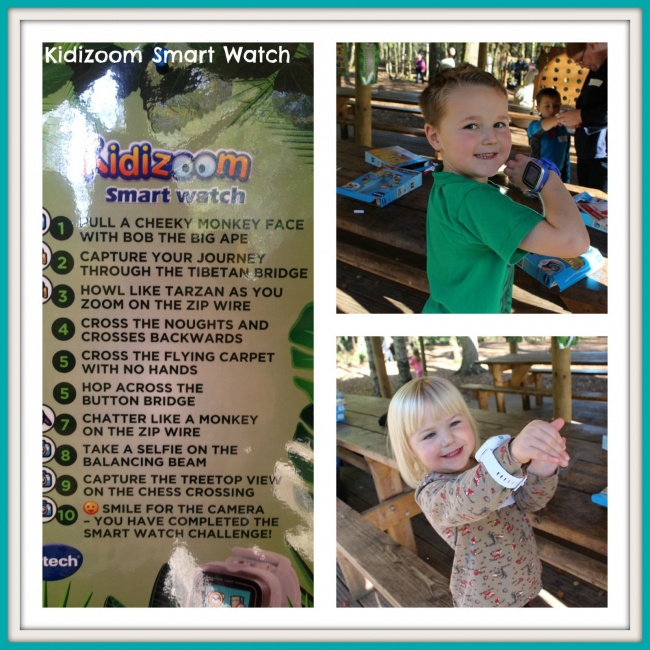 I have to admit that I thought he would be scared, but he wasn't.  He was off and almost running around the course, happily posing for photographs or stopping to make sure he was filming himself with his smart watch.
He completed course one twice before moving onto the more difficult course, which he started well until StressyMummy's boys caught up with him and made the platforms wobble too much for his liking.  We tried to talk him across but he wasn't having it so one of the staff leapt to his rescue and helped him around.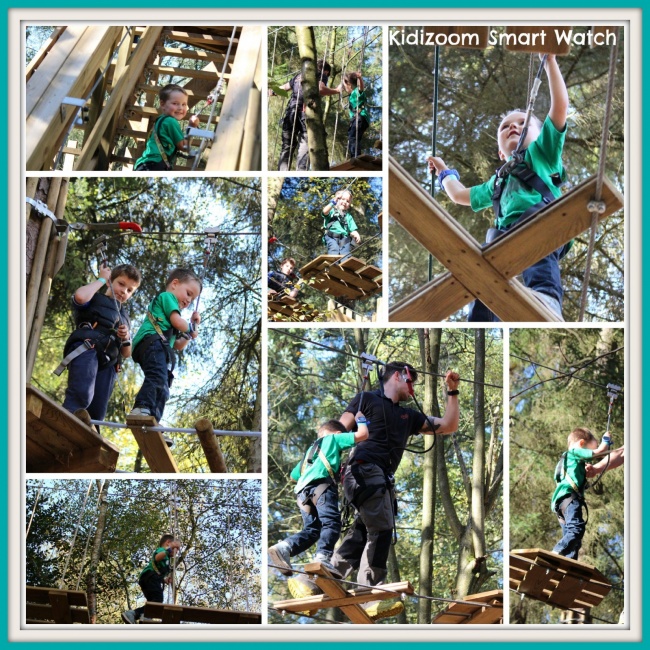 I did think that he would be put off after this incident, but no, he wanted to go and do the first course again.  This time the photographer was there asking him to pose with his Kidizoom Smart Watch and he happily obliged.
Once he had finished the course he proudly showed us the videos he made as he had completed each Go Ape challenge and I was impressed by the quality.  The watch has 128MB of memory which was enough for this event and it is simple to download the pictures to the computer.  The kids watched their videos all the way home and I wish I had downloaded them as soon as we got in as Isaac subsequently deleted them to make room to make more videos.
The battery life is really good and both Eliza and Isaac have been wearing these on our days out this half term.  Being able to take their own photo's on days out has been lots of fun.  Because the camera is worn on the wrist they can't loose it and they have happily looked through their photo's keeping them amused on the often long journeys home.  My one grumble is it is too easy for them to delete these photo's as it would have been nice to keep them to look back on!
If you have a child aged 5 – 10 they would love the Kidizoom Smart Watch in their stocking.  Hopefully we will go back to Go Ape to get some more footage very soon!