During the Britmums conference earlier this year I was introduced to Wyndham Vacation Rentals, the world's largest professionally managed vacation rentals company.
Wyndham Vacation Rentals provides access to more than 100,000 vacation rental properties in approximately 600 unique destinations worldwide. That amounts to 10 million rental nights booked each year.
In Europe, guests can choose from a variety of experiences including cottages, villas, camping holidays, skiing trips, boating, lodge parks and city apartments. In the U.S., Wyndham Vacation Rentals offers properties in some of the most sought-after beach, ski, mountain, theme park, golf and tennis resort destinations.
Wyndham Vacation Rentals features properties from its more than 25 vacation rental brands, including Cottages4You and over the half term holidays we were invited to review a holiday cottage.
I have been promising Kian we would go to Alton Towers this year and with the opening of cBeebiesland I knew the little ones would love it too, so I began researching cottages in Staffordshire.  Chorlton Moss stood from the start with its quaint charm and modern features so we booked and waited excitedly for half term to come around.
The semi-detached cottage is relatively easy to find, located at the end of a quiet lane in the small village of Baldwins Gate, near Newcastle-Under-Lyme.  As we pulled up the kids were really excited to find a large garden where they could stretch their legs, complete with a football goal and fishing nets to use in the stream that ran around the outside of the garden.  The 200 year old cottage boasts stunning countryside views and our neighbours were sheep and horses.
We were met by Paula, the cottage owner, who was there to give us the keys and give us a brief introduction to the cottage and how everything worked whilst the kids headed upstairs to find their bedrooms.  Once she left we had the chance to explore and were very excited to find a welcome gift of tea / coffee, biscuits and a bottle of wine which had been left on the kitchen table – nothing beats a nice cuppa after a long journey.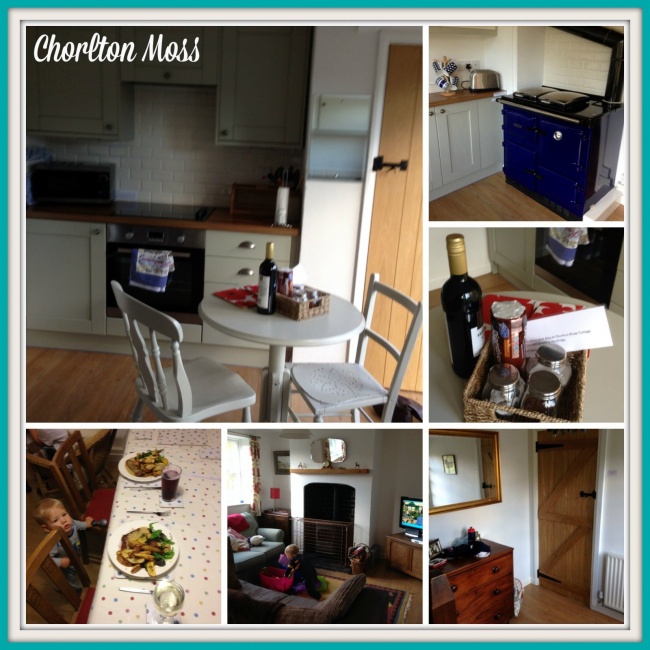 The ground floor features a living/dining room with laminate floor and a log burner, the kitchen with breakfast area and laminate floor, whilst the first floor has 3 bedrooms; 2 double, and a single room with bunk beds and a large bathroom with shower over P-bath and toilet.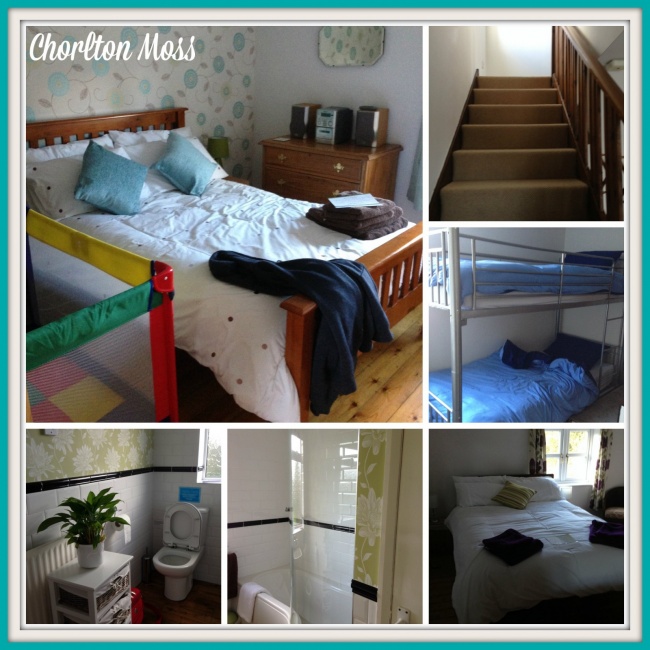 We had taken toys for the kids to play with however the cottage had a hidden surprise – lots of toys, games, DVD's and even music for us to use.  Our toys were packed away in favour of the new ones and the favourite indoor activity of the holiday was a raucous game of Hungry Hippos! There was even free wifi and freeview on the television, so the kids had access to cBeebies in the morning.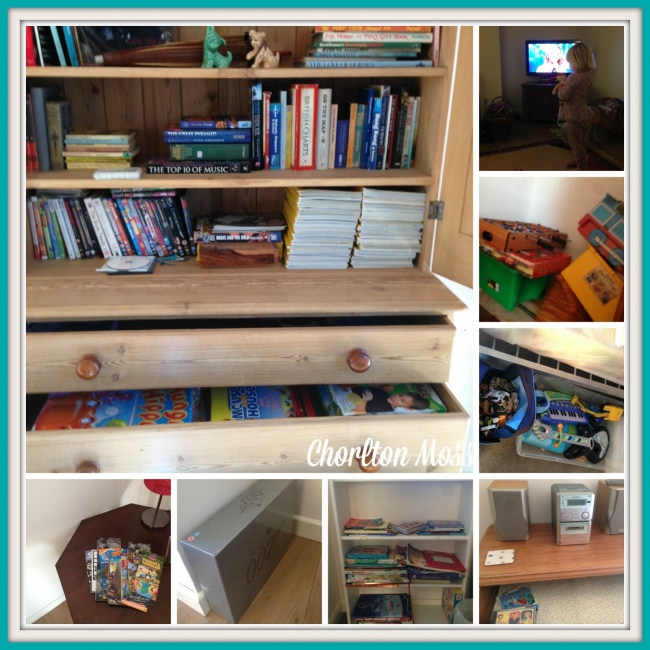 My outdoor loving kids were most impressed with the garden where they played football, tried out some hoola hoops and picked up apples from the apple tree to give to the horses in the next field.
Although the weather was very mild for October, I did insist on lighting the log burner for at least one evening which heated the whole house very quickly – I really wish we had one at home!
Chorlton Moss is the perfect location for exploring the North West and we were very sad to leave, but hope to return next year as there is so much more to see!
We found some hoopy loops @wyndham_rentals #holidayfun