I am a big believer in layering to keep little ones warm and snug at winter time.
Both Eliza and Isaac have thermal underwear which we used last year at Coombe Mill but I was on the hunt for something for Sebastian to wear as he is only just walking and therefore not really running around enough to keep himself warm.
Then I was introduced to Superlove!  They use natures "super fibre" – Merino Wool and create clothing and sleep bags for babies, toddlers and children aged 0 – 6 years, that are as high performing as they are supersoft and cute.
Superlove sent Sebastian the Bodysuit & Legging set to review.  The set is designed to work together, keeping him warm and comfortable from top to toe.  The set itself is soft and slim fitting, meaning it hugs his body and legs and keeps a thin layer of warm air close to his skin.  The set is also super-stretchy which means it will grow with him and last.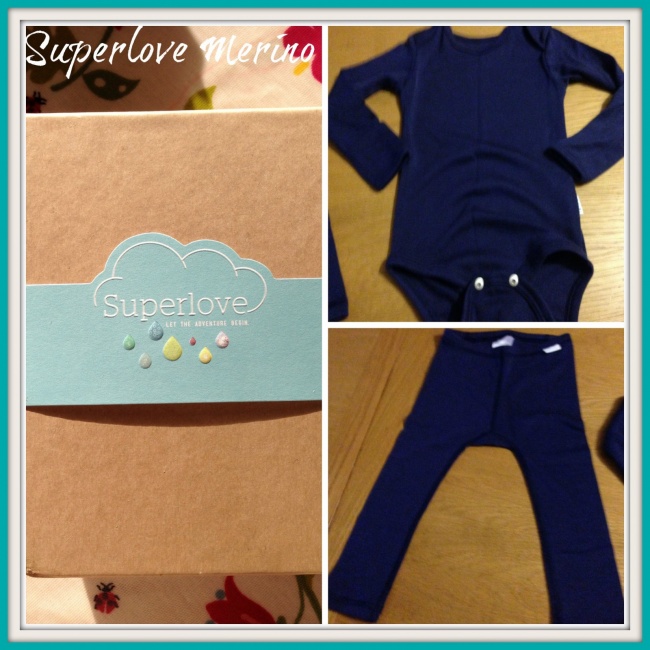 The vest has an added extra that was invaluable during our stay at Coombe Mill.  It has built-in mittens on the sleeves which can either be worn folded back, or folded over the hands to keep them warm.  Sebastian hates mittens with a passion and fights to get them off, but he tolerated these as they were thin so he could still move his hands and touch the animals.
I was also sent the Superlove Merino hat which has been our hat of choice too.  Again Sebastian doesn't seem to like any form of headwear, but it has not grumbled once since wearing this as it is lightweight yet snuggly warm.  The hat is reversible and is made with two layers of their signature double-knitted superfine merino wool and is shaped to keep drafts away from little ears, with soft ties to keep it snugly in place.  It even has an SPF 50+.
Merino is naturally breathable so any excess heat or moisture can be released, making the clothing sets and hats ideal for little adventurers to wear all day long without overheating. It is also naturally stain resistant, antibacterial, hypoallergenic too.